Oregon Ducks vs Stanford Cardinal: Three Things I'll Be Watching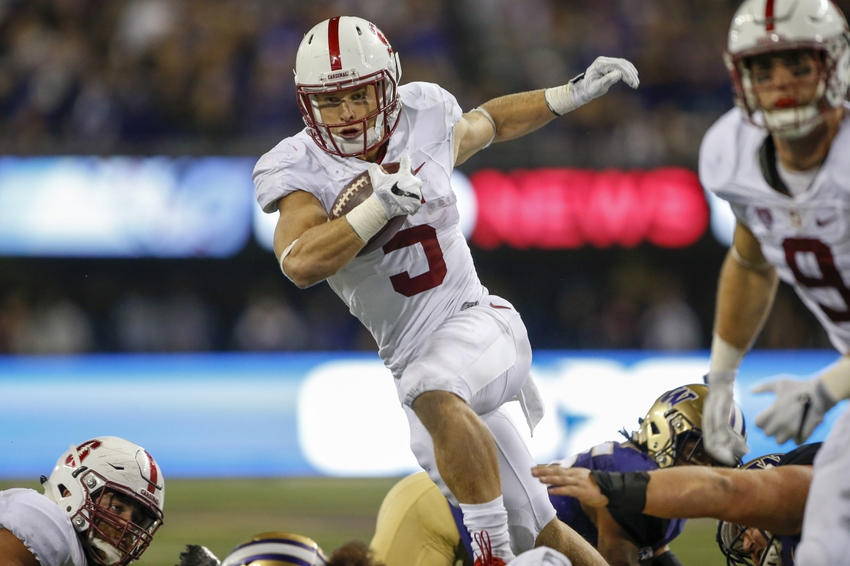 Will it be Royce Freeman or Christian McCaffrey who Win The Day on Saturday?
The Oregon Ducks and Stanford Cardinal meet on Saturday in a game that may not mean as much as it would have at the beginning of the season. There are still plenty of reasons to pay attention to the Ducks and Cardinal. Mark Helfrich may be playing for his job in the last three games, but it only makes sense that every team has a season like this one – some more than others.
Stanford and Head Coach David Shaw have delt with injuries this season, including one to Star Running Back Christian McCaffrey. The Ducks know this all too well with a similar fate to Running Back Royce Freeman. The Ducks also have a new Quarterback who seems to have found his feet in Justin Herbert and a very young Offensive Line.
What will we get from Freeman on Saturday – on what could be his final game at Autzen Stadium. He is a Junior but may forgo his Senior season for the NFL. Will the Oregon Defense show up in any form? Like I said, there is a lot to look for.
Running Back Royce Freeman has not had a Royce Freeman kind of season. His production is not at his usual output and something is not quite right. He is playing injured, but the coaching staff said a few weeks ago that he was healthy. So who do we see against the Stanford Cardinal? Against Cal last month Freeman had just 10 yards on 15 carries and has not had a 100 yard game on the ground over the same span.
Over his career, Running Back Royce Freeman has raced toward the Oregon Record Books and made his mark. A big performance on Saturday against Stanford that leads to a Ducks win could help invigorate his teammates to push for a bowl game and wins to finish out the season at Utah and Oregon State in the next two weeks.
The Running Backs for the Ducks have been their strongest unit this season with Freeman, Tony Brooks-James, Kani Benoit, and Taj Griffin leading the charge.
The Oregon Defense has had a touch transition this season, and will need to step up on Saturday. Last weekend USC torched the Ducks Defense. Stanford will use Running Back Christian McCaffrey and he will find ways to pick up yards against the Ducks if they don't play disciplined and in their lines. McCaffrey averages 190 yards per game with 122 yards on the ground in a season that has been a lot less McCaffrey-like.
Last season, McCaffrey blew open the Rose Bowl and could put on a show of his own against the Oregon Ducks on Saturday at Autzen Stadium. McCaffrey has led Stanford to 6 wins this season when he puts up over 100 yards. When he is under 100 yards, 3 losses. One player has shown throughout his career that he is that important to the success of his team.
Oregon Ducks Quarterback Justin Herbert has had success this season, but he has also showed that he can learn from failure. Stanford will be loaded on the Defensive Front and brings a hard nosed style of football on Defense that we don't see that often in the Pac-12. While giving up over 300 yards per game, they find ways to get to the opposing Quarterback and are averaging nine sacks per game this season, tops in the Pac-12 Conference.
The Oregon Ducks Offensive Line has gelled over the first half of the season, but will need to protect their young Quarterback. Momentum is a big thing in College Football and if Stanford gets a sniff that it is going their way, it could be a very long afternoon for the Oregon Ducks Offense. If Herbert can remain upright, he should be able to get the ball in the hands of the Ducks playmakers which could keep thing interesting and Oregon in the game.
The Oregon Ducks and Stanford Cardinal kickoff at 1pm Pacific Time on Senior Day at Autzen Stadium. The game will be broadcast on Pac-12 Network.
This article originally appeared on