Oregon Ducks vs Colorado Buffaloes: Three Things I'll Be Watching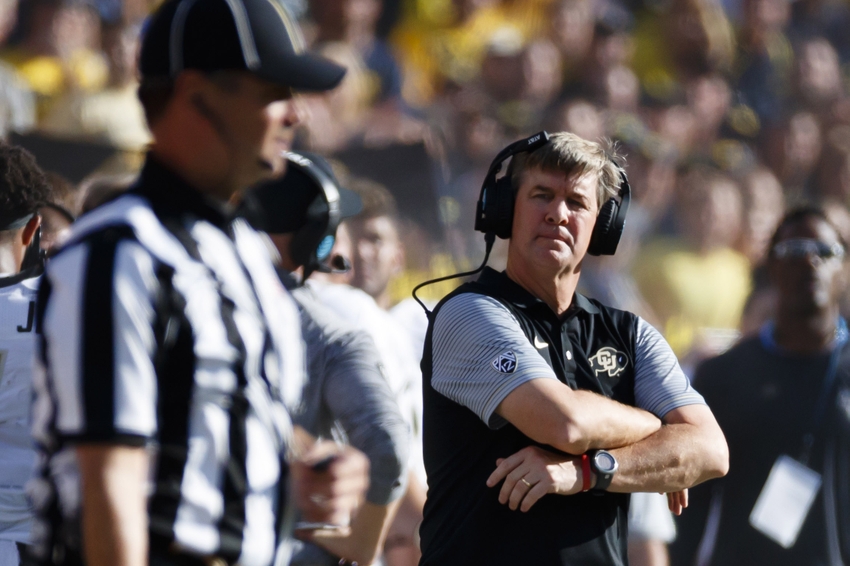 The Oregon Ducks will look to take positive steps from practice into the game against Colorado.
It has not been an easy week for the Oregon Ducks. On Monday word came that Offensive Lineman Tyrell Crosby and Wide Receiver Devon Allen were lost for the season. The next man up philosophy is in effect and four Freshman will anchor the Offensive Line this week along with a new face at Wide Receiver. Oregon fans should finally see DIllon Mitchell.
The season for both teams starts fresh with Pac-12 play. Last week saw two tough losses. Colorado went into the Big House, built and early lead and lost. Oregon traveled to Nebraska and had a bit of a math problem scoring consistently, but neglected one of the best kickers in College Football missing multiple two point conversions and lost by 4 points.
The game this week is Saturday afternoon at Autzen Stadium and Colorado could set the tempo early. Oregon needs to apply the lessons from the beginning of the season, get control up front from the first snap and apply Defensive pressure early.
In a way it felt like the team went back to Football School this week.
Penalties Will Kill You
The Oregon Ducks at 2-1 are looking to take care of business in more ways than one on Saturday against Colorado. First things first, consistency on both sides of the ball with some discipline should help the team to Win The Day.
Oregon over the first three weeks of the season has shown a major lack of composure leading to too many yellow flags on the field and penalty killing drives that fortunately only led to one loss last weekend at Nebraska. False Starts on the Offensive Line and Pass Interference Penalties need to be cut down to a minimum, or none.
Earlier this week Oregon Cornerback Arrion Springs called some of the calls against him vs Nebraska as 'ticky tack'. In speaking with the media the word discipline was not said once, but was danced around several times as the conversation centered around the team cracking down on boneheaded penalties and flags.
Defense Needs To Show They Can Do The Math
The Oregon Ducks 4-3 Defense continues to be a work in progress, and it appears they are doing just that. Progressing. There were moments last week against Nebraska that the Defensive Line stood their ground in key third and fourth down situations, but there are also spots where there were playing somewhere between 9 and 11 guys where not everyone was on the same page.
Colorado has gotten off to a scorching start in their first two games for a combined 101 points with over 800 yards of total Offense. The Buffs are third in the Pac-12 in total Defense, giving up an average of 21 points per game. Oregon is giving up over 1000 yards through the first three games and an average of 29.7 points, which is worse than the entire 2015 season that averaged 28 point per game.
It is time for the growing pains of the 4-3 Defense to transition into workable plays and not penalties. The Run Defense is getting better giving up 510 yards against UC Davis, Virginia, and Nebraska. The Ducks did hold the Cavaliers to negative rushing yardage through much of the first half a few weeks ago.
Tempo and Protection Win The Day
The Freshman Four on the Offensive Line should continue to improve their play against Colorado, but being able to open easy holes for a Running Back may prove to be difficult against a solid Defensive Front seven from Colorado. The Buffs may have one of the most improved Defensive fronts in the Pac-12 and possibly even the Nation so far in 2016.
Entering the game Saturday, Oregon is averaging 43 points per game, Colorado is not far behind at 42.7, including getting off to a fast start at Michigan last weekend in a very hostile environment. With depth and height at Wide Receiver another fast start at Autzen on Saturday could make it a long afternoon for the Oregon Ducks, but it depends who is taking the snaps at Quarterback.
If Colorado Quarterback Sefo Luifau is unable to play on Saturday the job for the Oregon Defense will be somewhat easier with Freshman Steven Montez in the game. Montez is still a threat and played well in a rough environment last weekend at the Big House in Michigan. He was 6 for 17 in the game.
Week 4 in College Football begins Conference Play across the country. Any games including Stanford, USC, Washington and the rest of the Pac-12 should be watch worthy.
Penn State at #4 Michigan, 12:30pm PT, ABC – Can The Nittany Lions Pull Off The Upset?
#16 Florida at #13 Tennessee, 12:30pm PT, CBS – Florida Working Their Backup QB
#20 Nebraska at Northwestern, 4:30pm PT, BTN, 'Cats Should Be No Problem for Nebraska
#7 Stanford at UCLA, 5pm PT, ABC Cardinal Can't Be Caught Looking Ahead
#9 Washington at Arizona, 7:30pm PT, Pac-12 Will Huskies Be Tested?
No In-Editor Preview for CINE Videos
Video Details
ID: fansided-college-ncaa/ap-wk-4-college-football-picks
Source: CINE
Autzen Zoo will have Live Coverage of the game. Our pregame coverage begins at 1:30pm Pacific Time. Oregon and Colorado kickoff on Saturday at 2:30pm.
This article originally appeared on