Oregon Ducks Quarterback Justin Herbert Named Pac-12 Player Of The Week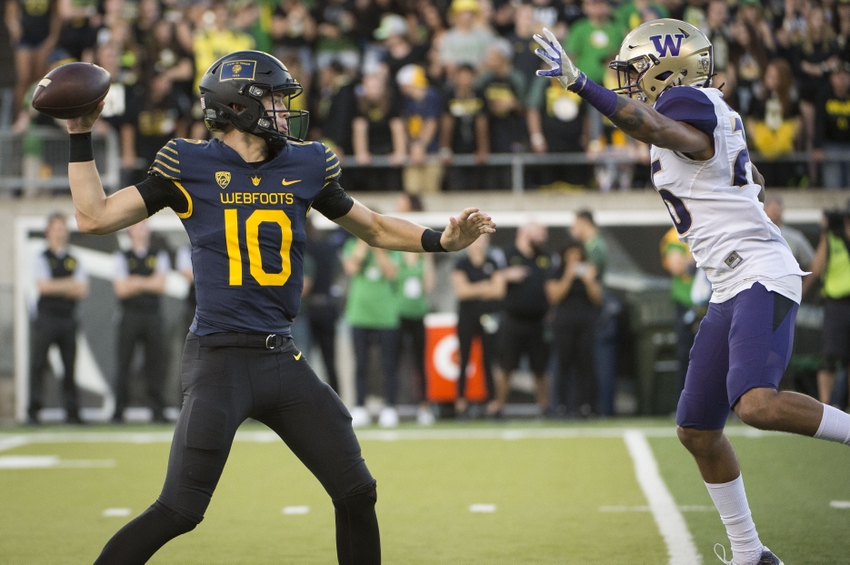 Freshman Quarterback Justin Herbert picks up Pac-12 Conference Honor.
On Saturday, Herbert shook off the loss at Cal in a big way throwing for 489 yards in a won over Arizona State. He tied the single-game mark set by Bill Musgrave and even more impressively was able to get the ball into the hands of nine receivers in the game, led by Tight End Pharaoh Brown.
Pharoah Brown had two touchdowns, including a catch and run to begin the game marking the first time this season that the Oregon Ducks scored on their first drive, setting the tone the rest of the way. The Oregon Coaching Staff kept the Freshman within his comfort zone, which were mostly short passes after a check down or two. He had a highlight reel pass to the center of the endzone to Charles Nelson.
Herbert completed 31 of 42 passes and threw for 320 yards in the first half. Through the last two games the True Freshman from Eugene has thrown nine touchdown passes and was named Pac-12 Offensive Player of the Week.
The Oregon Ducks are preparing to head to Los Angeles this week. They face the USC Trojans on the road on Saturday at 4pm Pacific Time. The game will be broadcast by ESPN. The Ducks final home game is November 12th against Stanford. Oregon closes out the season on the road against Utah and Oregon State.
This article originally appeared on