Six times Marcus Mariota proved that he's one of a kind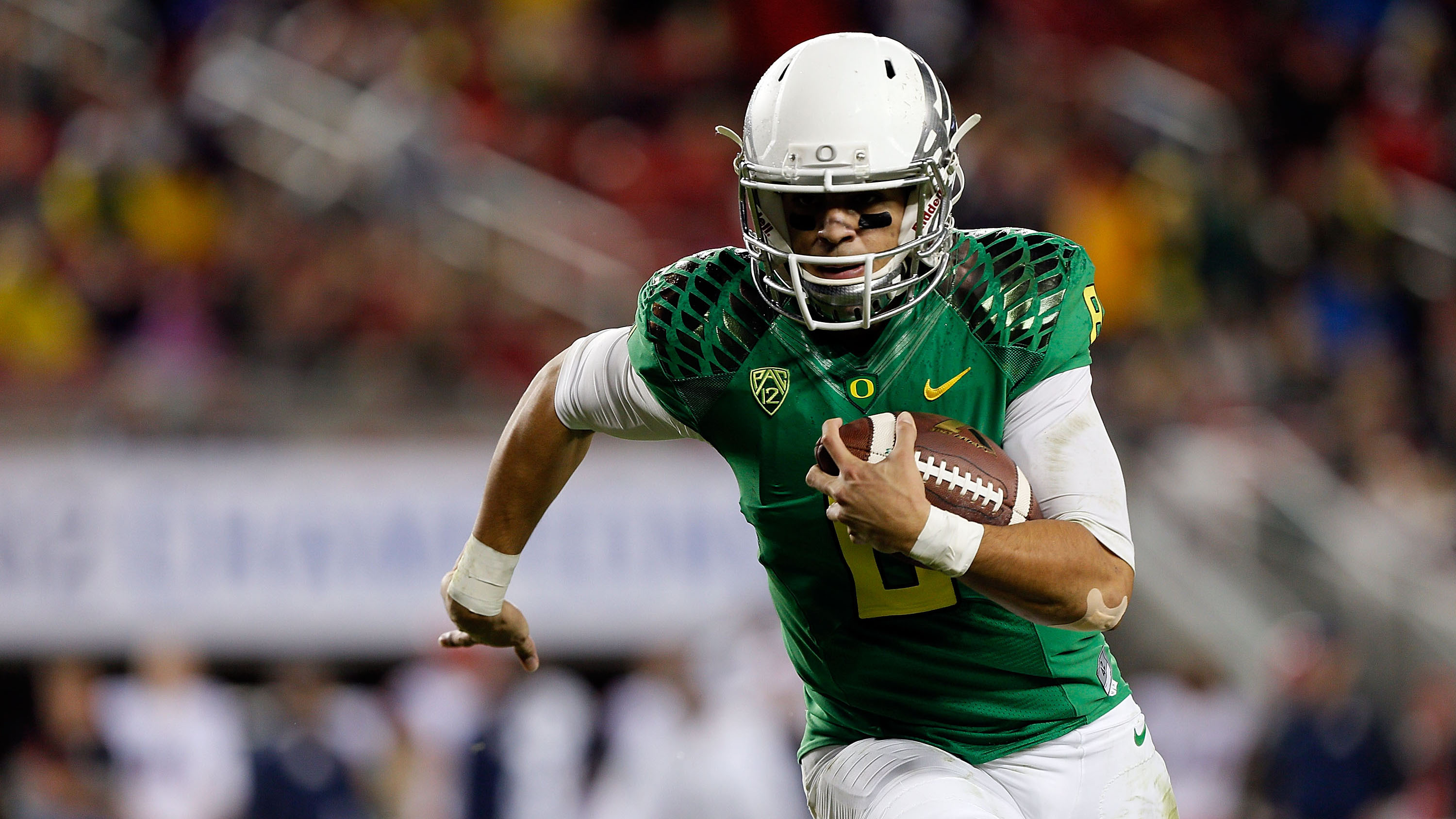 Rarely in sports do we encounter a player with spectacular skill coupled with unrivaled sportsmanship and character.
What Marcus Mariota has been able to achieve on the football field, and the manner in which he has done it, makes him one of the most unique sports figures in recent history of the college game.
The Heisman-winning Oregon quarterback came up a little bit short in the national championship against Ohio State, losing 42-20 in his last game as a Duck, but that doesn't erase what's been an unbelievable college career. Let's take a moment to appreciate him by looking back at six moments that set him apart.
DAZZLING DEBUT
Naturally, Oregon fans were wary of Mariota getting the start as a redshirt freshman, considering that the Ducks hadn't had a freshman starting under center in over two decades. However, after Oregon's first drive on Sept. 1, 2012 at Autzen Stadium, there was no doubt that Chip Kelly made the right call to entrust the offense to Mariota.
From his very first drive, the four-star recruit from Honolulu, Hawaii, displayed tremendous poise and led the Ducks down the field for a touchdown in a mere 1:38, completing the first three of his pass attempts.
That would only be the beginning. Mariota went on to lead the Ducks to a total of 50 points in the first half of his first game, throwing three touchdown passes and accumulating 200 yards at an 82-percent clip (18 for 22) in the process.
What happened after the game was even more indicative of the special competitor that had burst onto the college football scene.
With Oregon in the midst of a rout, Kelly sat Mariota in the second half. That didn't bode well with the competitor in Mariota, who stated after the game that he "would have liked to play a little bit more."
From the start, it was apparent, both with his play and his demeanor, that Mariota was a unique talent.
ASTOUNDING ACCURACY STREAK
From his first appearance in green and yellow, Mariota displayed a knack for threading the needle, exercising great precision to get his receivers the ball. Even as a freshman, he only threw six interceptions against his 32 passing touchdowns.
After finishing his final two games as a freshman without a pick, Mariota nearly went his entire sophomore season without surrendering an interception, a practically unheard-of feat.
Mariota's interception-less streak lasted an astonishing 12 games, during which he threw a total of 353 passes and 28 touchdowns, setting the Oregon and Pac-12 records for consecutive pass attempts without an interception in both a season (285) and a career (353).
Lo and behold, the streak came to an end on the year's most spectacular defensive play, which just so happened to be on Oregon's first play from scrimmage in a late-season conference game against Arizona.
Mariota launched a bullet at Bralon Addison, who was unable to handle the pass and ricocheted the ball towards the sideline. As Arizona's Shaquille Richardson jumped out of bounds, he made an amazingly athletic tip to Scooby Wright, who pulled in Mariota's first interception in 341 days. Here's a look:
Heading into the national championship game, Mariota is slated to set the FBS record for career interception percentage, as only 1.15 percent of the pass attempts in his career (13 of 1,130) have been picked off.
THE FLYING TOUCHDOWN
Following a defining win over Michigan State, Oregon took on Wyoming in what served as its final brush-up before conference play.
Games like these usually act as a dress rehearsal for the big stage, but apparently someone forgot to tell Mariota.
With the Ducks leading, 13-7, Mariota dropped back into the pocket on a first-and-goal play (at the 19 due to a holding call on the previous play), and surveyed the field only to find his receivers well-marked.
Seeing an open patch of turf, the 6-foot-4 quarterback then unleashed his incredible speed and headed for the pylon. With nowhere to run as he neared the goal line, Mariota launched himself into the air from just inside the four-yard line, hurdling over a Wyoming defender and skirting past another pair of Cowboys as he extended the ball into the end zone.
Equally as impressive as his acrobatic flight into the end zone was the decision that led to it. Not only did Mariota demonstrate his keen ability to improvise on the play, but he showcased his unyielding desire to achieve greatness, even in a game that Oregon knew it would win handily.
THE HEISMAN HURDLE
Mariota's success as a quarterback has been defined by his versatility, which keeps opposing defenses on edge. His prolific passing is countered with elusive speed and incredible athleticism.
Never was his athleticism used in a more apropos way than in the 2014 Civil War against Oregon State.
Late in the first quarter, Mariota kept the ball on a read option and dashed down the field, picking up a first down and more. As he continued to run, he was approached by Oregon State safety Justin Strong, who leapt at him in attempt to bring him down.
Always thinking quickly on his feet, Mariota jumped up and completely hurdled Strong, pulling off a nimble move that very few quarterbacks could make.
The play was instantly added to his Heisman reel, and fittingly so, as midway through his hurdle Mariota created a reverse freeze-frame of the famous pose on the Heisman Trophy.
Oregon QB Marcus Mariota makes his case for the Heisman trophy. #UOvsORST Halftime: UO 30, OSU 3 pic.twitter.com/AfTbNHy3Fu

— Brian Davies (@daviesphoto) November 30, 2014
REDEMPTION AGAINST ARIZONA
Arizona had spoiled Oregon's shot at a national title in 2013, and had been the Ducks' only loss of 2014, which made the Pac-12 championship game the biggest of Marcus Mariota's college career.
In their past two meetings, the Wildcats' defense had held the Ducks to an average of 20 points, which was a spectacular accomplishment, considering that Oregon averaged 47 points per game with Mariota as its starting quarterback entering the conference title game.
It was clear that Arizona had Mariota's number. The Wildcats knew how to rattle him and had swiped three of his then-12 career interceptions. It was an apt setup to what may be the last Pac-12 game Mariota ever plays.
The Ducks jumped out to an early lead thanks to a pair of field goals, but Mariota looked shaky in the first quarter, twice failing to convert in the red zone.
However, he quickly turned the Ducks' offense around in the second quarter, scoring two rushing touchdowns. Mariota then threw a pair of TD passes in the third and led Oregon to a 51-13 rout of the team that had terrorized him.
Then considered the favorite for the Heisman Trophy, Mariota showed outstanding persistence, not just within the game but in overcoming a defense that had stymied him the previous two contests.
THE HEISMAN SPEECH
The 2014 Heisman Trophy presentation was a mere formality.
Although Wisconsin running back Melvin Gordon and Alabama wide receiver Amari Cooper had tremendous seasons, no player had had one quite like Mariota.
In his redshirt junior year at Oregon, Mariota shattered the Pac-12 record for most touchdowns accounted for in a single season with 53 (the previous mark was 41 by USC's Matt Barkley), in the process becoming the sixth player in FBS history to pass for over 9,000 yards and run for over 2,000 in a career.
However, the ceremony was made worthwhile thanks to Mariota's wholehearted acceptance speech in which he conveyed gratitude and humility in receiving college football's greatest individual award.
Mariota graciously thanked his teammates, coaches, and the Oregon community. He then became overwhelmed with emotion as he addressed the Polynesian community and thanked his parents for their support.
The words were nothing extraordinary, but the palpable emotion that emanated from him as he stood at the podium made his speech exceptionally poignant and further cemented his immaculate college legacy.