Oregon Ducks Don't See Much Movement In Top 25 Rankings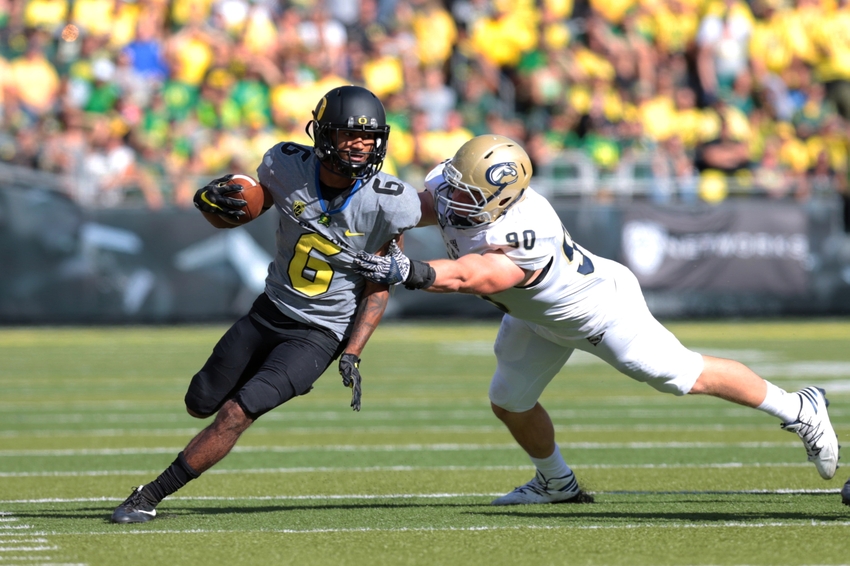 The new Associated Press and Coaches Polls are out and the Oregon Ducks did not impress many with their win over UC Davis.
The 2016 College Football season finally got underway this weekend and there was some shuffling in the Top 25. With two Top 10 upsets it was an exciting weekend with LSU falling to Wisconsin and Houston upsetting Oklahoma. The Longhorns made the biggest jump, the Sooners to biggest drop in each poll.
In the Pac-12 Conference three teams remained in the Rankings after USC fell to Alabama. Oregon is 24th in the AP(23rd Coaches). Washington and Stanford both stayed in the Top ten. The Huskies are 8th in the AP(11th Coaches), and Stanford cracked the Top 5 in the Coaches poll, but came in 7th in the Associated Press Weekly poll. The Oregon Ducks will see both Washington and Stanford in 2016, both will play at Autzen Stadium.
The Top two teams are unchanged with Alabama and Clemson respectively. With the win, the Florida State Seminoles moved into the Top 5. I would expect that respect has a lot to do with the Rankings, as is the standard.
Right now, the respect for Oregon is at a minimum. Winning will improve that, but wins until the really matter in October and November may see the Ducks remaining around the bottom third of the polls.
Oregon faces Virginia on Saturday at Autzen Stadium.(7:30pm Pacific Time, ESPN)
This article originally appeared on