Oregon Ducks Defensive Lineman Rex Manu Done For 2016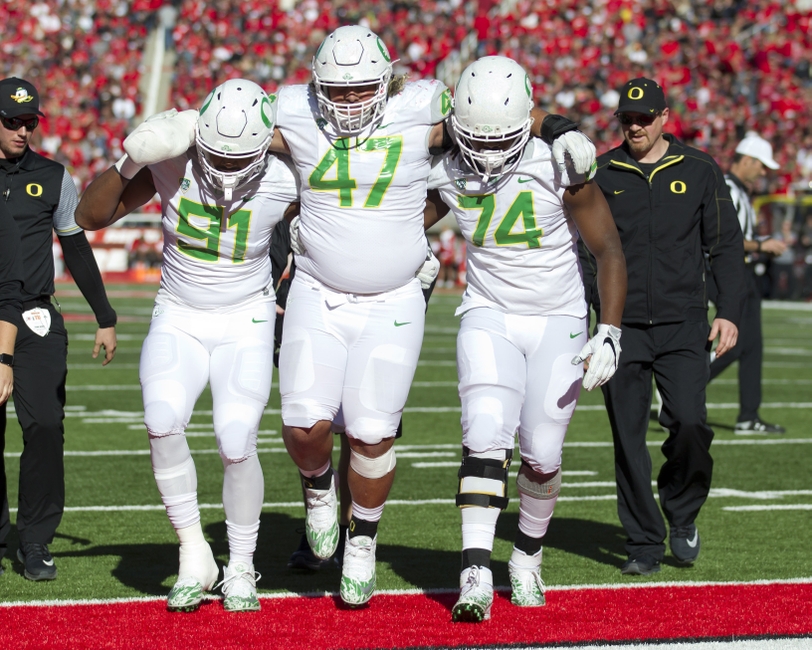 The long list of injuries continues to grow for the Oregon Ducks as Rex Manu is the latest casualty to a rough year for the Oregon Defense.
When Defensive Coordinator Brady Hoke envisioned what his 4-3 Defensive Scheme would look like, the game against Utah was likely what he had in mind. The team stopped the Utes on 7 of 12 third downs and played with heart. Injuries have been hard to take this season for the Oregon Ducks, on both sides of the ball.
Running Back Royce Freeman missed the game against Nebraska and Colorado and did not seem like himself until the Oregon Ducks faced Stanford and Utah. Freeman saw back to back 100+ yard games. The Oregon Defense has not been so fortunate. The loss of Rex Manu to injury the rest of the season -albeit one game against Oregon State hurts.
Helfrich says Rex Manu will indeed miss the rest of the season after being injured at Utah. #GoDucks

— Rob Moseley (@DuckFootball) November 22, 2016
The Defensive Line is already thin from injuries. Last week Canton Kaumatule medically retired from football due to injury. Manu did not see much action over the last few games and in the 'next man up' philosophy of Oregon means someone will have to step into the role. His spot looks to be filled by Freshman Gary Baker or Junior Elijah George for the game against Oregon State.
The Oregon Ducks meet Oregon State in the 120th Civil War on Saturday(1pm PT, Pac-12 Network)
This article originally appeared on