Oregon Ducks Bowl Game Chances Still Alive With Civil War Win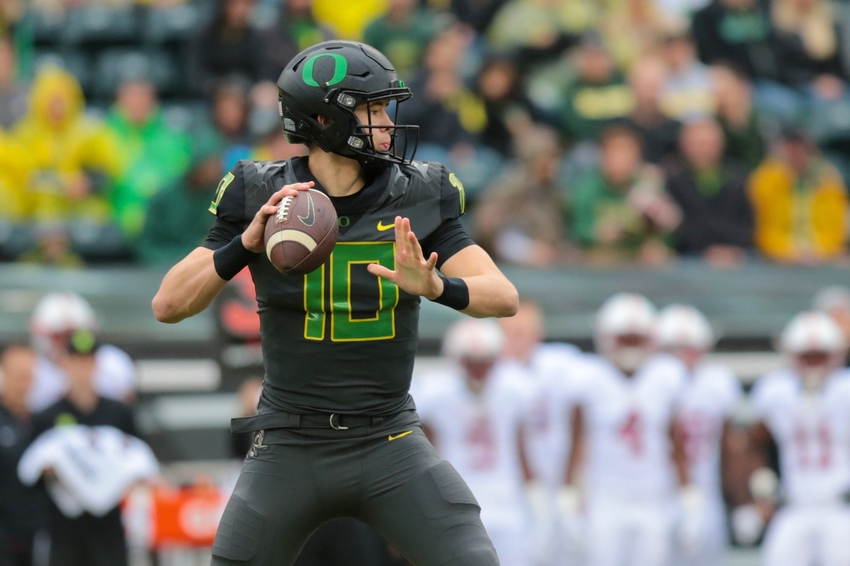 With a Big Win Over Utah the Oregon Ducks Bowl Game Chances May Still Be Alive, even at 5-7.
Saturday's game between the Oregon Ducks and the Oregon State Beavers is set to be an unusual one for most Oregon Duck fans. Not just because this is the first time in seemingly forever that both teams are evenly matched (if not on paper certainly in on field production) and an Oregon win is anything but assured. But because this is the first time since 1996 that the Civil War may mark the final time that this Oregon team will suit up this season.
Sitting at 4-7 with just two conference wins a team that has gone to 18 straight bowl games, including 4 BCS bowl games in a row, 2 conference championships, 1 BCS National title game and a semi final win in the first ever College Football Playoff, is having to adjust to the reality that this year they have no postseason prospects.
Or do they?
Traditionally Bowl Games were reserved for teams with winning records. Bowl games were a reward for a job well done, handed to teams who proved, by their record on the field, that they deserved to play one last game.
However, as the number of bowl games has risen to an absurd 40, organizers of such illustrious bowl games and the Foster Farms Bowl and the Camping World Independence Bowl have had trouble finding teams with above .500 records to pit against one another (FOR THE GLORY OF THE BUFFALO WILD WINGS CITRUS BOWL!) That's where the waiver system comes in and where Oregon could (COULD) find it's way into a postseason game.
this is the first time since 1996 that the Civil War will mark the final time that this Oregon team will suit up.
Of course this speculation is all dependent on Oregon beating the Beavers in the Civil War. A 5-7 Oregon Team could back their way into a bowl game while a 4-8 team would have no chance at all.
Our friends over at Addicted To Quack crunched some numbers and ran some scenarios that could see Oregon finding its way (at 5-7 mind you) into a bowl game. We recommend you see what they come up with for a detailed break down.
In short it works like this –
The big bowl games, excluding the Playoff games are beholden to agreements they have with the Power 5 conferences. That's why the Rose Bowl has always been a matchup of the top Pac-12 team vs the top Big Ten team. So those bowls take the top teams from the conferences they have agreements with, excluding any team from a conference that reaches the playoffs.
After that it gets a bit murky, with the lesser bowls fighting over which teams they get to invite to their games. The NCAA requires that bowl games first pick teams with winning records and then teams that sit at exactly 6-6. After that, if bowl games still need to be filled, they can fight over teams sitting at 5-7. And seeing as how there are 40 bowl games, so 80 spots, and only 65 teams currently bowl eligible we are certain to see some 5-7 teams eek their way in. Could Oregon be one of them? Probably. Will they be? Well, that depends on which team shows up in Corvallis on Saturday.
The Ducks and Beavers kickoff the 120th edition of the Civil War at 1pm Pacific Time on Pac-12 Network.
This article originally appeared on