Ole Miss vs Texas A&M: 3 Keys to Upsetting the Aggies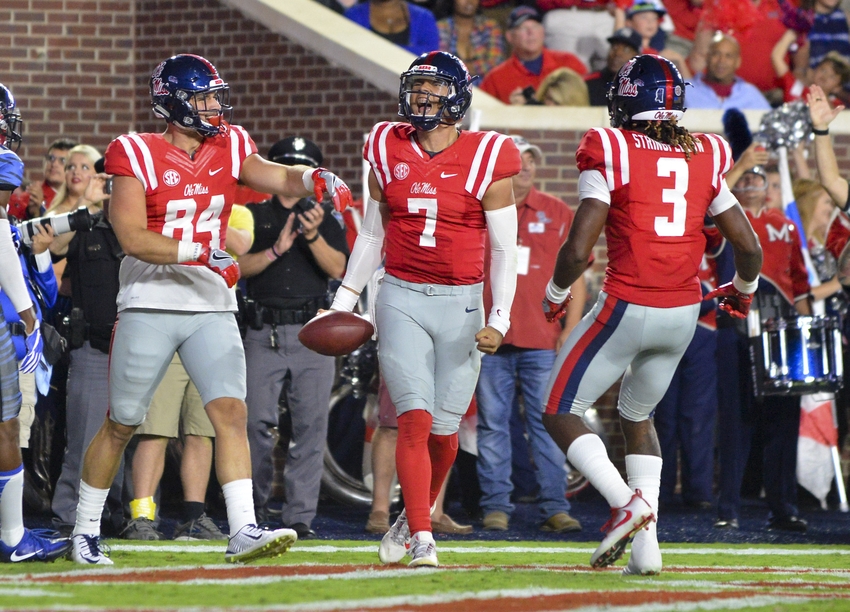 Ole Miss vs Texas A&M is the battle of two SEC West powers, and this year it might decide if one of the teams makes a bowl game.
Ole Miss vs Texas A&M has been an exciting game the past four seasons. The two teams have split the matchup in the past four seasons, with Ole Miss losing in 2012 and 2013, but the Rebels winning in 2014 and 2015.
This season the matchup will be the battle of the backups. Chad Kelly and Trevor Knight, the two best quarterbacks in the SEC, are both out for the season with injuries.
Texas A&M will play Jake Hubenak against the Rebels, and Ole Miss has not announced who they will play.
The Rebels will have to decide between Jason Pellerin and Shea Patterson for this weekend's matchup. 
Early indications show that Patterson will play against the Aggies, but will he start?
Hugh Freeze even mentioned in a press conference earlier this week that Evan Engram, Markell Pack, and Jeremy Liggins could all play quarterback if needed to.
Hubenak played against Ole Miss last season after Kyle Allen went down with an injury in the 23-3 victory for the Rebels. Hubenak went 6-for-11 for 46 yards in the loss.
If Ole Miss had to choose which quarterback to play, Hubenak would be the choice. He is a less-mobile quarterback when compared to Trevor Knight, and Ole Miss has struggled with mobile quarterbacks this season.
Get Pressure on Jake Hubenak
The rushmen on the defensive line will have to be on their A-game this weekend against Texas A&M. Benito Jones, Breeland Speaks, DJ Jones, and Victor Evans will all have to get pressure on the A&M quarterback to defeat the Aggies.
The linebacker play for Ole Miss will have to step up as well. Contain freshman running back Treyveon Williams, who is averaging 7.38 yards per carry.
Ole Miss will have to improve on its 5.15 yards per rush it is allowing.
The defensive backfield shouldn't have to worry too much, but the youth might be an issue for the Rebels against the Aggies.
The injury to Ken Webster has plagued the Rebels all season, but against the pass-happy attack that Hubenak and the receivers bring, it will really hurt the Rebels.
Christian Kirk and Speedy Noil will look to burn the Rebels defense on Saturday.
Ole Miss will have to combat these issues in the backfield and on the linebacking corp by getting pressure on the quarterback through the defensive line, which is their strongest position.
Hubenak needs to be put on his feet more than not, make him make throws while on the run.
If Ole Miss can make Hubenak go mobile, the Rebels stand a chance at upsetting the Aggies.
Pick a Quarterback to Play
Ole Miss has yet to decide between Shea Patterson and Jason Pellerin, well, at least made a decision to the public.
Hugh Freeze has played around the question when asked in media opportunities, stating that Markell Pack, Evan Engram, or Jeremy Liggins could play quarterback as well.
I am fully against playing Shea Pattersn this weekend, as I think he should finish out his redshirt season. Even if he doens't play in 2020, having the option to play an extra year is vital for a quarterback.
Sources close to Ole Miss have been saying that Shea Patterson will start the game against Texas A&M, but even some have said that he will play around 20 snaps against the Aggies.
If Freeze burns a redshirt for 20 snaps in a 4-5 season, then I am officially done with him. That is beyond stupid. If you burn the redshirt, start him and play him.
Let him start the rest of the season if that is how you want to do things.
But I still vote that we ride Pellerin the rest of the season and start over new in 2017.
A lot of this is due to the fact we play Missisippi State in a few weeks I think. If we had already played State, Patterson wouldn't even be in the discussion.
But Ole Miss fans and staff are so afraid of losing to the Bulldogs that they refuse to see what is better for the future of the team.
What happens if you play Patterson and he gets injured and is out for extended time next season? I am team Pellerin all the way here.
Keep the Aggies From Scoring on Special Teams
Texas A&M has the coveted ability to score on special teams at will it seems. Christian Kirk and Justin Evans are dangerous on punts and kicks.
Kirk averages 29.3 yards per punt return, with 2 touchdowns this season from punt returns. He is who you have to worry about. The Rebels have been giving up 13.53 yards per punt return this season and have given up a touchdown to the Alabama Crimson Tide.
The Rebels are better at kick return defense than they are on punts, only allowing 19.06 yards per return and having 29 touchbacks this season.
If Ole Miss can keep the Aggies from scoring on special teams, they have a chance to win the game in College Station.
The Rebels will also have to step up and return the ball better than they have this season. Ole Miss has been averaging 22.24 yards per return on kicks this season.
If Ole Miss can keep the Aggies from breaking big time returns, they can beat the Aggies.
This article originally appeared on