Ole Miss vs Memphis: Forget Last Year, The Rebels Will Stomp The Tigers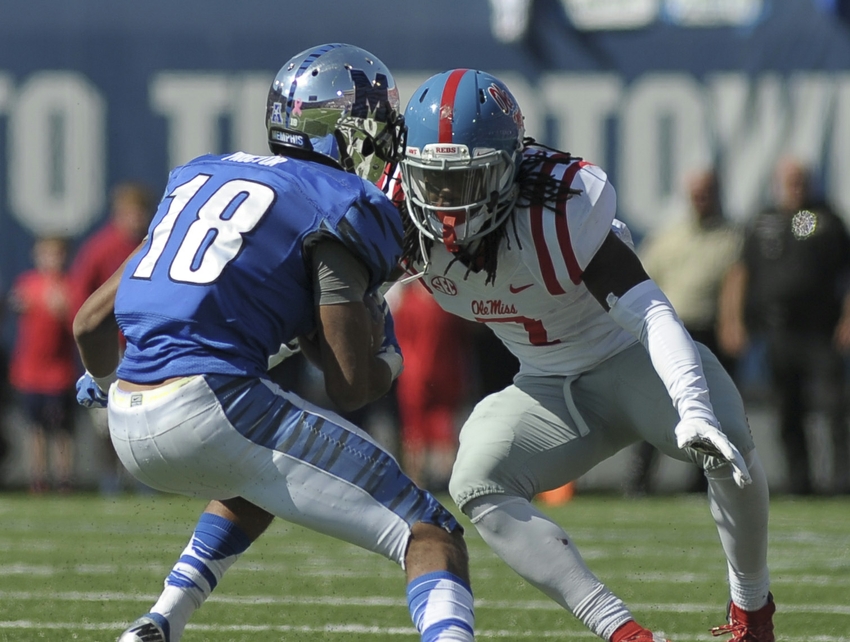 The 2015 Ole Miss vs Memphis football game was a bitter pill to swallow. But no worries, the Rebels will be victorious this time around.
Every Ole Miss fan remembers how they felt when Chad Kelly threw that final interception at the end of the Ole Miss vs Memphis football game. They remember the sourness in their stomach. They recall the bitterness in their mouth. Many said words that are not meant for some ears.
The 37-24 loss to the Tigers ended any thoughts of a run at a National Championship. What is even more annoying is that we've had to listen to Tiger fans brag for an entire year about this victory. It clearly was their crowning victory of the year.
But Tiger fans, I hoped you've enjoyed your little victory parade because it is about to come to an end on Saturday. Ole Miss will stomp the Tigers. Then all will be right in the college football universe.
Let's face the facts. The reason you were so excited about the victory is that you knew you didn't match up with us. Yet you still won the game. This is no disrespect. You were a good non-Power 5 team. So I know the upset over Ole Miss was a big deal. But it won't happen again.
A lot of things had to go wrong for the Rebels for Memphis to win. I'm not saying we beat ourselves. Memphis still had to make the plays for the victory. However, we certainly did not play up to the level we were capable of playing.
Too Many Negative Plays
Coach Hugh Freeze has said that the key to the Ole Miss offense is keeping negative plays to a minimum. Even a one or two yard gain keeps the offense moving forward and allows for a wider array of plays. When looking at the plays from the Memphis games you can see that the Rebels did a terrible job staying ahead on offense.
The Rebels had 13 negative yard plays. Those include plays that lost yards, penalties, and turnovers. That's too many for this Rebels team to be successful. For comparison, this past Georgia game only had six if you don't include the kneel down at the end of the game. One of those negative plays was an interception thrown by our backup quarterback.
Memphis, don't expect that to happen again. Ole Miss quarterback Chad Kelly has a better grasp on the offense this year. The Georgia game showed that the offense is gelling perfectly. Saturday the Tigers will see heavy doses of Evan Engram, DaMarkus Lodge, Quincy Adeboyejo and A.J. Brown. If that's not enough, how about Damore'ea Stringfellow, Markell Pack and Van Jefferson. There's an offensive onslaught on its way. So don't count on just 24 points this year.
Perfect Timing
Last year's Ole Miss vs Memphis game came at the perfect time for the Tigers. The Rebels were in their seventh game in a row. It was a streak in which the Rebels defeated the Alabama Crimson Tide in emotionally charged game in Tuscaloosa. The streak also included a demoralizing loss in Gainesville. Ole Miss' focus wasn't in Memphis that week with another SEC game coming the following week with Texas A&M.
While the Tigers were coming off a bye week. They had 14 days to prepare for the Rebels. Memphis obviously used their time wisely. This year they both enter the game after playing the previous week. But the quality of opponents is very different. While Ole Miss has faced three top 25 teams in the first four weeks, the Tigers haven't faced a team with more than one win.
They have a high scoring offense but they've yet to face a defense like the one they will face Saturday, Although he has played well, Memphis QB Riley Ferguson has yet to face a defensive line like the Rebels possess. There are some things you can't simulate in practice. The Tigers don't have a DJ Jones or Marquis Haynes on the practice squad.
Back To Normal
Now it is time for Ole Miss vs Memphis 2016. I hope the Tigers enjoyed their year of parading their victory around on social media. It must feel good for Memphis fans to finally be able to cheer for another sport that isn't basketball. But now it's back to reality.
Reality is a lifetime 11-48-2 record against Ole Miss. Reality is that you are playing a night game at Vaught-Hemingway Stadium and not at a sparsely attended Liberty Bowl Memorial Stadium. Coach Freeze says revenge is not a factor. But let me assure you that it most certainly is. Their focus is completely on you this year.
Ole Miss is averaging 40 points a game while playing talented defenses. Memphis your defense isn't comparable to Alabama. and we put up 43 on them. Look for Kelly and the offense to be laser focused. I just don't believe you can keep up. So enjoy your trip to Oxford, but be prepared to go back home very sad. But smile, basketball season is coming soon.
More from Ole Hotty Toddy
This article originally appeared on