Ole Miss vs Arkansas: You Can Put Your Xanax Away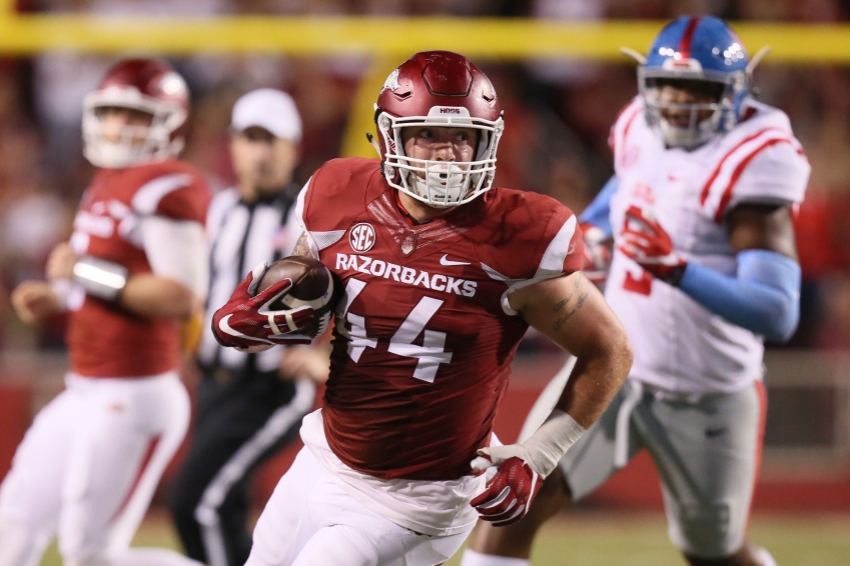 Breathe, Razorbacks fans. Breathe. The game against the #12 Rebels is over. Ole Miss vs Arkansas turned out to be what many had hoped it would be.
As is part of the history of these two teams, a battle that went down to the end ensued. I am not going to cliché this great game by calling it a slug fest. Instead, I will only firm up what any smart sports fan should know. This contest was purely two fantastic SEC rivalries where coaching strategy banged up against coaching strategy from both sidelines.
Back and forth we went. Arkansas scored. Ole Miss responded immediately. Which reminds me, thank goodness for missed PATs by teams visiting Razorback Stadium throughout the years. Field goals. Touchdowns. Field goals. Then more touchdowns. However, you've probably seen the stats of the game, so let's just break down some of the lesser talked about aspects of The HOGS performance.
A Summary of the Offense
Arkansas, like any other football team, knew it would have to have a good balance of run and pass. It also knew that it would have to play well on first down and stay in front of the chains. Furthermore, it knew it had to take a few new plays into the red zone to score against a tenacious Ole Miss defense.
The Razorbacks succeeded a majority of the time on these goals. The passing yardage and rushing yardage were very close statistically when the clock finally read '0:00' at the end of the night. Arkansas did struggle on first downs at times, usually after rushing for a long first down and then following that up with another rushing attempt. Furthermore, as far as red zone strategy, Bret Bielema admitted at the half that Arkansas needed to capitalize deep in Ole Miss territory by scoring touchdowns, not field goals. The run by Jared Cornelius in the red zone for the winning touchdown seemed fresh and caught the Rebels defense unprepared.
A Summary of the Defense
The Razorbacks defense knew coming in that they had to stop the long ball to Evan Engram. Also, creating turnovers was going to be a huge stepping stone into taking the thorn out of our losing SEC record. And keeping Chad Kelly from running wild, especially on designed plays, was going to be a must.
Arkansas managed to only allow Engram into the end zone one time, however, despite his having 111 receiving yards on seven catches, he did not seem to be a huge factor in the game. Maybe I was just expecting more out of him. The HOGS did create two turnovers, including one fumble on fourth down at the end that sealed the victory. And let's face it, on that play, Santos Ramirez (who had been recovering a leg bruise) blasted Chad Kelly when we needed it most preventing what appeared to have been a first down on 4th and 16. Outside of that, Kelly had little trouble scrambling from the Razorback D until the 4th quarter.
Even Alabama fans got in on the excitement:
I don't ever remember cheering FOR Arkansas before, but it sure is fun tonight! #MISSvsARK

— Meredith (@DivineMrsMH) October 16, 2016
A Summary of Special Teams
Adam McFain and Toby Baker were both boss tonight. We owe this victory to them. Enough said.
Closing Thoughts for the Future
The offensive line has got to do a better job of protecting Austin Allen. If we continue to control the clock and win the time of possession like we did tonight (40:38), then we will be competitive with a chance to win each ballgame. Devwah Whaley showed what a force he is now and is going to grow to be. His runs and blocking were game changing.  Keon Hatcher was clutch, meanwhile a shout out to Austin Cantrell for stepping up and being a difference maker. There were so many great contributors tonight, therefore, I'll close by giving mad props to the entire group of Razorbacks and coaches for showing us what a TEAM truly is.
Oh, and could someone from Ole Miss please tell Chad Kelly how ridiculous he looks when he is doing his final warm-up before coming onto the field? It's like Olivia Newton-John had a kid with Ryan Mallett. We still love ya, Ryan!
Let's build on this and fix the weaknesses that are still present. Great job, Coach Bielema. Your final score from Fayetteville: Arkansas – 34; Ole Miss – 30. Oh, and how was your day, Barrett Sallee?
More from Razorbackers
This article originally appeared on