Ole Miss Rebels: Freeze May Turn to Engram or Pack for QB Help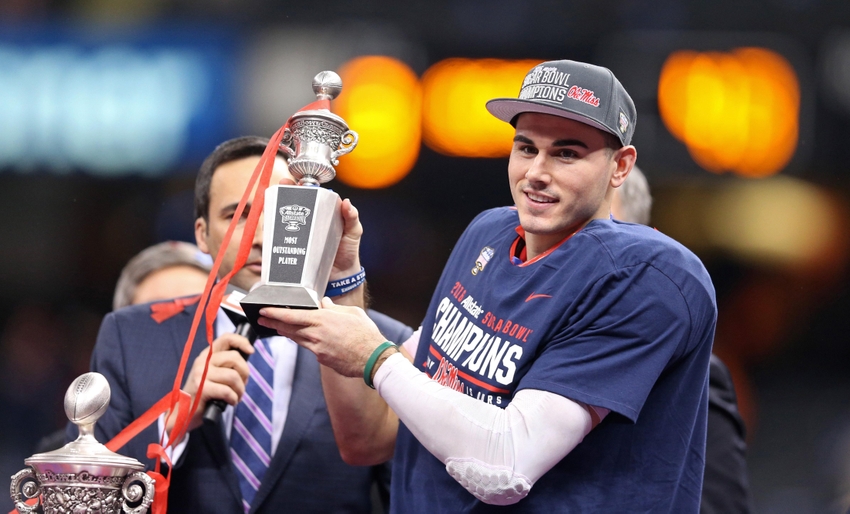 The injury bug continued decimating the 2016 Ole Miss Rebels, and Head Coach Hugh Freeze has some unique ideas on how to address the season-ending injury to quarterback Chad Kelly.
Chad Kelly and John Youngblood joined quite a list this weekend. Kendarious Webster, Eric Swinney, DK Metcalf and others have suffered season-ending injuries in 2016 for the Ole Miss Rebels.
Kelly will have surgery after suffering a torn ACL and lateral meniscus in the win over Georgia Southern. Fan favorite John Youngblood underwent season ending surgery Sunday morning.
I mention all the turmoil to justify the following quote from Hugh Freeze when asked about pulling Shea Patterson:
"That's a very difficult thing to do this time in the year with three games left. All options are on the table sitting here Monday morning. We have looked at Markell (Pack) who has played quarterback, Evan Engram can throw, and Kentucky played a whole game with a running back at quarterback. Hopefully Jason (Pellerin) will stay healthy. I would rule nothing out at this point today. I am just trying to figure out what is best for individuals and for the team, that is not something I want to rush to make a decision on. It certainly would be difficult to do that, but I wouldn't quite totally rule it out just yet, but I want to take my time and think through it for sure and we are looking at all the options."
Yes, you read that correctly. Hugh Freeze is considering pulling his All-American Tight End Evan Engram to quarterback. In addition, Freeze is considering playing Markell Pack at quarterback for the Ole Miss Rebels.
Crazy times in Oxford, Mississippi.
If I had to guess, I would imagine Engram and Pack are being given packages that the coaches hope they can execute in a worst case scenario. While wildcat-type packages have largely phased out of the college football game, the package is still legitimate if a throwing threat is viable. I'd mention the Wild Rebel with Dexter McCluster, but too many  ugly interceptions would flash through Ole Miss Rebels' memories.
Thankfully, though, that doesn't appear to be Freeze's plan A. When asked about Jason Pellerin playing quarterback, Freeze had this to say:
"Jason (Pellerin) is going to get most of the reps. I thought Jason played well last week. He threw two beautiful balls that both could have been caught and we will look at (Markell) Pack some, Jeremy Liggins, Evan Engram. Shea (Patterson) has been getting reps with the scout team and I am sure he will get some this week just until we make a decision as to what's best for team first and individual kind of second, and that's a really tough question when you get to this point in the season. When it is what's best for the individual and what's best for the team, that's a difficult question that you have to answer."
And so the madness continues. We now have Jeremy Liggins being tossed around to potentially play quarterback. While Liggins was once a QB prospect, offensive tackle is his projected position in the NFL.
Jeremy Liggins has the most experience.
Even Engram 'can throw'.
Markell Pack is athletic.
Hugh Freeze must have very little faith in Jason Pellerin. If that truly the case, Freeze and Co. have to be wishing they could have held on to DeVante Kincade and Ryan Buchanan.
One thing we can all agree on, though, is that the season has gotten much more interesting for the Ole Miss Rebels. It just isn't what Ole Miss was hoping for. After it became increasingly dull, the Ole Miss Rebels will receive a ton of attention this week.Unfortunately for Ole Miss, none of the attention is wanted.
For the record, I would be opposed to pulling Shea Patterson's red shirt. The Ole Miss Rebels sit at 4-5. The best case scenario sees the season end in Birmingham or Memphis. Yes, missing out on a bowl game would be devastating. Still, though, it doesn't justify sacrificing a future season with Shea Patterson at quarterback.
This article originally appeared on