Ole Miss QB Chad Kelly shakes defender for touchdown bomb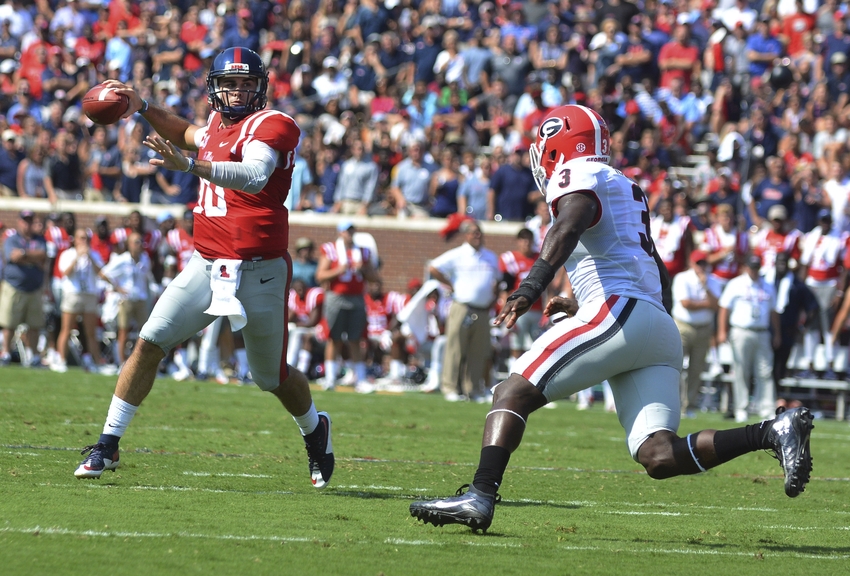 Ole Miss quarterback Chad Kelly shakes off a defender for a huge touchdown throw.
The Ole Miss Rebels are issuing an old-fashioned beatdown to Georgia Bulldogs on Saturday. Not even halfway through the second quarter of the game and the No. 23 Rebels are holding a 24-0 lead over No. 12 Georgia.
And Georgia can't seem to get anything right. They nearly sacked Ole Miss quarterback and DM frequenter Chad Kelly, but he was able to shake off the defender.
As if that wasn't embarrassing enough, Kelly then launched the ball at the end zone into what the broadcast team labeled "double coverage." While we'll give Georgia the nod that it wasn't exactly double coverage, Ole Miss wide receiver DaMarkus Lodge was still able to come down with the ball to extend the lead.
raffikirks: #OleMiss is making a statement today #TouchDown #CollegeFoo… ESPN College Footb… https://t.co/0kEcXyO3l9 pic.twitter.com/Tyw7WlMtXv

— FanSportsClips (@FanSportsClips) September 24, 2016
Georgia are going to need a bit of a come to jesus meeting during halftime to try and get this game from disastrous to respectable loss. While this is a 23rd-ranked Ole Miss team, this is also a 1-2 team.
The Bulldogs are in jeopardy of dropping their first game of the season and potentially their season spiraling out of control.
This article originally appeared on