Ole Miss Football: You Should Be Excited About the Last Four Games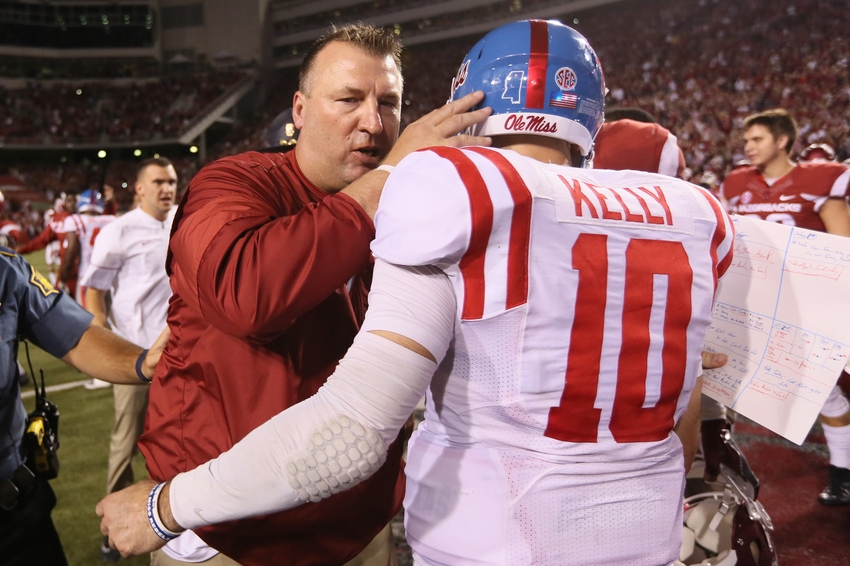 There is no longer any chance for the Rebels to end up in a championship game. However, there is still a lot for fans to be excited about during the last four games.
Let's face it. This has not been the year Ole Miss fans had hoped for. But before you give up on the rest of the season you should know that there are still big things to accomplish in the last four games of the season.
There may not be many team goals left to accomplish but there are individual records left to achieve. No one has felt the disappointment of the season more than the players. The fans owe it to the Rebels on the field to support them during their last four games of the year.
There are a few individual records and accomplishments that are reachable for certain players. So if you can't enjoy the year because of the team results, celebrate the individual players who have sacrificed for Ole Miss.
Since they have shown their love for the Rebels, we should show our love for them. Here are some of the records and accomplishments that a few Ole Miss players can attain during the last four games.
Chad Kelly
One could only imagine the records that Chad Kelly would own if he could have just had one more year at Ole Miss. However, in just two seasons, Kelly has etched his name in Rebels' history. In a losing effort to Auburn, Kelly became number three on the Ole Miss career passing list.
Before the last four games of the year, Kelly has 6574 yards passing. He's thrown for 49 touchdowns. When you come out to support the Rebels final games you get to watch Kelly climb up all the quarterback records.
Before the season is over, Kelly should be third on every important QB list. He is already there in yards and touchdowns. If he gets hot in the last four games, Kelly could push for second in passing TDs.
He's also third in total offensive yards and touchdowns. Remember, this is done in only two years at Ole Miss. Come out and show Chad appreciation for the work he has done for the Rebels.
Evan Engram
If there is an offensive MVP for the year it's Evan Engram. He came back for his senior season to help lead this team to a championship. However, he has parlayed this 2016 into the best season ever by a Ole Miss tight end. To be honest, this has been one of the best years for any Rebels' receiver.
SEC Football: Takeaways for Each Team from Week 9
Fans should come out to watch the Rebels because you will be watching the best receiving tight end in Ole Miss history. He owns every Ole Miss record for tight ends. 146 career receptions. 2094 career yards. 13 career touchdowns. These are his career stats and he still has four games left in a Rebels uniform.
This is what is left for Engram to accomplish in his last four games. He's only 300 yards away from 1000 receiving yards in a season. The only other players to do that was Laquon Treadwell and Shay Hodge.  If he gets to the 1000 yard mark, he will also move to ahead of Treadwell into the number three spot for career receiving yards.
No one incorporates all that is good about Ole Miss more than Evan Engram. You should come to the games to show him how much you enjoyed having in that Rebels' uniform.
Marquis Haynes
Nothing would make Rebels fan happier than this junior coming back for his senior season. However, a pass rusher this talented usually doesn't hang around for another year. But Haynes has made the most of his time in Oxford.
Even though he has the last four games of this year left, Haynes is already in the record books. Since sacks became an official stat in 1983 only one person has recorded more career sacks than Haynes. That would be the infamous Greg Hardy.
Haynes' 22.5 sacks has him four sacks away from tying Hardy. It will be difficult but he will have a few opportunities to make a play for the record. Vanderbilt's offensive line has given up quite a few sacks. Mississippi State's line has been an issue as well.
There is no better sight than watching Haynes run past an over-matched tackle and slicing a poor quarterback in half. This may be your last opportunity to see one of the greatest pass rushers in Ole Miss history.
Others
Every member of the Ole Miss Rebels' football team may not be going for a record. However, the entire team has gone through pain, sweat, blood and tears in order to bring a winner to Oxford. That should be enough for the fan base to be all-in during this last four games.
Plus, this will be the last time to see some great seniors. Seniors that have brought this school to great highs. It's your last time to see the crew from South Panola; Issac Gross, Tony Conner, and Temario Strong.
It's your last chance to Quincy Adeboyejo whose touchdown catch off of a deflection against Alabama will live forever in the annals of the SEC. Come support this year's Chucky Mullins' Award winner John Youngblood.
Don't forget Tony Bridges, Fadol Brown and D. J. Jones. Or how about Akeem Judd, Derrick Jones, and Robert Conyers. There are others who have given four or five years to this program. They've been great years. Don't let a down year make you forget what these guys were able to accomplish. The Sugar Bowl does not happen without these guys.
During this last four games of the 2016 football season, when they yell, "ARE YOU READY?", what will your answer be?
More from Ole Hotty Toddy
This article originally appeared on