Ole Miss Football: Three Takeaways vs. MSU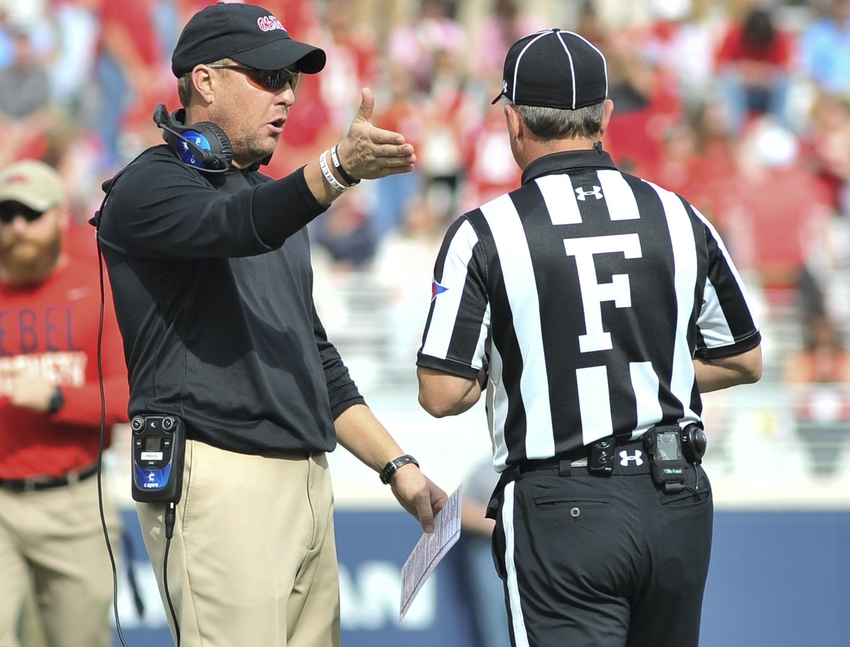 Ole Miss finished the 2016 season at 5-7 with a disappointing finish, losing to Mississippi State 55-20 on Saturday in Oxford. What did we learn from the Egg Bowl?
Ole Miss suffered their largest defeat to MSU since 1916 on Saturday. The performance left fans asking a lot of questions about the future of the program. But what did we learn from play on the field during the Egg Bowl? Find out here.
It was the same song, different verse for the Ole Miss defense on Saturday. The inability to stop the MSU run game led to the Bulldogs taking control of the game and blowing out the Rebels. Mississippi State ran for 457 yards on 47 carries which was good for 9.7 yards a rush. MSU quarterback Nick Fitzgerald ran for 258 yards on his own with two touchdowns.
Ole Miss really struggled inside the red zone against Mississippi State on Saturday. Not only did the Rebels struggle with kicking field goals, but there were other mistakes as well.
Ole Miss did not convert in two critical red zone situations against MSU. The first one occurred with the Rebels down 20-10 in the second quarter and Shea Patterson threw an interception to Jamal Peters of MSU.
Perhaps the play of the game happened when the Rebels were driving down 27-20 in the third quarter and were stopped on a fourth down at the MSU 17 yard line. The Rebels were never able to recover and the Bulldogs cruised.
Sometimes in football and in other sports, the box score doesn't tell the whole story. MSU out-gained Ole Miss by 38 yards, but won by 35. MSU scored touchdowns in the red zone, Ole Miss scored field goals and turned the ball over.
MSU was 9 for14 on third and fourth down conversions, while Ole Miss was 6 for 19.  MSU turned the ball over once late while the game was already in hand, Ole Miss turned it over twice.
This is not to say Ole Miss wasn't whipped in every aspect because they were, but there were small things that turned out to be a big deal when all was said and done.
More from Ole Hotty Toddy
This article originally appeared on