Ole Miss Football: The Weapons Remaining at Receiver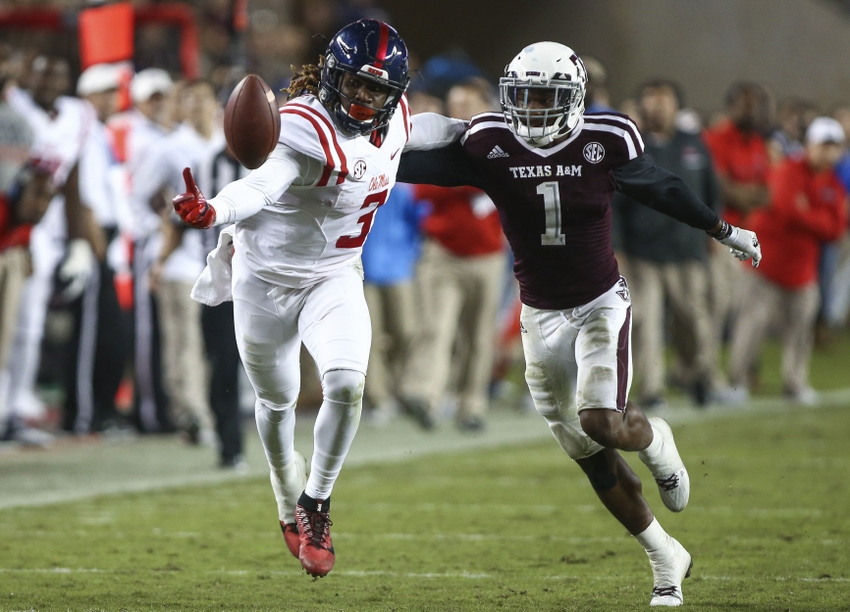 Junior Ole Miss wide receiver Damore'ea Stringfellow has declared for the NFL draft. The departure of Stringfellow allows room for other receivers to step in.
On Monday morning it was reported that Damore'ea Stringfellow will forgo his senior season and declare for the NFL draft. The junior receiver had some of the best pair of hands we've seen in Oxford. He finished the season 8th in the SEC in receiving yards with 716 yards.
This was also the last year for receiver Quincy Adeboyejo. The senior finished his career with 106 catches, 1454 yards with 11 touchdowns. However, he will be remembered for his catch against Alabama that came off a deflection that ended with a touchdown.
Although their output will be missed, the cupboard is not exactly bare at the receiver position for the Rebels. The receiver position has been a strong suit for the Rebels for the past couple of years. It remains strong. There are plenty of weapons left on the 2017 roster.
Check out the next few pages to look at next year's weapons.
The Upperclassmen
The one drawback to having young talent is that sometimes there is a lack of leadership. However, there will be two members of the receiving corps that have multiple years worth of experience. Markell Pack and DeMarkus Lodge will be the lone upperclassmen on this team. However, their influence needs to be off the field as well as on.
Pack will return as the statistical leader among receivers. His career numbers are modest with 56 receptions and 710 yards with 11 touchdown. Therefore, he often gets lost among the big name  Rebel play makers. However, he has been consistent and solid when called upon.
The one player that could have a breakout junior season is Lodge. The Cedar Hill, TX. native will have the opportunity to step up and take control of that position. The receiver has all the talent needed. He just needs to improve his route running and stay focus on the field. Look for him to have a great year.
The Young Studs
What makes Ole Miss' future bright is the young receivers that were productive this year. It was impressive how these young guys made an immediate impact of the squad. Their youth will allow them to grow and develop chemistry with the future of the Ole Miss quarterback position, Shea Patterson.
Van Jefferson came into this year as a redshirt freshman. However, his play was one of a seasoned veteran. He was second on the team with receptions this year with 49 receptions. He managed to finish third in yards with 543 yards. His connection with Chad Kelly gave the Rebels a viable option in the slot. Look for his growth to continue.
The prizes in the State of Mississippi during last year's recruiting season was a pair of great receivers, A. J. Brown out of Starkville and D. K. Metcalf out of Oxford. The Rebels were able to get both players. Brown showed he was an impressive receiver. He demonstrated his strength often and managed to tally two touchdowns with his 29 receptions and 412 yards.
D. K. was declared out for the season due to an injury early this year. He was a red zone threat. He had two receptions. However, both were for touchdowns. Therefore, look for a healthy Metcalf to be dominate.
Also be on the look out for redshirt freshman Tre Nixon next year.
Possible Newcomers
Although no one knows for sure yet who will be committing to Ole Miss. There have been a couple of verbal commits. It appears, for now, that they are solid commits.
Listed as verbal commits are D.D. Bowie out of Morton, MS. and R.J. Sneed from Cypress, TX. They will join an already talent group of receivers on the team.
Bowie is a four star receiver who has spent a lot of time this year with running the ball out of the quarterback position but is a great receiving threat. Snead is three star from Texas. At 6'2 and 185 pounds, he fits the mold of a Rebel receiver.
More from Ole Hotty Toddy
This article originally appeared on