Ole Miss Football: Shake Off the Misery and Get Pumped for the Egg Bowl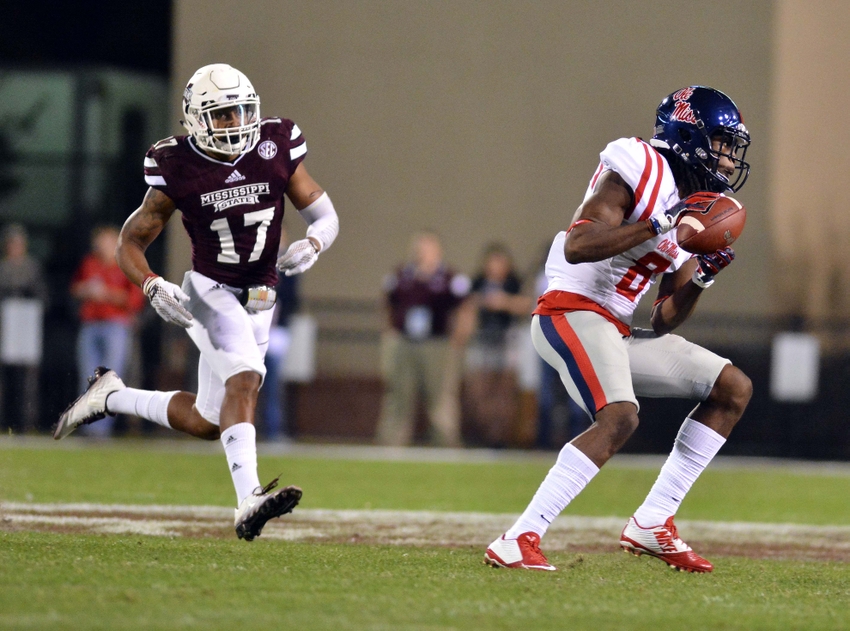 It's been a tough season. But now it's time to stop wallowing in misery and get pumped up! The Egg Bowl is here!
5-6 is not where we saw ourselves in early September. I know, SEC Championship aspirations were dashed early. But such is life. It's Egg Bowl time. It's Senior Day. The time for sulking and moping around is over. Mississippi State is in town and it's time to send them home in utter defeat.
We've endured too much nonsense this year for us to cower in the corner now. This isn't the first disappointing season we have seen here. We've had a few. However, the one thing that always made a bad season palatable was defeating the Bulldogs.
Therefore I, for one, have decided to get excited about Saturday's game. I'm a Rebel when we are 10-2 and I'm a Rebel when we're 5-6. We've put up with the vitriol of Egg Bowl Twitter and Facebook all year long. I won't run and hide. It's time to be loud and proud that We Are Ole Miss.
Here's why you need to get pumped.
Sending Out The Seniors
There is no one who wanted to have a successful season more than the seniors. They were the architects of the Ole Miss turn around. These players have brought an expectation of winning to the campus. Therefore the joys of these past four years are because they decided to make Ole Miss their home.
We have an obligation as fans to give them the praise they deserve. Their sacrifice for our happiness deserves our cheers and applause. Therefore, we should be celebrating their journey at the Egg Bowl. You can be disappointed in the year but still support the players.
How can you not cheer on Robert Conyers? The man played the season with no knee cartilage. Evan Engram is clearly the best tight end in the country. Yet he was left off the finalist list for the award that honors tight end. However instead of complaining he sends out this tweet:
Wow! Thank you for all the support but I got my award when I woke up this morning! Congrats to the finalists! Well deserved

— Eazy E (@EvanEngram) November 22, 2016
Yeah, this guy plays for our team.
Don't forget Fadol Brown, Tony Conner, Quincy Adeboyejo, Issac Gross, Akeem Judd, Chad Kelly, and John Youngblood. In addition, how about the unsung seniors like Nathan Noble, Kalio Moore, Will Few, Talbot Buys, Drew Davis and others. Therefore, the Egg Bowl is your way of giving these guys the send off they deserve.
Bowl Eligibility
We enjoyed going to the Sugar Bowl in New Orleans. That was fun. The trip to the Peach Bowl after the 2014 season wasn't as fun because of the outcome. However, being invited to participate in the inaugural New Years Six Bowl games was a big deal. Even the Birmingham Bowl in the year previous was great because it meant that the team was on the rise.
Although 6-6 isn't a phenomenal season, it would be a bowl eligible season. It wasn't long ago when were wondering how long will it be before we would win another SEC game. 2-10 wasn't that long ago. This may not have been a great season but it wasn't a terrible season either.
However, the most important thing about bowl eligibility is the fact that it was the primary reason the redshirt was pulled off of Shea Patterson. The chance to give him extra practice time was invaluable. Plus an opportunity to take the seniors to their final bowl game. A victory at the Egg Bowl provides all these benefits. We need to cheer them on to victory.
Keep Dan Sleepless
After a 31-17 loss to Ole Miss during the 2014 Egg Bowl, a fiery Coach Dan Mullen made a vow that has haunted him since that faithful day. The Mississippi State coach said he would not sleep the next 365 day until he gets a chance to play Ole Miss again. He said it as if he would win back the Egg Bowl trophy and therefore can rest.
Well a funny thing happened in 2015. The Ole Miss Rebels went to Starkville and beat the Bulldogs there 38-27. Since Mullen's sleep is predicated on winning the Egg Bowl, one can only assume he has been awake for nearly two years straight.
The visual of Mullen downing Red Bulls in an effort to not doze off always makes me smile. Therefore, I'm cheering hard this year because I want him to stay awake. He has come so far and I don't want to ruin his achievement by letting him leave with a win.
We owe it to Dan to keep him awake. So with every touchdown Saturday, yell loud. With every mistake Mississippi State makes scream maniacally. Help Dan stay sleepless.
The Egg Bowl is the opportunity to wrap up the season on a positive note. Let's stop licking our wounds and get out there and pump up your Rebels. Hotty Toddy!
This article originally appeared on