Ole Miss Football Recruiting: Four Tips to Prepare for National Signing Day
K. L. Williams/FanSided via Ole Hotty Toddy

Fansided
Today is the day. It's National Signing day. Let's get our mind prepared for all the day will bring.
National Signing Day is the day that every college football team believe they are all about to improve their team. It is the only day antiquated fax machines are fired up waiting for the Letters of Intent from high school seniors and their caregivers.
While Ole Miss fans have been a little timid about NSD. The effects of the linger NCAA probe has cause recruits to shy away from the program. So they come into the day a little skeptical and on edge.
The Rebels have been very successful signing recruits under Hugh Freeze, and this year shouldn't be any different.
It's a day that can bring out the best and worst in fans, and will tell the story of where a program is headed. However, from one Ole Miss fan to another, let's get our minds right. Also, let's prepare for this NSD. Here's four tips to get you there.
Celebrate the New Rebels
If you are determined to enjoy National Signing Day, the first step is to commit to celebrating the new signees. Ole Miss takes pride in being a family. Therefore, we tend to appreciate those who decide to come and be apart of this extended football community.
So instead of wallowing in the "what ifs", celebrate those kids who want to be Rebels. It is a privilege to be an Ole Miss Rebel. How great it must be to be a kid walking to the stadium through the Walk of Champions? Furthermore, the crowd swarming around the team as they walk through the greatest tailgating tradition in the country, The Grove. When they walk through, I never think about the kids that don't come. In addition, I don't even think about the team's record. Watching those young men walking through makes me proud to be a Rebel.
Do you know how many times I've thought about Leo Lewis last year? Not many. Or how many times I've said, "I want CeCe Jefferson"? Never. When's the last time you whine about missing Austin Golson? The thought makes me laugh. Consequently, we want kids who want to be here.
So no complaints about the kids we get. Celebrate those true Ole Miss Rebels who want to spend the next 3-5 years with us. Most of all, cheer for the Ben Browns and Josh Clarkes of the world. Go crazy for kids like Alex Faniel. These will be your future Rebels.
Prepare For Disappointment
With all the happiness of National Signing Day, there will be disappointment. It is inevitable. The frustration that comes with the 10 hour wall to wall coverage of NSD does not come from missing out on a kid that has been toggling between two or three schools during his recruitment.
Ole Miss Football Recruiting: Five Recruits the Rebels Need To Sign
Disappointment comes from the kid who has been a verbal commit for a year and then during the final month or week or hours of recruitment decides to choose another school's hat during the signing ceremony. Also, it comes when all the recruiting gurus have told you that they were a solid commitment. However, when the day is over he is celebrating with a different fan base.
It begins when we start to try to read his clothing to see if we can tell where he's going. What color is his tie? Which hat looks worn and which looks new? What shade of red is his coat?
Rebel fans, be prepared for disappointment. We know that there are already a couple of recruits that look like they may be going to another school. All signs are pointing to it. No need to complain or insult them on social media. Wish them well, move on and remember point number one; Celebrate the New Rebels.
Remember, flips and surprise commitments happen all the time. Which brings us to…
Look For Surprises
As disappointing it is when you lose a potential player, it is exhilarating to grab a player you didn't know you were going to get. Most of all there is nothing like seeing a player that you expected to choose another school, grab an Ole Miss hat instead.
How much fun was it see A.J. Brown pick that Ole Miss hat off a table that included the university in his hometown? Coach Hugh Freeze and his staff have a penchant for pulling out a few surprises.
So don't be surprised if a recruit signs with Ole Miss that you haven't been following for the past year. There are players that have gain interest because of a new coach that was hired. Or a player that has gained interest because of other recruits signing on.
Either way, there could be a couple of players that will add to the fabric of the Ole Miss team. Players that may become an all-time favorite. Or a player that may become a future Chucky Mullins' Award recipient. It's National Signing Day, anything can happen!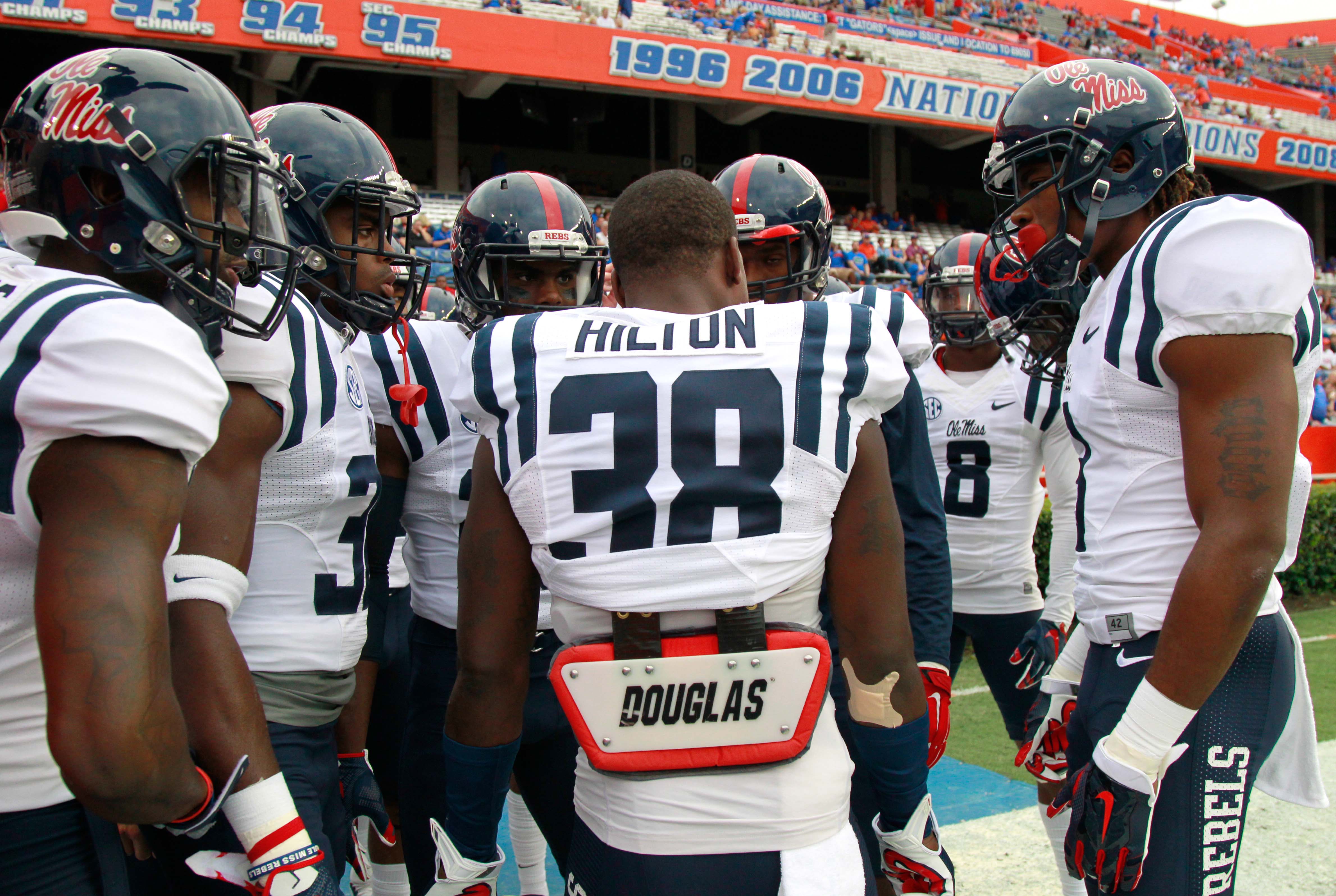 Oct 3, 2015; Gainesville, FL, USA; Mississippi Rebels defensive back Mike Hilton (38) huddles up with teammates before the game against the Florida Gators at Ben Hill Griffin Stadium. Mandatory Credit: Kim Klement-USA TODAY Sports
Signing Day is Won in the Fall
The hoopla surrounding National Signing Day is exciting and tiring all at the same time. However, the fact of the matter is that signing day is not won on February 1st. You don't see the results to NSD until the season is in full gear in the fall.
In reality, it may take a year or two before you really see if a player was worth all the time and energy it took to recruit them. The annals of football history has a list of plenty of five star recruits that didn't pan out. Yet there are many two or three stars that outperformed their ranking.
It doesn't take long to look down at the past few years to see how Ole Miss has benefited from players who weren't highly rated. During the 2013 class, Ole Miss offered scholarships to two four star tight ends, Marcus Baugh and Desean Smith. Neither signed. However, we did sign this hybrid tight end/receiver from Georgia. He was only a three star, but Evan Engram became statistically the best TE to ever play at Ole Miss.
Want your voice heard? Join the Ole Hotty Toddy team!
Who could forget players like Mike Hilton and Cody Prewitt? What about Cody Core and Robert Conyers? All were three star players that help change the course of the Ole Miss Rebel program. They earned there accolades during hot practices in the Summer. They're legacies were cemented on the field during SEC games.
NSD Wrap-Up
So if the Rebels don't sign the type of class we are accustom to, do panic. It is what they do on the field of play that will determine the successfulness of this class. Some schools average a top 10 class every year yet can not seem to win a National Championship.
Therefore, enjoy National Signing Day. Celebrate the New Rebels. Don't worry about those who sign elsewhere. However, don't be surprise if we find a few jewels. Then wait until the fall before you cast judgment. Hotty Toddy!
More from Ole Hotty Toddy
This article originally appeared on