Ole Miss Football: Rebels Loss to Florida State Is Not the End of the World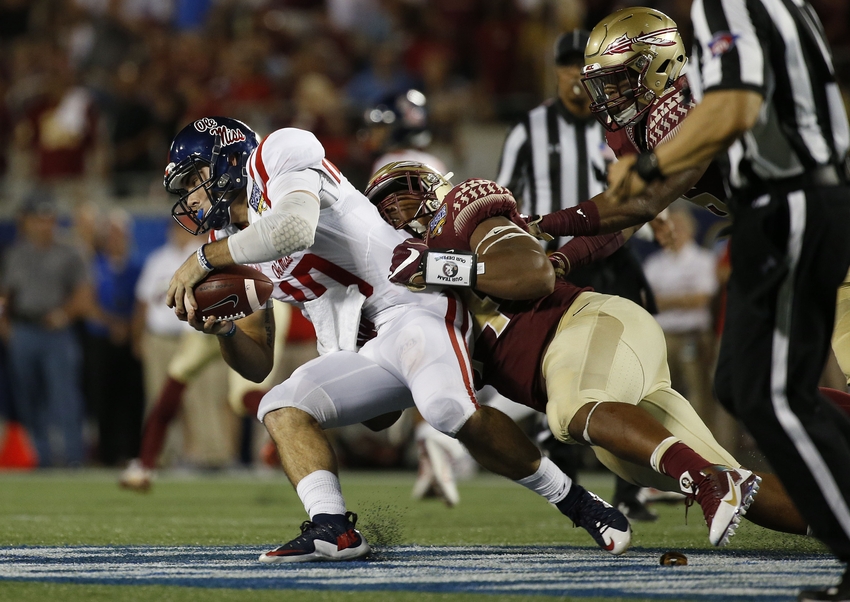 The entire world of college football watched Ole Miss lose a heartbreaking game to Florida State last night. Though it was a tough night for Rebel fans, it was not the end of the world.
Rebel nation, step away from the ledge! I know it seems like last night's Ole Miss game felt like it was the end of the world. It's tough to get your hopes up just so that they come crashing down. It would have been a great win for the team and the fans. But that loss does not destroy our season.
The 45-34 loss to the Seminoles on Monday night left a lot of Ole Miss fans heartbroken. But they should not let that sting linger because in the end, the loss won't matter. I am not saying it didn't hurt, it just doesn't matter in the long run.
Ole Miss entered into the game as an underdog. Many Rebel fans did not believe we would win the game. But looking on the bright side, we put up 34 points on what is roundly considered a great defense. We saw what a glimpse of the future at wide receiver and it looked great. D.K. Metcalf made a veteran touchdown catch after tipping the ball from the defender to himself. Van Jefferson had a great TD catch. A.J. Brown ended with two catches for 48 yards.
Let's not forget that Florida State was a top-five team in almost every poll. We played in Orlando which amounted to a home game for the Seminoles. The first half of the game was magical. But Ole Miss could not recover from injuries in key positions during the game. Ken Webster's first quarter created problems in an already thin cornerback position. Eric Swinney's injury caused issues in a running back group that lost Jordan Wilkins weeks earlier due to academic ineligibility.
The untimely turnovers were the death to us. Yet with all those things against us, it took all Florida State had to defeat us. So there is no reason to allow this loss to ruin your week. We can overcome this.
Editorial: Removing 'Dixie' Shouldn't Matter to Fans
Plus, the most important games are the SEC games. We have the same conference record as Alabama, LSU and Texas A&M. If we take care of conference business this loss will become a distant memory. Even the playoffs are not mathematically out of the question.
Now we have issues that need to be addressed. Our defensive backs need work. The backup running backs need practice reps. The offensive line looked great in the first half but suffered in the second.
But remember it is not like we lost to South Alabama. Ole Miss lost to Florida State. Sometimes you just get beat. It's going to be okay. The Memphis loss last year was worse. But they came back the next game and beat Texas A&M holding them to three points. Last year's Arkansas game was worse. They beat LSU in the following game. Ole Miss will come back. We have a short week. It is a chance to get this nasty taste of a loss out of our mouth. We should be able to play a lot of young guys against Wofford. Then we can get ready for the real beginning of the season, September 17th against Alabama.
More from Ole Hotty Toddy
This article originally appeared on