Ole Miss Football: Rebels Catch Fever in Baton Rouge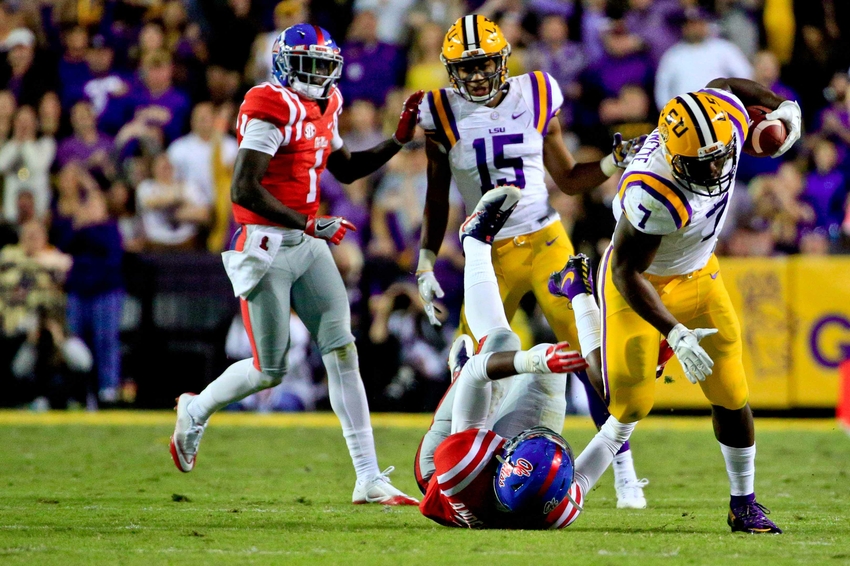 The Ole Miss football team faced off against LSU on Saturday night in Death Valley and came away limping after being beaten 38-21.
The LSU Tigers cat-scratched Ole Miss so badly that the Rebels season might be over. Not the dream for a big-time bowl, because that has been over, but the dream to make a bowl might be over for Ole Miss.
VS.
| | | | | | |
| --- | --- | --- | --- | --- | --- |
| | 1 | 2 | 3 | 4 | T |
| Tigers | 7 | 14 | 10 | 7 | 38 |
| Rebels | 10 | 11 | 0 | 0 | 21 |
After the 38-21 beatdown by LSU, the Rebels have some questions to answer, most importantly on the defensive side of the ball.
The Rebels gave up 515 total yards to the Tigers, including 284 rushing yards to Leonard Fournette.
Ole Miss started the game out strong, scoring first in the game. The game seemed to spiral out of control after the decision to pull Chad Kelly for Jason Pellerin was made in the first half.
Freeze attempted this change against the Memphis Tigers with little success and yet he still decided to bring the plan to Baton Rouge with him.
After trying a run-pass option play with Pellerin, Freeze put Kelly back into the game where the drive stalled and Gary Wunderlich kicked a 46-yard field goal.
Ole Miss would give up a score on the next drive on a 59-yard run by Leonard Fournette, a trend that would continue all night.
LSU would strike first in the 2nd quarter on a 40-yard pass from Danny Etling to D.J. Chark. Ole Miss would respond with a 22-yard Gary Wunderlich field goal.
Fournette would show off his power again on the next Tiger drive with a 76-yard run for a touchdown. The hole created by the offensive line was so large, I could have run for a touchdown on this play.
Ole Miss did respond to make it a 21-21 game before the half on a 2-yard run by Akeem Judd. The rushing score would be the last time the Rebels reached the endzone.
After the half, the Rebels looked lost. LSU came out and put the pedal to the metal with Leonard Fournette rushing for a 78-yard touchdown to open the 3rd quarter.
The Tigers would slow down a bit after that, only scoring 10 more points to finish the game and to defeat the Rebels 38-21. Derrius Guice ran for the final Tiger touchdown on a 6-yard run in the 4th quarter.
Ole Miss is now 3-4 and 5th in the SEC West.
More from Ole Hotty Toddy
This article originally appeared on