Ole Miss Football: Previewing Texas A&M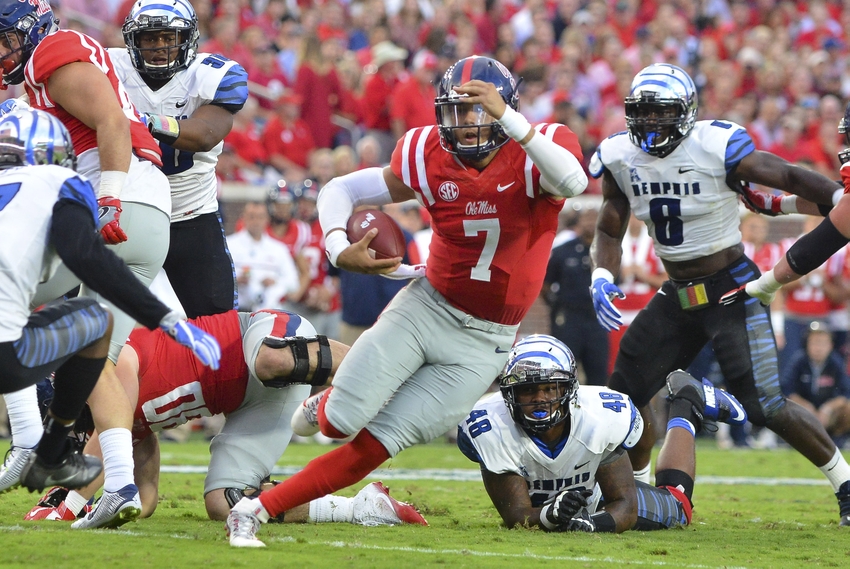 Ole Miss faces Texas A&M in College Station on Saturday. Check out our preview with Gig Em Gazette.
What is the status of Myles Garrett going into

Saturday's

game?
Since taking a chop block against Arkansas he hasn't been the same. Over the last several week's he's been playing mostly on third downs and in obvious passing situations. He's clearly not himself, and he's said as much. He's so talented that 60% of Myles Garrett is still better than most defensive ends in the SEC. He won't be on the field for most of the snaps this weekend, but don't be surprised if he comes up with a big play or two that changes the course of the game.
How do things change on offense with Jake Hubenak at QB instead of Trevor Knight?
Texas A&M led the SEC in rushing coming into the Alabama game a few weeks ago due in large part to Knight's ability to carry the football on run/pass options. Hubenak doesn't have the wheels that Knight does so I'd expect the coaching staff to find other ways to attack opposing defenses at the line of scrimmage. Keith Ford and Trayveon Williams should both see a slight uptick in carries, but I'd be surprised if Sumlin doesn't incorporate either a reverse or a quick screen to Christian Kirk out of the backfield.
The Aggies should actually be more dangerous through the air with Hubenak under center. He played extremely well in relief against Mississippi State last weekend, throwing for 222 yards and two touchdowns. He should be able to rack up some yards against the Rebels defense, provided the offensive line gives him enough time to get the ball out.
What is the mood around the team after the loss to Miss. State?
The fanbase was pretty devastated. When Texas A&M made the top four in the initial College Football Playoff Rankings a lot of people started to believe that this year was going to be different. The injuries to Knight, Garrett, and Lanfear made the loss sting even more. Right now, there's a bit of uncertainty about where this program is going to go from here. There's reason to believe that a 10-2 or 9-3 season is still a possibility. A loss to Ole Miss this weekend would be a blow that would be really hard to bounce back from. If Kevin Sumlin is going to prove that his teams don't always fade down the stretch he has to beat the Rebels
on Saturday
.
How do you see this game playing out

on Saturday

?
On paper the matchup looks favorable for the Aggies. Texas A&M has struggled against teams that can run the football and Ole Miss is 12th in the SEC in rushing offense. Without a solid running game and no Chad Kelly, the defense should be able to hold the Rebels to a few touchdowns at most. The Aggie offense struggled out of the gate last weekend and I don't see Ole Miss being able to control the ball and replicate that scenario again.
I think both teams are able to find a big play or two before halftime, but ultimately the Aggies should be able to salt this one away late and keep the Rebel offense off the field. There will be some points scored, but I don't see either team running away with the game. I'll probably predict a final score around 38-24 in favor of Texas A&M.
More from Ole Hotty Toddy
This article originally appeared on