Ole Miss Football: I Was Wrong About Not Playing Shea Patterson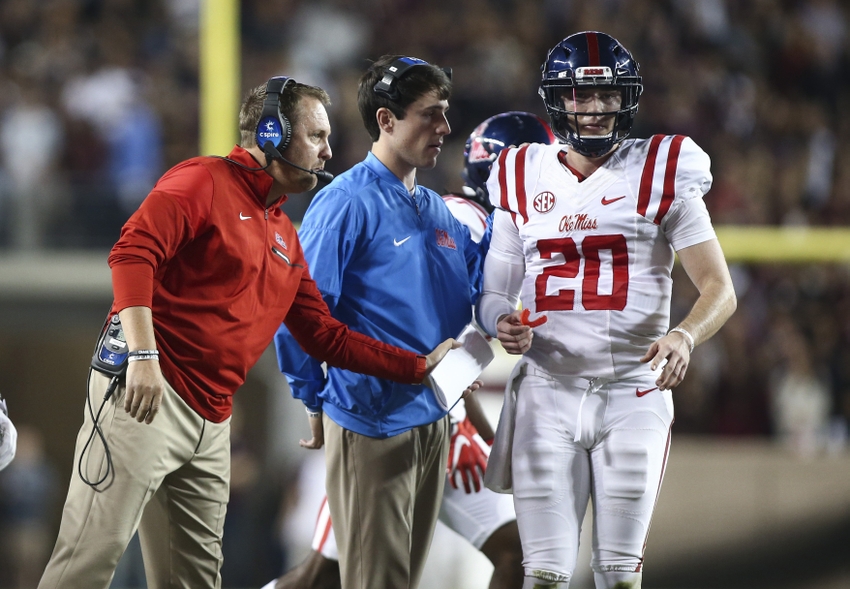 Freshman Shea Patterson made his debut as the Ole Miss Rebels' starting quarterback. I was wrong about keeping the redshirt on him.
Now I'm not too proud to admit when I've made a mistake. To err is human. So, now I must humbly accept the fact that I was wrong. I was completely wrong. I suggested that Coach Hugh Freeze keep the redshirt on Shea Patterson.
Rebels' fans were treated to a delight when Ole Miss faced off against Texas A&M. They got to see the coronation of Shea as the new face of Rebel football. He did not disappoint.
Patterson showcased all the skills that made him a highly rated, five star recruit. He ran for first downs. Then he showed his ability to throw on the run. He demonstrated the strength of his arm and the ability to place it in a small window. He was special.
Had I had my way, we would have missed that performance. For that, I apologized. I was one of the 50% of Ole Miss fans that thought it was foolish to remove his redshirt. I preached it to anyone who would listen to me. Man, was I wrong.
To be fair, my concern had very little to do with his ability. I believed he was as good as everyone said he was. I didn't think the reward of possibly winning three games and going to a lower tier bowl was worth burning his redshirt. Many felt, as I did, that the reward wasn't worth the risk.
Ole Miss Football: Coaching Is Still An Issue
However, after watching him play against the Aggies, my opinion changed. Shea leading the Rebels to a win was the best feeling I've had all year. That was the moment I knew my earlier thoughts were wrong.
The excitement among the Rebel faithful last night after that game was electric. I haven't seen that much giddiness about a game since the Rebels beat Alabama last year in Tuscaloosa. It all came from the energy of Shea behind center. Fans saw the future of Ole Miss football and it looks good.
Although this year has had many disappointing developments, this could go a long way to making things better. After the numerous season-ending injuries to key members of the team, it would have been easy to throw the towel in.
However, Shea's successful first game pumped passion back into the team and the fans. All of a sudden, no one is talking about losing a close game, but they're talking about the new QB. Every completion to A.J. Brown or Van Jefferson was a reminder that we will see that combination for at least two more years after these two remaining games.
The fan base has been rejuvenated. The players seem enthused. All of this occurred because Shea was on the field making plays. There is a chance that recruits will see the future as well and decide to join.
So yes, I was wrong. Shea should start. He should start from now until he leaves for the NFL. It is worth it. Watching Shea Patterson play the final two weeks will be fun for every fan. That includes me.
More from Ole Hotty Toddy
This article originally appeared on