Ole Miss Football: Engram Is One of the Greatest Rebels of All-Time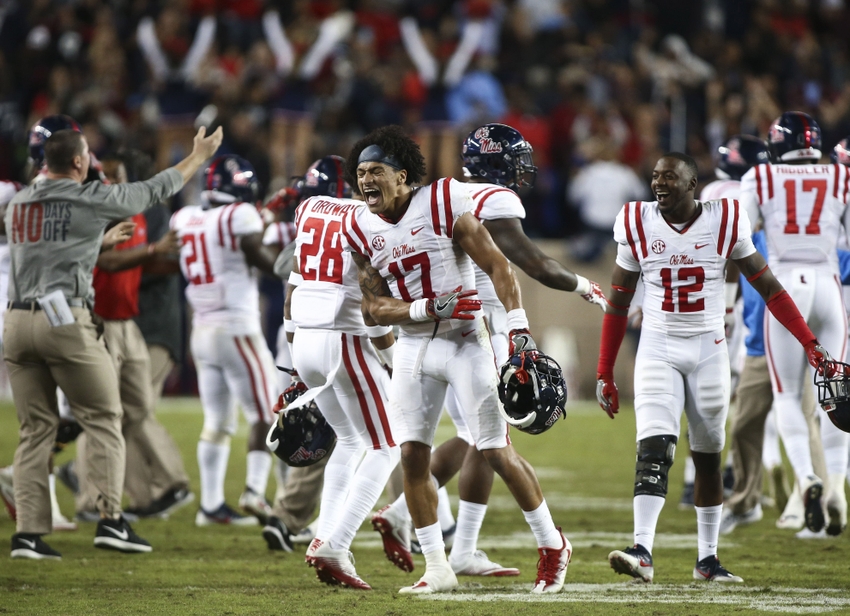 The 2016 Ole Miss Rebels football season has come to an end. So has the career of Rebel all-time great tight end, Evan Engram.
Many Ole Miss fans had a sinking feeling in their stomach when they saw Evan Engram come out prior to the Egg Bowl with no pads on. It was the feeling that the day would not end well. All because one of the greatest players to put on the Rebel uniform was going to be out.
Engram being called one of the greatest is not hyperbole. I know we tend to get taken in by what is new. We sometime conveniently forget to recognize the past. However this is not the case here. Engram has the resume to prove the point.
Stats
Although numbers are not the only determinate factor, it is a good way to evaluate worth. Engram shatters the Ole Miss record books. Nearly every Rebels' tight end record is now owned by him. When I say owned, it is not even close in some areas.
He has 162 receptions. That is 65 more than second place Jim Poole. Engram finished with 2320 yards receiving. Jim Poole finishes second again with 1307 yards less. There have been great Ole Miss tight ends over the last four decades. However, it took 45 years before anyone could shatter those records. It could take another 45 before anyone reaches Engram's levels.
It was fitting in his last game as a Rebel that he finished with six catches, 102 yards and one touchdown to add to his career record in touchdown by tight ends. He now has the record with 15 TDs.
However, his statistics are not just impressive for a tight end. His numbers are on par with the greatest receivers to play at Ole Miss. He is fourth in receptions. Engram is fifth in receiving yards. He is also tied for sixth with Mike Wallace with 15 receiving touchdowns. Those sound like the stats of an all-time great tight end, to me.
Awards
Although the John Mackey Award failed tremendously in not naming Evan Engram as a finalist, he has a trophy case filled with other accolades. Engram has been on an All-SEC team each year he has been here. In 2014 Sports Illustrated name him as a second team All-American.
He is clearly going to be the recipients of more accolades at the end of this season. However, he again distinguished himself as a Rebel legend when he became the first tight end ever to win the 2016 C Spire Conerly Trophy. The Conerly Award is given to the best collegiate player in the state of Mississippi.
Off Field
Engram has proven to be an all-time great on the field. However he has proven to be an all-time great off the field as well. Evan is one of the most beloved Rebels due to his humble nature. He has proven to be a leader in the locker room and on campus.
Engram was a member of the 2015 and 2016 SEC Community Service Team. He volunteers with the Oxford-Lafayette Special Olympics. He has served as a camp counselor for the Fellowship of Christian Athletes football camp.
It's one thing to put numbers up on a stat sheet. However, what makes you truly great is the type of person you are off the field. We've seen players with immense talent fail with life outside the stadium. Engram was never in the news for trouble while here. You never worried about what he would say during a press conference. He represented the school well during SEC media days.
I hope you enjoyed the last four years. We witnessed one of the greatest players to play at Ole Miss. We shall miss seeing him on the field. However, he will be missed on the campus and in the community as well.
More from Ole Hotty Toddy
This article originally appeared on