Ole Miss Football: Egg Bowl a Big Game for Freeze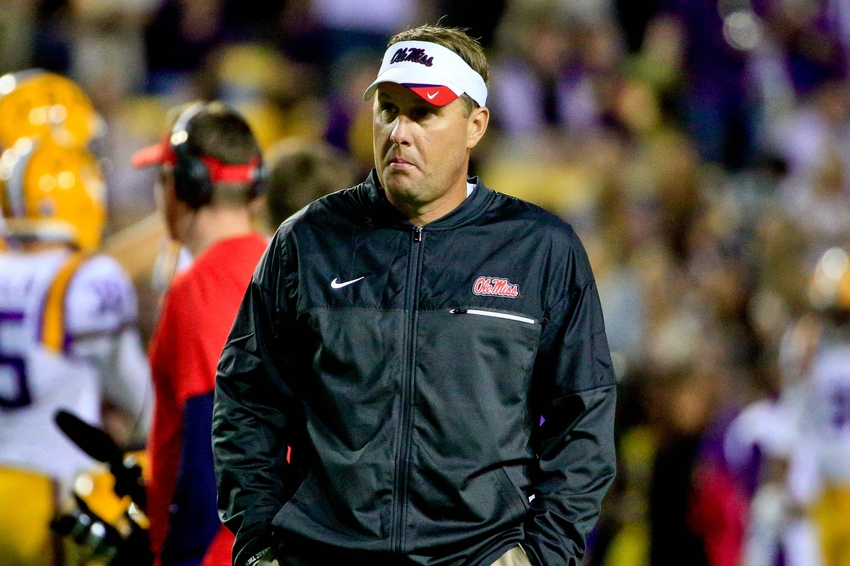 There have been many critical games for Hugh Freeze in his tenure at Ole Miss. The Egg Bowl on Saturday may be one of his biggest.
Everyone who has followed the Ole Miss football program knows the remarkable job Hugh Freeze has done in his time in Oxford. He has won one more game than the previous season every year until this year. Make no mistake, the 2016 campaign has been a disappointing one. However, it can either be somewhat salvaged or be a complete disaster. That will be determined on Saturday in the Egg Bowl against Mississippi State.
I would argue that the biggest game so far for Hugh Freeze in his Ole Miss career was the 2012 Egg Bowl. The Rebels needed a win to gain bowl eligibility. Not only that, it probably allowed them to sign Robert Nkemdiche, Laremy Tunsil and Laquon Treadwell. Those three brought success in the following three seasons for Ole Miss. If Freeze doesn't sign them, who knows what trajectory the program would have gone on. It likely wouldn't have been as good as the 2013, 2014 and 2015 seasons were.
But as we sit in the here and now, Hugh Freeze faces a similar challenge as he did with the 2012 Egg Bowl. It has been no secret the NCAA investigation has been a dark cloud over the Ole Miss program. There have been talks of bowl bans, show causes and death penalties. What will actually happen? Only time will tell. This season was one that brought hope with senior quarterback Chad Kelly returning along with a plethora of offensive weapons. However, things did not go as planned and Ole Miss is 5-6.
A loss to in-state rival Mississippi State will make for a long off-season in Oxford. It would be like pouring gasoline on a fire for Ole Miss. There will be no bowl game and the future of the program will be cloudy as we await the NCAA's ruling. Not to mention, the maroon clad fans in Starkville will be boasting with the golden egg.
A win and things can settle down if just for a few weeks. A Liberty Bowl bid would be likely, allowing an additional 15 practices for a fairly young football team. It would be the program's fifth straight bowl bid and third straight win in the Egg Bowl.
So while a game pitting a 4-7 team against a 5-6 team may not feel big, for Ole Miss and Hugh Freeze it would be a much needed win.
More from Ole Hotty Toddy
This article originally appeared on