Ole Miss Basketball: Sebastian Saiz Named to All-SEC 2nd Team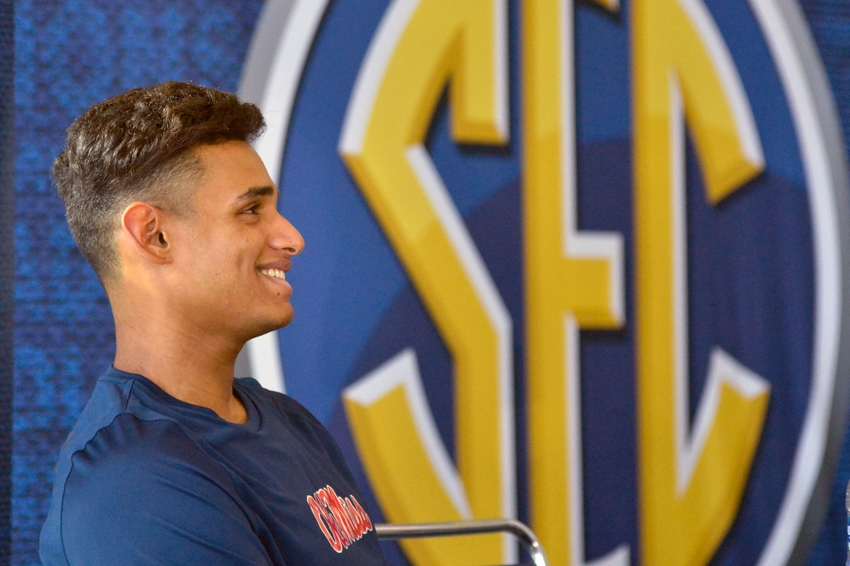 Ole Miss basketball starts their 2016-17 season on Friday and one player has been named to the 2nd team all-SEC list.
Ole Miss basketball starts their season against Tennessee-Martin on Friday at The Pavilion in Oxford. The Rebels will have an All-SEC forward on the court that night.
Sebastian Saiz was named to the 2nd-team All-SEC list today. Saiz, a 6-foot-9 forward from Madrid, Spain is looking to lead the Rebels to a tournament birth in his senior season.
There were no Rebels listed on the 1st-team and only Saiz made the 2nd-team.
Here are the rest of the All-SEC teams.
First Team All-SEC
Moses Kingsley – Arkansas, F, 6-10, 230, Sr., Abuja, Nigeria
J.J. Frazier – Georgia, G, 5-10, 155, Sr., Glennville, Ga.
Yante Maten – Georgia, F, 6-8, 240, Jr., Pontiac, Mich.
Edrice "Bam" Adebayo – Kentucky, F, 6-10, 260, Fr., Little Washington, N.C.
De'Aaron Fox – Kentucky, G, 6-3, 187, Fr., Houston, Texas
Quinndary Weatherspoon – Mississippi State, G, 6-4, 202, So., Canton, Miss.
Sindarius Thornwell – South Carolina, G, 6-5, 211, Sr., Lancaster, S.C.
Tyler Davis – Texas A&M, C, 6-10, 270, So., Plano, Texas
Second Team All-SEC
Dusty Hannahs – Arkansas, G, 6-3, 210, R-Sr., Little Rock, Ark.
KeVaughn Allen – Florida, G, 6-2, 183, So., Little Rock, Ark.
John Egbunu – Florida, C, 6-11, 255, R-Jr., Bauchi, Nigeria
Isaiah Briscoe – Kentucky, G, 6-3, 210, So., Newark, N.J.
Malik Monk – Kentucky, G, 6-3, 200, Fr., Lepanto, Ark.
Antonio Blakeney – LSU, G, 6-4, 190, So., Sarasota, Fla.
Sebastian Saiz – Ole Miss, F, 6-9, 240, Sr., Madrid, Spain
Matthew Fisher-Davis – Vanderbilt, G/F, 6-5, 185, Jr., Charlotte, N.C.
Luke Kornet – Vanderbilt, F, 7-1, 250, Sr., Lantana, Texas
Ole Miss will face Kentucky to open SEC play in late December. The Rebels finally get to face the Wildcats in Oxford.
More from Ole Hotty Toddy
This article originally appeared on