Oklahoma vs. West Virginia: Numbers to Know in Advance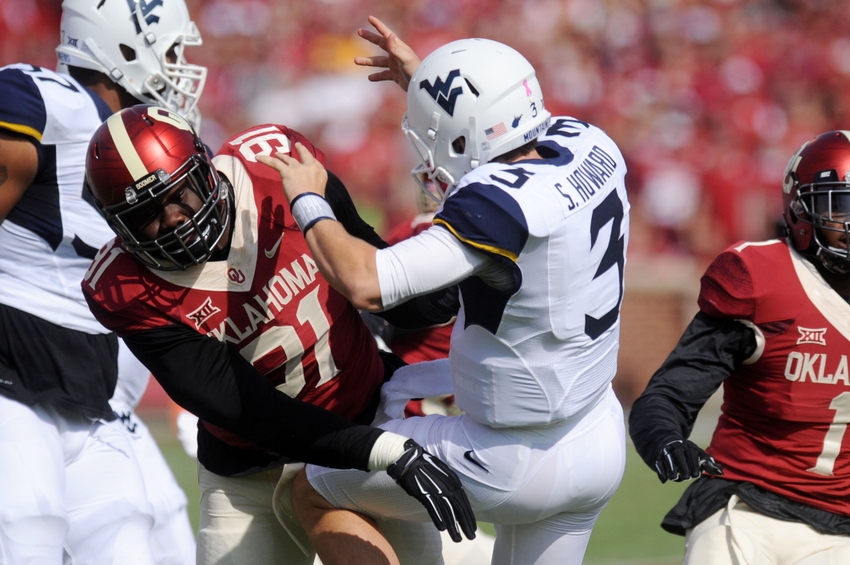 The last time Oklahoma vs. West Virginia featured a matchup of two teams in the Associated Press Top 10, things didn't turn out so well for the Sooners.
In the 2008 Fiesta Bowl, No. 4 Oklahoma met up with No. 9 West Virginia. The Sooners were the higher ranked team in that one, the same as they are on Saturday in Morgantown.
West Virginia quarterback Pat White and running back Steve Slaton literally ran rings around the Sooner defense as the Mountaineers gashed and pounded OU for 349 rushing yards on their way to a 48-27 blowout victory.
Oklahoma is hoping for a much different outcome on Saturday. The Sooners come in as the No. 8 team in the land (No. 9 in the College Football Playoff rankings), with West Virginia close behind at No. 10 (No. 14 in the CFP Top 25 this week).
Both offenses are capable of putting up big numbers, but the number that really matters to both teams in this game is the number "1," which is what's at stake in terms of the Big 12 conference championship. The Sooners are currently the conference leaders, and a win on Saturday would eliminate the Mountaineers from the race.
West Virginia comes into the game on Saturday, however, with a different outlook. The Mountaineers are hoping for a win over the Sooners and then have Oklahoma defeat Oklahoma State on Dec. 3. If that scenario were to play out, and assuming the West Virginia is able to get by Iowa State on the road next weekend, the Mountaineers would be crowned champions by virtue of the head-to-head tiebreaker.
Some other interesting numbers you might like to know about the Oklahoma-West Virginia matchup prior to kickoff Saturday night:
.800 – Sooner winning percentage under Bob Stoops (8-2) when they are ranked No. 8 in the Associated Press Top 25.
1 – On Saturday, the Big 12's No. 1 offense (Oklahoma, 591 yards per game in Big 12 games, and 48.0 scoring offense) will go against the conference's top defense (West Virginia, 383.3 yards allowed, and 20.2 scoring defense).
10 – The Sooners have won their last 10 true road games and 21 of their last 23 away from home, including their last two trips to West Virginia.
14 – Dede Westbrook's 14 receiving touchdowns are one shy of the Oklahoma school record.
20.6 – West Virginia leads the Big 12 in scoring defense, allowing an average of 20.6 points per game. Oklahoma is averaging 40.4 points per game, second best in the Big 12.
21.6 – Yards per catch on 51 receptions by Dede Westbrook in the last seven Oklahoma games.
40 – When Oklahoma scores 40 or more points in a game, the Sooners are 102-1 under Bob Stoops. West Virginia is 54-4 since 2000 when it scores 40-plus points. Something has to give here, because Saturday's game is very likely to reach the 40-point level by one if not both teams.
80 – Since 2002, West Virginia wins more than 80 percent of the time (79-11) when it wins the turnover battle.
242 – Rushing yards by OU running back Samaje Perine the last time Oklahoma visited West Virginia (2014).
1,440 – Combined offensive yards by both teams when OU played at West Virginia in 2012. The Sooners won that game 50-49, with OU quarterback Landry Jones throwing for what is still a school-record 554 yards.
More from Stormin in Norman
This article originally appeared on