Oklahoma vs. West Virginia: Big 12's Top Offense, Top Defense Collide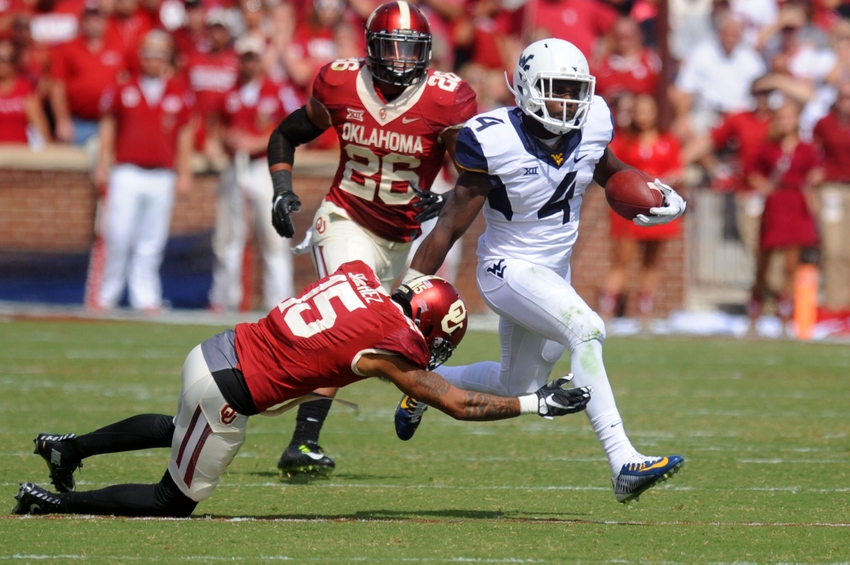 Oklahoma, West Virginia and Oklahoma State are the top three teams in the Big 12 this season and the Sooners play both teams in their final two games of the 2016 regular seasons, starting with Oklahoma vs. West Virginia this weekend, with the conference championship on the line.
Saturday night's matchup in West Virginia between the No. 8 Sooners and No. 10 Mountaineers not only features two Associated Press top-10 teams but also the Big 12's top offense in Oklahoma going up against the best defense in conference play in West Virginia.
The Sooners, undefeated with seven consecutive Big 12 wins since losing to Ohio State in mid-September, lead the conference in offense, averaging 591.1 yards and 48.0 points in Big 12 games. The Sooner offense, led primarily by the triple-headed monster of quarterback Baker Mayfield, all-purpose running back Joe Mixon and wide receiver Dede Westbrook
West Virginia comes into the contest on Saturday with an overall mark of 8-1 and 5-1 in the Big 12. The Mountaineers only loss this season came several weeks ago, 37-20, at Oklahoma State. They have won 13 of their last 15 games, dating back to last season.
Against Big 12 teams, the Mountaineers' defense is allowing a league-best 383.3 yards and a stingy 20.2 points per game.
These two teams have played each other only eight times. Oklahoma leads the all-time series 6-2 and is 4-0 against the Mountaineers since 2012, when they became members of the Big 12 .
Three Things to Know About Oklahoma
Quarterback Baker Mayfield leads the Big 12 in pass efficiency rating (207.1), completion percentage (.749) and touchdown passes (26). The redshirt-junior quarterback is second in the nation with 18 pass completions of at least 40 yards.

Joe Mixon is No. 1 in the country in all-purpose yards per game (193.9). He leads the Sooners, averaging 104.1 rushing yards per game, and his 6.87 yards per rush this season is the best in Bob Stoops' 18 seasons at Oklahoma (a time that has included the likes of Adrian Peterson, DeMarco Murray and Quentin Griffin).
Five of the 10 teams the Sooners have faced this season have offenses that rank in the top 15 in the nation (2. Texas Tech, 6. Baylor, 11. Ohio State, 12. TCU and 14. Texas). West Virginia's offense ranks 19th nationally, and Oklahoma State is 20th.
Three Things to Know About West Virginia
West Virginia's defense has been strong this season against both the run and the pass. The Mountaineers rank 4th in the Big 12 in rushing yards allowed (156.0 per game) and fifth in pass defense (253.8 yards per game).
Quarterback Skyler Howard averages 284.7 passing yards per game (19th best in the country). He has 17 touchdown passes, but also nine interceptions. Daikiel Shorts (51 receptions for 753 yards) and Shelton Gibson (35 catches for 753 yards) are Howard's top two receiving targets. Gibson ranks 12th nationally in yards per reception (20.0).
Cornerback Rasul Douglas in No. 2 in the nation with six interceptions.
Three Keys to the Game
The Oklahoma offense must remain balanced and have success both running and throwing the ball, and needs to win possession time, keeping the West Virginia offense on the sidelines for long stretches.

The Sooner defense needs to prevent big plays but not play so soft in pass coverage that Skyler Howard and the West Virginia offense can dink and dunk in front of them, all the way down the field.
Turnovers could play a huge part in this game, which is expected to be a high-scoring contest. West Virginia is 79-11 the last 14 seasons (since 2002) when it has more takeaways than giveaways in a game. The team that wins the turnover battle probably wins the game.
Game Prediction
Oklahoma has the better offense; West Virginia the better defense. But the Sooners' offense is better than the Mountaineers' defense, and that will be the difference in a game that will be decided by a touchdown or less. Oklahoma 38, West Virginia 31
More from Stormin in Norman
This article originally appeared on