Oklahoma vs. Texas Tech: Numbers to Know Ahead of This Big 12 Matchup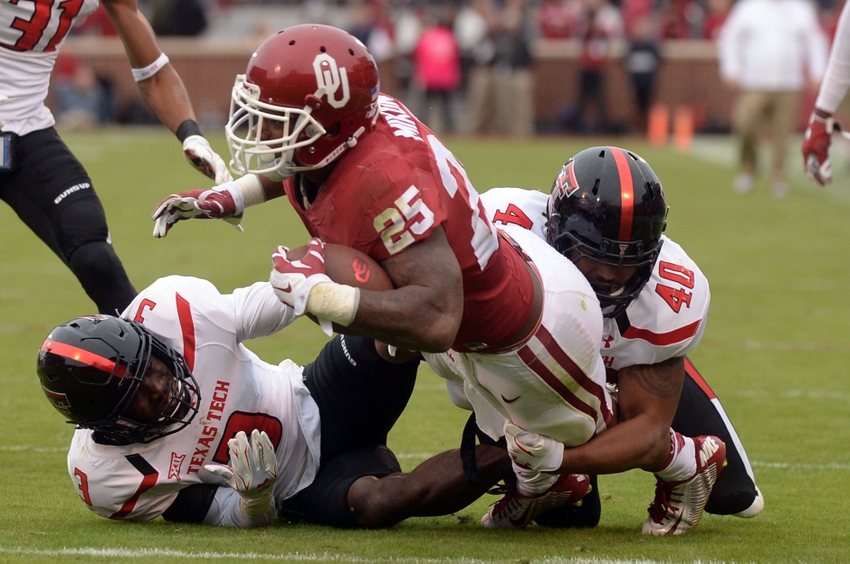 The idea of Oklahoma vs. Texas Tech in football – or any sport, for that matter – is a relatively recent phenomenon.
The two schools have met 23 times previously in football, 17 and of those have been as members of the Big 12 Conference. The 24th meeting will take place Saturday night in Lubbock, Texas.
Oklahoma owns a 17-6 advantage in the all-time series. The schools played three times in the early 1990s when they were members of different  conferences (the Big Eight and Southwest Conference), with the Sooners winning all three by an average score of 31-10.
Under Bob Stoops, Oklahoma is 12-5 against the Red Raiders and 3-0 vs. Texas Tech head coach Kliff Kingsbury. Stoops also is 3-0 against Kingsbury as a starting quarterback at Texas Tech (2000-03).
Here are a dozen more fun numbers to crunch ahead of the Saturday showdown in West Texas:
1 – Dede Westbrook leads the Big 12 in receptions per game (8.7), receiving yards per game (191.3), all-purpose yards (193.7 per game) and points (16.0 per game) in conference games only.
4 – Texas Tech ranks fourth in the nation in third-down conversion proficiency. The Red Raiders have been successful in 53 percent of their third-down possessions.
10 – Consecutive conference games won by the Sooners. OU's last Big 12 loss was 24-17 to Texas on Oct. 12 last season. That was their only league loss in 2015.
17 – Oklahoma's ranking in the Associated Press poll a year ago when these two teams played. The Sooners are No. 16 this season.
38 – Minimum number of points Oklahoma has scored in its last six games with Texas Tech.
40 – When Oklahoma scores 40 or more points in a game, the Sooners are 99-1 under Bob Stoops.
180.4 – Passing efficiency rating for Oklahoma's Baker Mayfield through six games in 2016. That ranks third in the nation. Texas Tech's Patrick Mahomes is sixth nationally in that category (172.8).
430 – Passing yards per game by Texas Tech quarterback Patrick Mahomes, best in the country this season.
510 – Average passing yards per game by Texas Tech this season, No. 1 in the country.
617 – Total yards of offense by Oklahoma in last year's 63-27 win over the Red Raiders in Norman.
750 – Big 12-leading receiving yards in all games this season by Texas Tech wide receiver Jonathan Giles. The Red Raider receiver also leads the conference with nine touchdown catches.
5,503 – Total passing yards by Baker Mayfield in 19 games for Oklahoma. He is the only player in Sooner football history to have more than 5,000 yards passing and at least 500 yards rushing.
More from Stormin in Norman
This article originally appeared on