Oklahoma vs. Oklahoma State: Winner Take All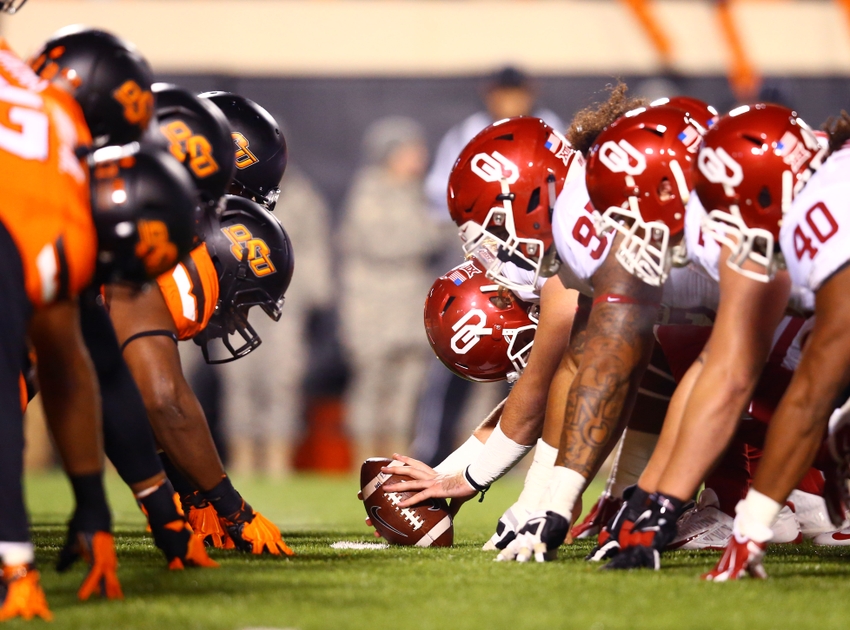 Despite what you're hearing and reading from college football analysts and pundits, who have largely written off the relevance of Oklahoma vs. Oklahoma State on Saturday, there is a good reason they call this annual rivalry Bedlam, and this season is no exception.
Both the Sooners and the Cowboys are on the outside looking insofar as the College Football Playoff is concerned, and the Big 12 does not hold an official conference championship game in football.
The fact that Oklahoma and Oklahoma State are playing a game that will determine the Big 12 champion, and it just so happens to fall on Championship Saturday when the champions of the other Power Five conferences will be crowned, is all well and good, but it really matters not in the big scheme of things.
If you buy into all that, you may stop reading right now. Don't try to sell any of this, however, to the players or fans of either the Sooners or Cowboys, who are adamant – and so am I – that the Bedlam game on Saturday does mean something.
First of all, to the winner of the 111th edition of Bedlam goes the Big 12 Conference championship, the importance of which cannot be diminished or dismissed. And with that comes the additional benefit of an invite to the Sugar Bowl, one of the elite six postseason bowl assignments, which includes the two College Football Playoff national semifinal games.
So there you have it. Saturday's game between Oklahoma and Oklahoma State is important, despite what the TV networks would have you believe by scheduling it for an 11:30 a.m. kickoff.
The weather forecast in central Oklahoma for midday on Saturday calls for temperatures in the mid-40s with rain showers likely, conditions better suited for running the football rather than throwing it. But either way, the slippery ball will be tough for both teams to handle and creates a greater chance for turnovers, something that Oklahoma State has capitalized on all season.
Statistically, both the Sooners and Cowboys are closely matched: explosive offenses, with good balance between runs and passes, and suspect defenses.
Oklahoma has the better offense; Oklahoma State is a little better defensively. The biggest discrepancy appears to be in the passing game. The two teams are second and third in the Big 12 in aerial yardage, but the Oklahoma pass defense is the second worst in the conference, allowing nearly 300 yards per game, and ranks 122nd in the country.
Forcing turnovers is another area where the Cowboys excel, and with poor weather conditions expected for Saturday's game, this could be a key factor in determining the outcome. Oklahoma leads the Big 12 with 23 forced turnovers this season and a plus nine turnover margin. The Sooners are at zero in turnover margin for the season (16 takeaways, 16 giveaways), but are plus five in their last two games, wins over Baylor and West Virginia.
In the end, this game will come down to quarterback play, field position and which team will do the better job slowing down or containing the other team's offense. Both teams have outstanding quarterbacks in Baker Mayfield for Oklahoma and Mason Rudolph of Oklahoma State. The two quarterbacks rank back-to-back in the conference in every major passing category as well as total offense.
Three Things to Know About the Sooners
Baker Mayfield, with a passing efficiency rating of 194.7 through 11 games, is on a pace to break the NCAA record of 191.8. In addition to ranking first in the nation in passing efficiency, he is first in yards per pass attempt (10.9; only one other player is above 10.0), second in completion percentage (71.4), third in points responsible for per game (22.7) and fourth in passing TDs per game (3.2).
Dede Westbrook is having one of the best receiving seasons in OU football history. Over the last eight games, he has 53 catches for 1,200 yards and a school-record-tying 15 touchdowns. Additionally, he is a huge weapon returning punts.
Oklahoma has lost just nine times in 109 games at Gaylord Family-Oklahoma Memorial Stadium in Bob Stoops' 18 seasons at Oklahoma. In addition, the Sooners have won 15 consecutive Big 12 games, dating back to last season.
Three Things to Know About the Cowboys
After starting out 2-2 this season and losing their Big 12 season opener to Baylor, Oklahoma State has won seven consecutive conference games.
Junior quarterback Mason Rudolph is second in the Big 12 this season and ranks fifth nationally with 362.5 passing yards per game. He has completed 64.2 percent of his pass attempts for 3,591 yards and 25 touchdowns.
The Cowboys' strength on the defensive side of the ball is their ability to create turnovers. Their 23 takeaways this season is 20th best in the nation. They also have blocked six kicks, tied for second most in the country.

Three Key Factors in the Game
Poor weather conditions (forecast of cold and rainy) will play a major role in determining the outcome of this Bedlam matchup. The team that manages the inclement playing conditions the best will take home the league trophy.
Special teams play will determine field position. Oklahoma is one of the top three teams in the Big 12 in punt return average (with Dede Westbrook) and kickoff returns (with both Westbrook and Joe Mixon).
Oklahoma is averaging 228 rushing yards per game, largely behind the power running of Samaje Perine and the speed and elusiveness of Mixon). When the Sooners average better than 200 yards on the ground in a game, they are 7-0 this season and 82-2 under Bob Stoops.
Game Prediction
Oklahoma is 85-18-7 (.805) all-time vs. its in-state rival from Stillwater. The Sooners are 13-4 against Oklahoma State with Bob Stoops on the sidelines. Two of Oklahoma's nine losses at home in the Stoops era, however, have been at the hands of the Cowboys, including the last time OSU came to Norman (in 2014). The Sooners are 9-2 when they have played for a Big 12 championship under Stoops, and on Saturday Baker Mayfield and Co. will deliver Oklahoma's 10th Big 12 championship. Oklahoma 48, Oklahoma State 38
More from Stormin in Norman
This article originally appeared on