Oklahoma vs. Iowa State: Sooners Can't Afford to Overlook Cyclones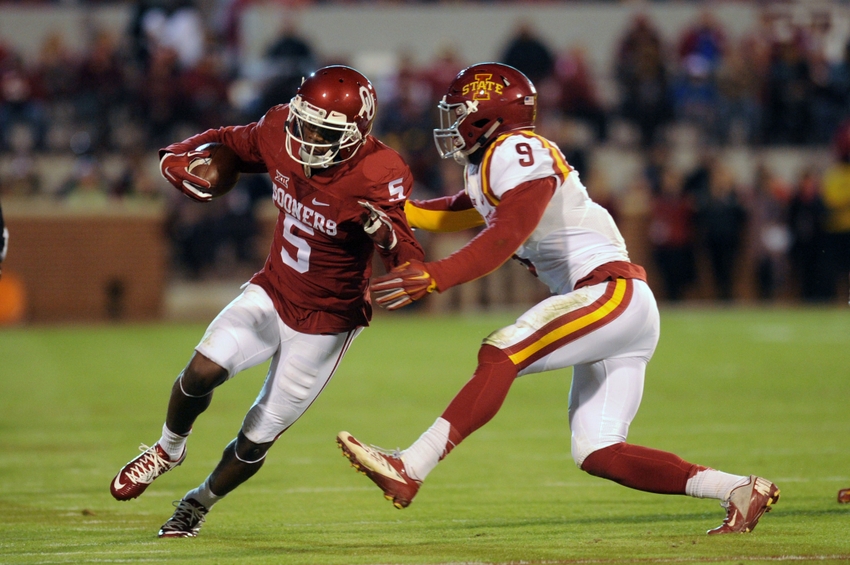 Oklahoma vs. Iowa State in football: No big deal, right?
Need I remind you that this is Halloween week, a perfect setting for the frightening idea of having to go to Ames, Iowa, for a rare Thursday night game against a struggling team that doesn't get a whole lot of respect in football but has a history of pulling off upsets in such circumstances.
That's the way things line up this week with the Sooners and Cyclones set to go at one another on Thursday night at Jack Trice Stadium in Ames for the 81st time in the series.
There is both good and bad associated with this week-night encoun ter. The good is, if you have to play on a short week it is better not to have to go up against one of the better teams in the league. The bad is, you have to play on a short week with very limited time to prepare and heal from the previous week.
And on this particular Thursday night, the Sooners will have the added challenge of not having either of their top two running backs available. Samaje Perine is still nursing a hamstring issue, and Joe Mixon, the team's leading rusher and second best receiver, has been suspended for one game for a violation of team rules.
Mixon's loss is not of insignificance to the Sooners, regardless of the opponent. The redshirt-sophomore is the primary catalyst in an offense that is averaging 568 yards a game, second best in the Big 12 behind Texas Tech.
With Mixon out, Oklahoma is left with only one scholarship player at running back, true freshman Abdul Adams. Adams gained 91 yards on 13 carries against Kansas last weekend. He is a burner with a lot of talent and the Sooners are high on his prospects for the future, but he is young and inexperienced and this would be the first start of his college career.
No head coach is overjoyed about having to play a game on a Thursday or Friday night, especially a conference game. The Sooners haven't has to play a conference game in a short week since the Big 12 came into existence in 1996.
The current TV contract the Big 12 has with ABC/ESPN and Fox stipulates that the conference must make four games available each season that can be televised on Thursday night.
Asked in his Monday press conference about having to go on the road and play a game on short rest this week, coach Bob Stoops offered:
"I don't mind it once in a while. A game's a game," he quipped.

"We're part of a 10-team league that has a TV contract that's pretty good," he added. "It supplements a lot of other sports. So you do your part. You jump in and go at it whatever day they tell you."
This has all the makings of a trap game for the Big 12 conference leaders and the only remaining unbeaten team in league play, and Mixon's suspension provides even more fuel to that notion.
The all-time series between Oklahoma and Iowa State is heavily lopsided in the Sooners' favor. Oklahoma owns 17 consecutive wins over the Cyclones, and since 1961, when both schools were part of the Big Eight Conference, the Sooners are 44-1-1 in games with Iowa State.
Oklahoma has never lost a game at Jack Trice Stadium, the site for Thursday night's game, in 16 games there since the stadium was opened in 1975. Bob Stoops is 11-0 against the Cyclones.
This will be the 58th game in Sooner football history that has been contested on a Thursday night and the 49th during the regular season. Oklahoma is 28-14-6 on Thursdays in the regular season. Under Bob Stoops, OU is 2-1 on non-Saturdays.
Three Things to Know About the Sooners
Oklahoma has won 12 consecutive games against Big 12 opponents and nine straight times in true road games.
Quarterback Baker Mayfield leads the nation in passing efficiency (195.8; the NCAA record for a single season is 191.8) and yards per pass attempt (10.9) and is second in yards per completed pass (15.4) and fifth in passing touchdowns (27) and completion percentage (70.9).
The Sooners rank third in the nation in total offense, averaging 568 yards per game, but are 93rd in total defense, allowing opponents 437 yards per game, the majority of that through the air.
Three Things to Know About Iowa State
The Cyclones are actually worse on defense than Oklahoma. Iowa State's 453 yards allowed per game ranks 107th nationally. The Cyclones have been most vulnerable defending the run.
Iowa State employs a two-quarterback system. Junior Joel Lanning and sophomore Jacob Park share the duties. The two have combined for nearly 2,000 passing yards and 15 touchdowns with six interceptions. Both are below 60 percent in completion percentage. Wide receiver Allen Lazard is 17 yards short of reaching 2,000 receiving yards in his career. Mike Warren is the leading rusher for ISU, with 530 yards and an average of 4.3 yards per carry.
Iowa State is tough to stop in the red zone. The Cyclones rank 16th nationally, scoring 23 of 25 times they have advanced the ball inside the opponent's 20-yard line.
Three Keys to the Game
Can the Sooners establish a run game without the services of its two main running backs (Samaje Perine and Joe Mixon)? An effective run game is a big reason why OU is third nationally in total offense and opens up the field for Baker Mayfield to find open receivers downfield.
Iowa State throws the ball much better than it has been able to pick up yards on the ground this season. The Sooner defense must take away the run game and get better pressure on the quarterback than it has been getting in order to help the defenders on the back end in pass coverage.
When Oklahoma scores 40 or more points in a game, which they should be able to do against an Iowa State defense allowing 32 points a game, 98th worst in the country, the Sooners are 101-1 under Bob Stoops.
Game Prediction
Oklahoma is a three-touchdown favorite, according to the latest odds established by the Las Vegas handicappers, but that was before the news came about Joe Mixon's suspension for this game. In 17 consecutive wins over the Cyclones, the Sooners have allowed Iowa State more than 20 points just once. The Oklahoma defense is more suspect than it has been in many seasons under the Stoops brothers, but it should be good enough to deny Iowa State more times than the Cyclones are able to keep Baker Mayfield and Co. out of the end zone, even without the services of Perine and Mixon. I like the Sooners to win, but not by enough to cover the spread. Oklahoma 41, Iowa State 27.
More from Stormin in Norman
This article originally appeared on