Oklahoma vs. Baylor: Three Bold Predictions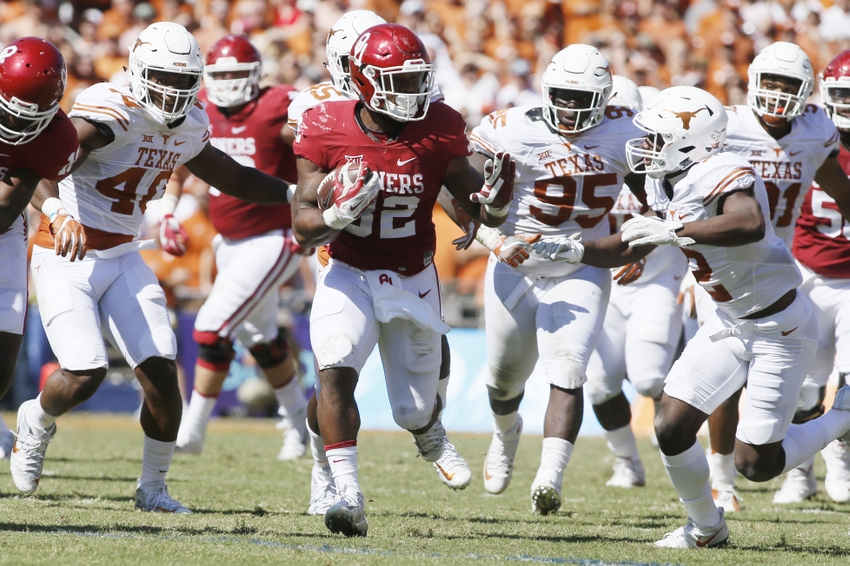 At the beginning of the 2016 season, this week's Oklahoma vs. Baylor football game was flagged as one of the key games in the Big 12 and one that could determine the conference champion.
The game this Saturday with Baylor is still a big game, but hardly holds the significance it once did with the once unbeaten Bears having suffered two consecutive conference losses. And the loss last week to TCU wasn't even close, with the Horned Frogs burying Baylor on the Bears home field in a one-sided shootout.
Blame it on the all-black uniforms the players wore on Saturday in protest of the firing of Art Briles if you want, but the fact remains that this is not the same team that played under their former head coach, even if they do have many of the same players on the roster.
Baylor may not have the cohesion and the leadership that was present with Briles leading the troops, and the execution on offense and defense does not appear to be what it was the last couple of years, but it does have talent on both sides of the ball, which makes the Bears a dangerous team when they are firing on all cylinders.
Although Oklahoma is listed as a 14-point favorite over Baylor on Saturday, it would be a mistake to write off the Bears in this one, especially considering the Sooners difficulty on defense and Baylor's explosive capability on offense. Oklahoma has opened up double-digit leads in all seven of its victories this season, but has had some issues closing out games.
In four of OU's seven wins, the margin of victory has been 10 points or less, and three have been by seven points or less.
Both of this teams can put up points, and do so in a hurry. So, as it is in most Big 12 football games this season, the team that plays the best defense will have the best chance of coming out on top.
Here are three bold predictions looking ahead to this game:
Haunting Remembrances of the Last Time Baylor Visited Norman
Sooner fans and some of the current players will not soon forget what happened the last time Oklahoma hosted Baylor at Gaylord Family-Oklahoma Memorial Stadium. It was an 11 o'clock kickoff in November 2014, like the game this Saturday. Baylor quarterback Bryce Petty threw for 387 yards, connecting 15 times with wide receiver Corey Coleman, and the Bears throttled the then 16th-ranked Sooners 48-14.
Oklahoma atoned for that shellacking a year later, defeating the Bears last season, in front of their home fans and in their brand new stadium, 44-34. But the bitter memory of the embarrassing beatdown that Baylor put on the Sooners two seasons ago still lingers. That was only one of nine times Oklahoma has lost a game at home under Bob Stoops and the only Baylor win in Norman in 12 previous trips.
Look for the Sooners on Saturday to make it 12 home wins in the all-time series and record win number 100 at Gaylord Family-Oklahoma Memorial Stadium for Stoops. And here's the kicker, it won't even be as close as the current 14-point line on the game.
Samaje Perine Returns to Action, but Sees Only Limited Time on the Field
The Baylor game will mark the return to action of Samaje Perine, who has been out for three games with a pulled hamstring muscle he suffered in the Sooners' win over Kansas State.
The bruising junior running back has 475 yards rushing in six games this season and is just 581 yards away from breaking Billy Sims' Sooner career rushing record (4,118).
Perine will see action against Baylor, but only on a limited basis. The Sooners will not want to run the risk of Perine reinjuring his hamstring and will be a little cautious of not or overextending him in his return to action. Oklahoma needs Perine to be healthy and ready to go in Oklahoma's final two regular-season games against West Virginia and Oklahoma State.
Joe Mixon is also returning to action after a week's absence because of a one-game suspension. The redshirt-sophomore running back and "lightning" to Perine's "thunder" in the Sooner rushing attack will carry most of the rushing workload, as well as being a dangerous weapon catching the football, and he will be itching to get back on the field after missing the game at Iowa State. That is not good news for the Baylor defense.
Here's my call: Mixon will get close to 100 yards on the ground and another 100 through the air on Saturday and be a key contributor to an Oklahoma victory.
Baker Mayfield Will Add to His Sizzling Aerial TD Touch with 4 More on Saturday
Sooner quarterback Baker Mayfield has been hotter than a topped-out thermometer the last three games, and that streak will continue against Baylor. Mayfield has thrown four or more touchdown passes in each of the last four game, including a school-record seven against Texas Tech.
Moreover, he is completing more than 70 percent of his pass attempts and has 10 completions of more than 50 yards.
Mayfield's accuracy throwing deep balls this season has been extraordinary. Of course, it helps immensely to have a sure-handed speedster like Dede Westbrook on the receiving end of those long throws.
Mayfield has thrown 19 touchdown passes in his last four games with just two interceptions.
He and Westbrook will connect on at least two TD throws on Saturday, and Mayfield will end the game with at least four touchdown passes, giving him 35 for the season. The Sooner signal caller had only had 36 all of last season, when he was named Big 12 Offensive Player of the Year and finished fourth in the Heisman voting.
More from Stormin in Norman
This article originally appeared on