Oklahoma vs. Baylor: Numbers to Know in Advance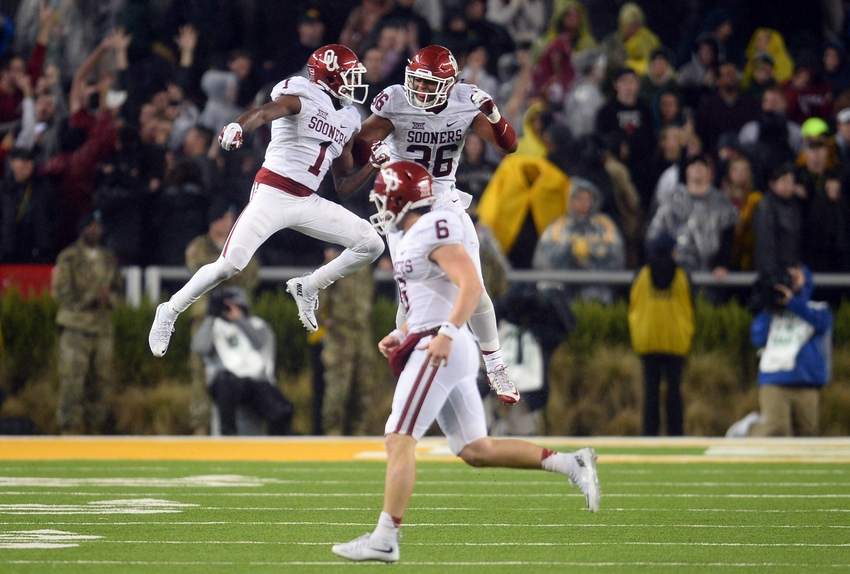 Oklahoma vs. Baylor in football is not what you would call a long-standing series.
The two schools have only met on a football field a total of 25 times. Until 2011, Oklahoma had never lost to Baylor in 20 previous meetings,15 of those coming as fellow members of the Big 12. Since that time, however, the Bears have beaten the Sooners in three of the last five games, and one of those wins was the last time Baylor came to Norman.
Two consecutive conference losses have dropped Baylor from the No. 8 spot in the Associated Press Poll to No. 25 this week, leaving the Bears on the verge of dropping out of the AP Top 25 for the first time in 60 consecutive weeks.
Here are a dozen more notable numbers to get you ready for Saturday's Big 12 kickoff between the Sooners and the Bears.
.839 – The Sooners' winning percentage as a top-10 team. That percentage is .811 under Bob Stoops. Oklahoma is No. 9 in this week's Associated Press Poll as well as the Coaches Poll.
5 – Baylor is plus five in turnover margin this season, while Oklahoma is minus five, next to worst in the Big 12 and 105th in the nation.
7.60 – Yards per play Oklahoma is averaging in 2016. That is the most in Bob Stoops' 18 seasons as the Sooners' head coach.
8 – Oklahoma's national ranking in third-down conversions on offense (50 percent).
11 – Number of times out of 12 that Oklahoma has prevailed against Baylor when the game is played in Norman.
18.2 – Average yards per reception by Sooner wide receiver Dede Westbrook. Westbrook has nearly 200 more receiving yards (1,166) than his next closest Big 12 challenger.
40 – Dede Westbrook has 10 catches this season of 40 or more yards. That is more than 97 FBS (Football Bowl Subdivision) teams have this season. 40 – Oklahoma's record under Bob Stoops when scoring 40 or more points in a game is 101-1.
100 – A win over Baylor on Saturday will be Bob Stoops' 100th home win at Oklahoma.
187 – Yards needed by Joe Mixon to reach 1,000 yards rushing this season.
189.1 – Baylor is allowing opponents a Big 12-best 189.1 passing yards per game. The Sooners are averaging 342.3 passing yards per contest.
557.9 – Yards per game of total offense by Oklahoma this season, third most nationally. Baylor ranks No. 6 among FBS teams with 541.8 yards of offense per contest.
More from Stormin in Norman
This article originally appeared on