Oklahoma State Football: How the Cowboys can take Bedlam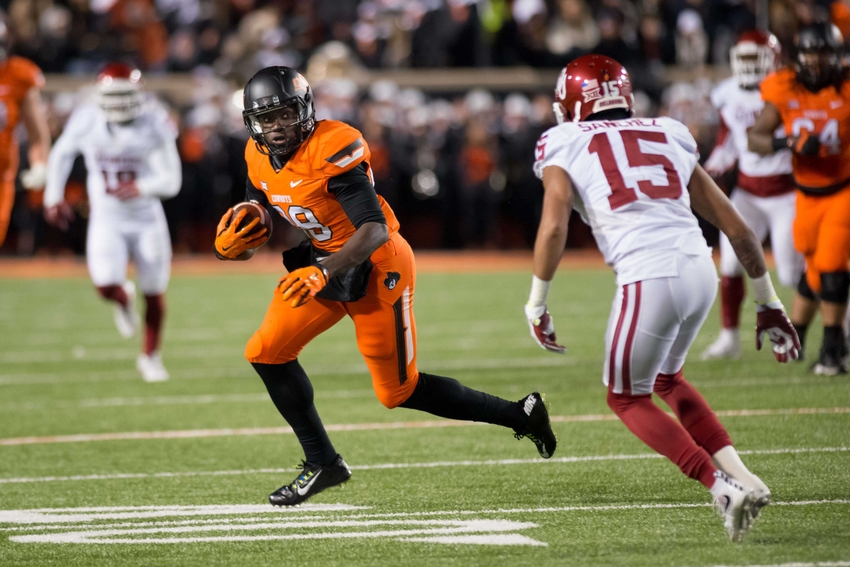 The Oklahoma State Cowboys at 9-2 (7-1 Big 12) face the Oklahoma Sooners at 9-2 (8-0 Big 12) in a de facto Big 12 title game that is also Bedlam.
It's officially Bedlam week. Oklahoma and Oklahoma State will meet in their annual rivalry game this Saturday at 11:30 a.m. CT. A win, for either team, will clinch a Big 12 title, and a possible spot in the College Football Playoff. Yet, the Big 12's chances of getting a playoff spot at this point look bleak.
The Oklahoma State Cowboys come into this game ranked number 11 in the AP Top 25. They have a 9-2 (7-1 Big 12) record. Furthermore, the Pokes have won seven straight games since losing to the Baylor Bears on the road.
The Oklahoma Sooners are ranked number seven in the AP Poll. They also have a 9-2 record but are undefeated in Big 12 play at 8-0. The Sooners have won eight straight games since losing to the Ohio State Buckeyes in Norman.
Let's take a look at the factors for the Oklahoma State Cowboys to win Bedlam.
Win the Turnover Battle
It has been a successful season for the Cowboys defense with their bend but not break mentality. They have won the turnover battle for the majority of the season. The Cowboys are averaging around 2.1 turnovers per game, while only turning the ball over 1.3 times per game.
Quarterback Mason Rudolph has thrown just four interceptions, compared to 25 passing touchdowns. Considering the Sooners defense is giving up 443.1 total yards per game, they will be relying on turnovers as well to level the playing field.
Oklahoma State is leading the Big 12 in turnovers with 23. They're second in the Big 12 in turnover margin at plus nine, whereas Oklahoma has a margin of zero.
The Cowboys have relied on turnovers all season. Continuing the trend of winning the turnover battle will be key. OK State looks to have the advantage is this department entering Saturday's game.
Stop the Run
Oklahoma presents a stable of running backs that few teams in college football can match. Specifically, Samaje Perine and Joe Mixon bestow a matchup problem that most of the Sooners' opponents struggle to deal with. Mixon is already over 1,000 yards rushing. He also has seven rushing touchdowns.
Perine has been dealing with a pulled leg muscle that caused him to miss three games. Yet, he is still the team's leading rusher in terms of touchdowns with 10.
The Pokes front seven will need to show up this week like they did against TCU in week 11, where they held the Horned Frogs to just six points and just 3.7 yards per carry.
Mason Rudolph Playing Confident
It hasn't been talked about a whole lot since he's been in college. Rudolph is a different quarterback on the road than he is at home. He has thrown for 19 touchdowns compared to only one interception while playing at Boone Pickens Stadium. However, he's thrown for seven touchdowns and three interceptions on the road.
Rudolph's play on the road has improved over the last four weeks. He threw for a career-high five touchdowns in a road win over Kansas State. Against TCU, he did what was necessary for the Pokes to walk away with a 25 point win.
In his first appearance in Norman, Rudolph led a 5-6 Cowboys team to a 38-35 win, which was also his first career victory.
Want your voice heard? Join the Pokes Post team!
A 58-23 thrashing by the Sooners last season displayed a much different Oklahoma State team. Rudolph missed that game with a broken foot.
A win for the Cowboys will be dependent on Rudolph more than anything else.
This article originally appeared on