Oklahoma State Football: Cowboys run past TCU to Big 12 title game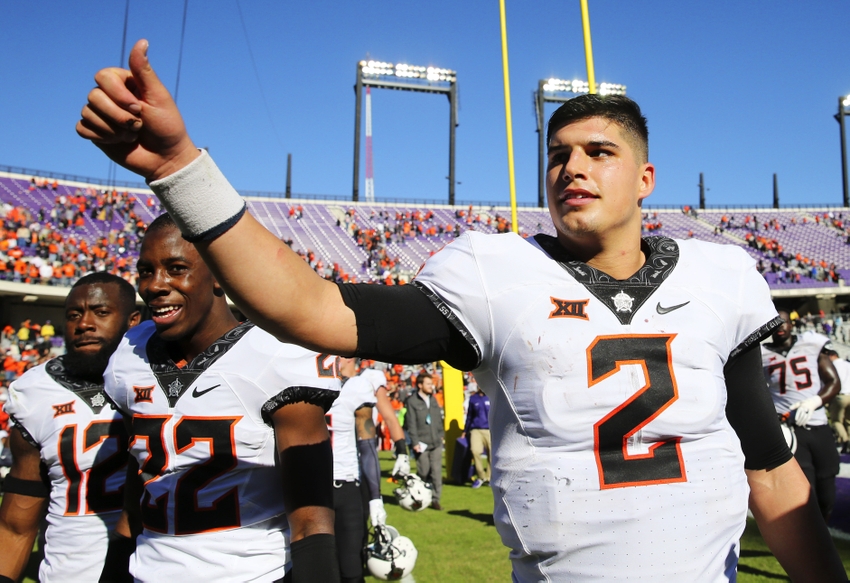 Oklahoma State football stayed alive in the Big 12 title race as they ran past the TCU Horned Frogs in Fort Worth to get their ninth win.
Behind a team rushing effort of 334 yards, the Oklahoma State Cowboys were able to win comfortably over the TCU Horned Frogs. True freshman running back Justice Hill led the Pokes in rushing with 154 yards on 16 carries, which averages out to 9.6 yards per carry. Senior running back Chris Carson rushed for 146 yards and one touchdown. Furthermore, quarterback Mason Rudolph added another 23 rushing yards and two touchdowns.
TCU will now need another win to become bowl eligible. If the Horned Frogs had been able to come away with a win they would have gotten the sixth win needed for bowl eligibility. Two more games remain on the Frogs schedule: the Texas Longhorns, and Kansas State Wildcats. Both games will be tough, but both games are winnable.
To stay in the race for the Big 12 title, the Cowboys needed a win. Their record is now 9-2 (7-1 Big 12), after their 31-6 defeat of the Horned Frogs. TCU is now 5-5 (3-4 Big 12).
Considering the Cowboys were 6.5 point underdogs this game, they should be able to take the momentum from this victory into the next few weeks. Now let's take a look at the biggest takeaways from Oklahoma State's win over TCU.
Oklahoma State doesn't need Rudolph to be a hero
Rudolph jockeyed with his own consistency issues. TCU's defense played well in the first half, but the flood gates opened in the second. Rudolph threw for 207 yards, with one passing touchdown, and two rushing touchdowns. Yet, he only completed 50 percent of his passes, by far the lowest of any game this season.
Good news for Oklahoma State was their defense. Oklahoma State's defense played their best game of 2016. Taking pressure off of Rudolph could be just he needs to lead the Cowboys to a Big 12 title in the coming weeks. Two weeks ago, Rudolph threw for a career high passing touchdowns in a single game with five. A career performance was something the Cowboys needed to beat Kansas State. A mistake free performance was also needed to beat Texas Tech last week.
As long as Rudolph doesn't turn the ball over, he will continue to give the Cowboys a chance to win each week.
Offensive line and running game have dramatically improved 
Over the last two seasons, the Cowboys had trouble getting anyone running back over the century mark. Both running backs, Carson and Hill, bullied TCU's run defense. The o-line held strong for Rudolph in the pocket. He was only sacked twice. Even when TCU's defensive line ran him out of the pocket, he still had the composure to get away without turning the ball over.
For the first time this year, the Cowboys rushed for more yards than they passed for (334 rushing yards, compared to 207 passing yards). Yet, they posted 541 total yards, almost 200 more total yards than TCU.
Hill and Carson both averaged more than 8.5 yards per carry. While both players don't need to play at that same level every week, more 100 yard rushing efforts can give the Cowboys a big edge.
The defense stepped up at the right time
Six points is the fewest that Oklahoma State's defense has allowed all season. Season opening win against Southeastern Louisiana out of the FCS was able to score seven points. TCU quarterback Kenny Hill was held in check. He threw for 166 yards and one touchdown, with two interceptions. Hill added another 79 yards on the ground.
Furthermore, TCU running back Kyle Hicks was held to 47 yards on 25 carries. Two weeks earlier, Hicks put up 192 rushing yards and five touchdowns against Baylor. Oklahoma State defensive tackle Vincent Taylor led a front seven that played well. Taylor was also able to block his fourth field goal of the season. The Cowboys have the most blocked field goals, with 19, over the last four seasons.
Want your voice heard? Join the Pokes Post team!
Up Next
Oklahoma State will face in-state rival Oklahoma in the annual Bedlam game on December 3. If the Sooners can beat West Virginia tonight, then Bedlam will be set up as a Big 12 title game. While the Big 12 is a long shot to make the College Football Playoff, if chaos occurs in the top 10, the winner of this game could clinch a playoff spot.
This article originally appeared on