Oklahoma's Football Playoff Ranking at No. 8 This Week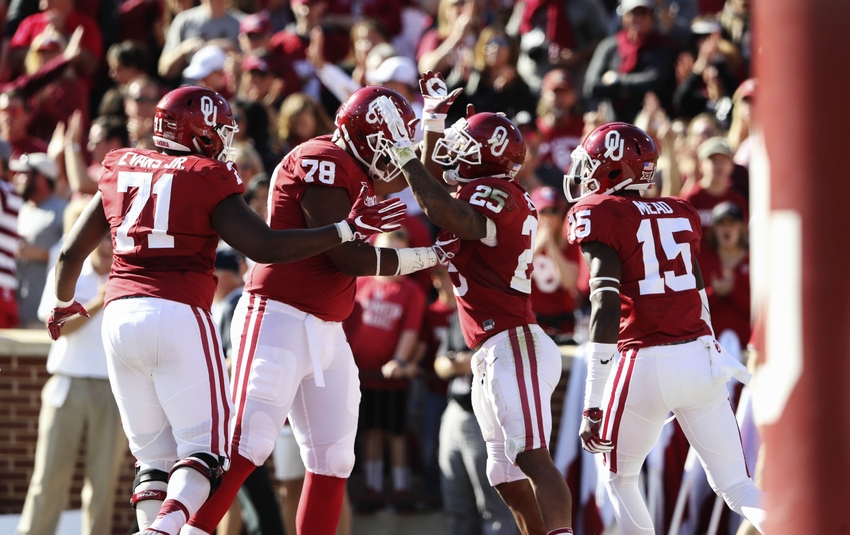 The dominant Oklahoma football win over previously No. 14 West Virginia last week gained the Sooners one spot in the new College Football Playoff rankings, released Tuesday night.
The Sooners advanced in this week's Playoff rankings, as did Oklahoma State, now in the No. 10 position, which sets up a blockbuster of a Bedlam battle between OU and its in-state rival on Dec. 3.
That game, which will be played at Oklahoma, not only has Big 12 title implications but also could play into the College Playoff discussion on the weekend the final four teams selected (see Sixto Ortiz's article on the Sooners Playoff possibilities).
Louisville's loss to Houston last week created a mild shakeup in the lower half of the top 10 in the Playoff rankings, but otherwise the top four spots remain the same, with Alabama, Ohio State, Michigan and Clemson. Wisconsin moved from No. 7 to No. 6, after Louisville's loss dropped the Cardinals from No. 5 to No. 12, and Washington moved up to No. 5.
Ohio State and Michigan collide this weekend in their annual rivalry game. A Michigan victory will send the Wolverines to the Big Ten championship game and likely will knock the Buckeyes out of the Playoff. An Ohio State win could spell Playoff doom for Michigan, but will send Penn State to the Big Ten championship and not Ohio State by virtue of the Nittany Lions' upset win over the Buckeyes.
Penn State, at No. 7, the Sooners, Colorado and Oklahoma State rounded out this week's top 10 in the CFP rankings.
Besides the Sooners and Oklahoma State, West Virginia is the only other Big 12 team ranked in what is the third from the last Playoff ranking for the 2016 season. West Virginia fell four spots, to No. 18, after losing decisively to Oklahoma last weekend.
Complete College Football Playoff Rankings (Nov. 22, 2016)
Alabama (11-0)
Ohio State (10-1)
Michigan (10-1)
Clemson (10-1)
Washington (10-1)
Wisconsin (9-2)
Penn State (9-2)
Oklahoma (9-2)
Colorado (9-2)
Oklahoma State (9-2)
Louisville (9-2)
USC (8-3)
Auburn (8-3)
Florida State (8-3)
Florida (8-2)
Nebraska (9-2)
Tennessee (8-3)
Boise State (10-1)
West Virginia (8-2)
Houston (9-2)
Western Michigan (11-0)
Utah (8-3)
Washington State (8-3)
Stanford (8-3)
Navy (8-2)
More from Stormin in Norman
This article originally appeared on