Oklahoma's College Football Playoff Chances Going Up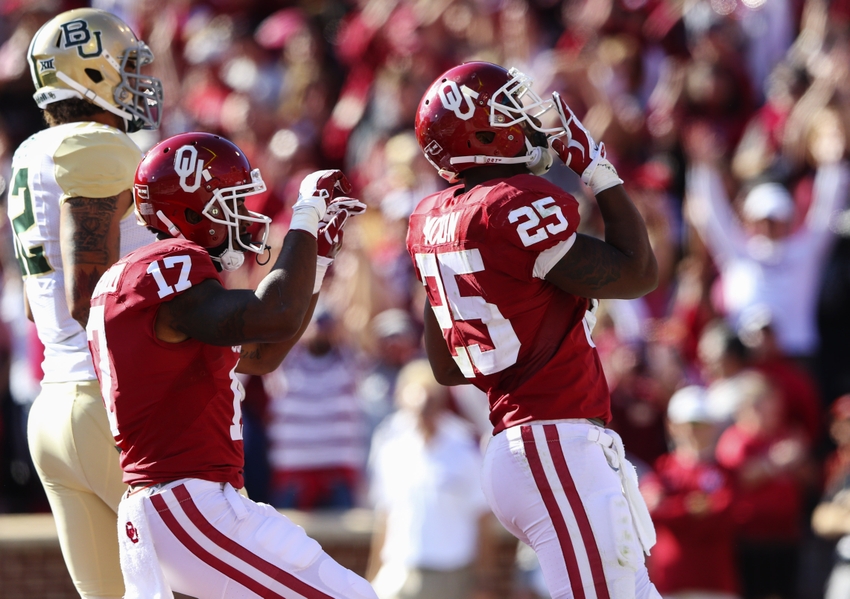 Two months ago, sporting two losses in its first three games, Oklahoma was left for dead as far as its chances of achieving its 2016 season goal of making a return appearance in the College Football Playoff.
Fast forward to Thanksgiving week, just a couple of weeks from Selection Sunday, when college football's Final Four will be revealed and no doubt debated ad infinitum for what's left of the calendar year.
Oklahoma is off this weekend, earning a well-deserved rest after putting together eight consecutive wins following a lose to No. 2 Ohio State back on Sept. 17. The Crimson and Cream is one win away from completing an undefeated conference season for the fourth time under Bob Stoops and first time since 2004.
The Sooners were perfect in Big 12 regular-season play in 2000, their national championship season, as well as 2003 and 2004.
The one thing standing in OU's way of another perfect season and a 10th Big 12 championship is a Bedlam battle in Norman against that longtime rival located an hour up the road in Stillwater.
The Cowboys will come to Norman with an identical 9-2 overall record and revenge firmly planted in their collective mind after losing by an embarrassing five touchdowns to the Sooners last season. Many would argue that the two Oklahoma State losses should really be one, given the questionable circumstances of their one-point loss to Central Michigan earlier in the season.
Oklahoma State's lone Big 12 loss this season was a 35-24 setback to Baylor in the conference opener for both teams. Since then, the Cowboys have run off seven straight conference wins.
The Big 12 is bringing back its championship game in football next season, making 2016 the final season without one after discontinuing the championship game at the conclusion of the 2010 season.
The Dec. 3 showdown between the Sooners and Cowboys will serve as the de facto Big 12 championship this season. Had the Big 12 Championship been in place, however, these same two teams would meet on consecutive weekends, the latter of which would be at a neutral site for the purpose of crowning the conference champion.
ESPN's Football Power Index ranks Oklahoma eighth nationally and rates the Sooners' strength of schedule as the country's ninth strongest. The FPI gives the Sooners a 74-percent chance of beating Oklahoma State and winning the Big 12 Conference title.
At the very least, a win over the in-state-rival Cowboys will earn Oklahoma a spot in the Sugar Bowl and a likely date on Jan. 2 with Auburn or Tennessee, the second best team in the SEC this season.
Auburn is currently ranked No. 10 in the FPI; Tennessee is at No. 18 this week.
So it appears Bedlam football this year is most likely for a postseason spot in the Sugar Bowl, one of the New Year's Six prestige bowls (which goes to the Bedlam winner) and the Valero Bowl (the Bedlam consolation prize).
But what about something higher? Like becoming one of the four select participants in the College Football Playoff. Not out of the question – for either the Sooners or Cowboys – although both schools, candidly, are going to require a lot of help and more chaos at the top of the CFP rankings for the possibility to turn into reality.
For those Sooner fans who look at things with a glass-half-full outlook, consider this: FiveThirtyEight, a statistical analysis weigh station on the web, predicts that Oklahoma will be one of four Playoff teams.
FiveThirtyEight gives the Sooner a 40 percent chance of making the College Football Playoff because it predicts Oklahoma chances of winning its conference title are greater than Washington doing the same in the Pac 12.
If Alabama, Clemson, Michigan and Washington were to win out, OU's Playoff chances drop would drop to 11 percent, according to FiveThirtyEight.
On the other hand – here you go, overly optimistic Sooner fans – if Alabama, Michigan, Oklahoma and Washington were to win out and Clemson stumbles, the Sooners' chances of making the Playoff go up to 54 percent, potentially guaranteeing OU a Playoff spot, the folks at FiveThirtyEight say.
FiveThirtyEight goes on to predict – I'm truly beginning to really like these guys – that if Washington falls in its game on Friday against Washington State, Oklahoma has a 76-percent chance of being Playoff bound if Michigan wins out (are you still with me?) and a 54-percent chance if Washington loses and Ohio State wins out.
Whew! A lot to digest and think about, and what a day to do it.
Happy Thanksgiving, Sooner fans.
More from Stormin in Norman
This article originally appeared on