Oklahoma Football: Why Horns Hold Key to Sooners' Championship Bid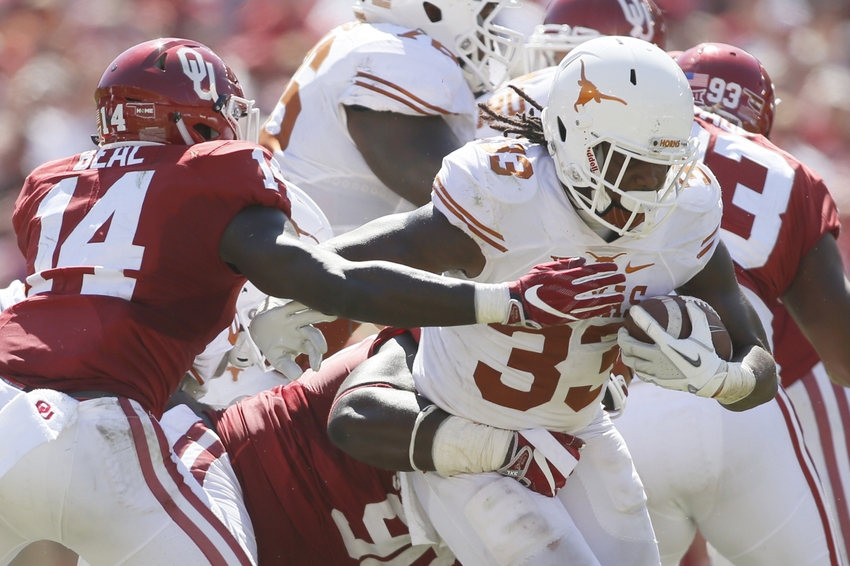 You will never find anyone associated with OU or passionate about Oklahoma football having anything good to say about the color burnt orange or the Texas Longhorns. Just not gonna happen – no how, no way!
Well, never say never. Sooner fans might want to consider going rogue, pivoting from their anti-Texas DNA and rooting for the Longhorns the rest of the way.
Texas (3-3, 1-2) is at Kansas State this weekend, but in the coming weeks, the Longhorns will be at home, taking on West Virginia and Baylor, the only remaining undefeated teams in the Big 12.
Oklahoma also has games remaining in the second half of the season against West Virginia and Baylor, the two teams likely to be the biggest challengers to the Sooners in the race for the 2016 Big 12 championship. OU has Baylor at home on Nov. 12, but the following week the Sooners make the long trip to Morgantown, W.Va., which could end up being a de facto Big 12 Championship game.
The Sooners control their own destiny: Win their remaining six games in 2016, beginning Saturday night at Texas Tech, and the conference crown will be theirs. With victories already over TCU, Texas and Kansas State, running the table from here on out would give Oklahoma a perfect 9-0 mark, and in a round-robin format that would mean that the nearest challenger would be at least one game back of the undefeated Sooners.
But thinking or talking conference championship is nothing but a wishful thought at this halfway juncture. Much can, and probably will, still happen.
That's why it would be nice to have the Longhorns, who are in the best position right now to help out, perform some of the dirty work for the Sooners. Just don't let the Horns and their faithful in on who stands to be the beneficiary of their good deed.
Just think how wonderful it would be for those hated Horns to hang a loss on Baylor or West Virginia – one out of two would be terrific, and two of two even better.
Texas owns a 75-26-4 record all-time against Baylor and a 15-5 mark in the Big 12, and the Longhorns host the Bears next weekend.
Two weekends after that, the Sooners host what we hope will be at least a one-loss Baylor, coincidentally on the same weekend that West Virginia goes up against the Longhorns in Austin. A week later, Oklahoma goes to West Virginia, hopefully to finish off what the Longhorns feasted on the week before.
Call it the perfect storm, but certainly one worth contemplating, even if it does mean cheering on the Longhorns.
Hook 'em!
More from Stormin in Norman
This article originally appeared on