Oklahoma Football: TCU Most Important Game in Rest of Sooners' Season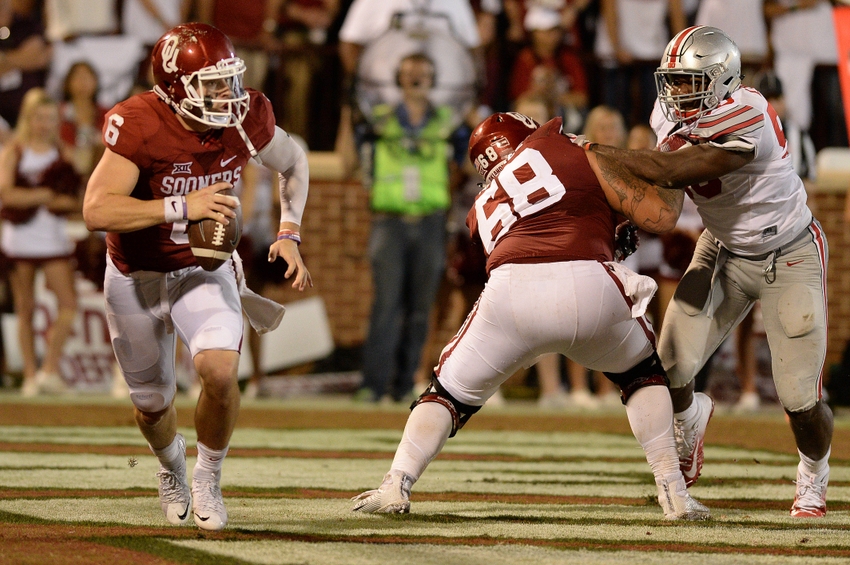 Oklahoma football gets a welcomed weekend off after a rugged nonconference gauntlet that saw the Sooners drop two of their first three games for only the second time in Bob Stoops' time in Norman.
You can argue both ways whether it is good or bad to have the extra time off at this time in the season, when establishing continuity and building momentum is such a plus heading into all-important conference play. For the Sooners, however, the bye week is a good thing, coming at a time when there are a number of walking wounded, emotionally as well as physically, and when momentum has seemingly taken a U-turn.
The best thing for the Sooners right now, with a clean Big 12 slate and everything to play for ahead of them, is to learn from the past three weeks, make adjustments and get better in the areas of their game that have been unsatisfactory up to now, and move forward with a positive attitude to the rest of the season.
Until someone takes it away, Oklahoma is the reigning Big 12 champion, and the quest to retain the conference crown and add their 10th in 18 seasons under Bob Stoops begins in earnest next week with a huge road trip to TCU.
Head coaches will always tell you that the most important game on the schedule is the next game. And for Oklahoma that means the focus is squarely on TCU.
A win over the Horned Frogs next Saturday would be a huge boost of confidence for a Sooner team that won't come out and publicly admit it but has to be really down on itself right now. The Sooners need to be able to prove to themselves – and, quite frankly, to their intensely loyal fan base – that they still have it in them and can play with anyone when they play up to their capability.
How Oklahoma responds when it returns to action on the first day of October, away from home and in a hostile environment, will serve as a testament to the character of this team and how good the Sooners will be over the remaining two months of the season.
Some college football experts  were predicting that Oklahoma would fall at TCU, even before the season had started and the Sooners had yet to show any signs of vulnerability.
Oklahoma will likely be an underdog going against the Horned Frogs, and that might not be such a bad thing considering that the Sooners tend to so much better when the expectations are against them and they don't have to carry around a huge target on their back,
TCU, like the Sooners, appears to have fallen back a little from where the Horned Frogs were a year ago. Trevone Boykin, TCU's starting quarterback the past three seasons, has moved on to the NFL, but transfer Kenny Hill appears to have picked up right where his All-Big 12 predecessor left off.
Hill began his college career at Texas A&M, where he broke Johnny Manziel's single-game passing yards mark in his first start for the Aggies, throwing for 511 yards.
Through four games this season, Hill is averaging 471 passing yards per game and completing 66 percent of his passes. That over 200 yards more per game than Oklahoma's Baker Mayfield. What's concerning if you are a Sooner fan is the trouble OU has had in pass coverage this season, yielding almost 250 yards through the air per game and eight TD passes through three games.
A silver lining for the Sooners in preparing their game plan against Hill and his TCU compadres is that Kyler Murray, an OU quarterback who played with Hill as a freshman at Texas A&M before transferring to Oklahoma after last season and knows his tendencies as well as anybody.
Murray is sitting out this year because of NCAA transfer rules, but he is acting out the role of his former A&M teammate on the scout team as the Sooners prepare to go against Hill and the Horned Frogs next Saturday.
Next up after TCU is the annual date at the Cotton Bowl in Dallas with archrival Texas on Oct. 8.
Oklahoma does not return home to Gaylord Family-Oklahoma Memorial Stadium until Oct. 15, when Kansas State becomes the most important game on the schedule.
Hopefully, when the K-State game rolls around the Sooners will be 3-2 overall and 2-0 in the Big 12, looking to make it three in a row.
More from Stormin in Norman
This article originally appeared on