Oklahoma Football: Sooners No. 8 in ESPN Post-Recruiting Way-Too-Early Top 25
Chip Rouse/FanSided via Stormin in Norman

Fansided
In case you missed it, ESPN has recalibrated its Way-Too-Early Top 25 based on the results of National Signing Day, and Oklahoma football was one of the big winners.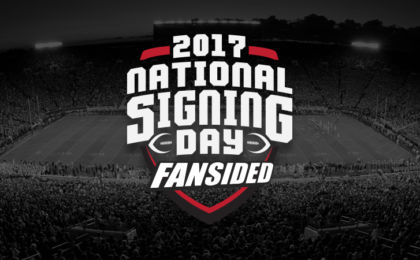 The Sooners, who brought in the seventh or eighth best 2017 recruiting class depending on which national rating service you follow picked up two spots in ESPN's Way-Too-Early Projections, moving to eighth from No. 10.
Oklahoma was the beneficiary of a top-10 recruiting class, the first for the Sooners since 2010.
Writes ESPN's Mark Schlabach: "The Sooners might be accused of falling asleep at the wheel when it came to recruiting the past few seasons — they hadn't signed a top-10 class since 2010 – but they still managed to win 10 games or more in six of the past seven seasons.
"OU coach Bob Stoops turned it around this year, however, as the Sooners signed a class that ranks No. 8 nationally (according to ESPN), which is far and away the best in the Big 12."
In five way-too-early projections of college football's top 25 teams for the 2017 season, Oklahoma's average ranking is seventh. The Sooners are ranked as high as No. 4 by CBS Sports and as low as No. 10 in the initial ESPN Way-Too-Early Top 25. Fox Sports ranked Oklahoma eighth in its way-too-early preseason projections for next fall.
Not surprisingly, Alabama is ranked No. 1 in all five 2017 preseason early projections. There is a disparity, however, in the No. 2 through 5 way-too-early preseason rankings. ESPN has Florida State. USC, Ohio State and Penn State as the top five post-National Signing Day.
Sporting News lists Alabama, USC, Clemson, Ohio State and Florida State as the way-too-early top five teams for 2017.
CBS Sports ranks Alabama, Ohio State, Florida State, Oklahoma and USC as the top five teams looking ahead to the 2017 season.
Fox Sports' top-five way-too-early teams are Alabama, Ohio State, Clemson, USC and Florida State, and Sports Illustrated projects Alabama, USC, Penn State, Florida State and LSU as the top-five teams heading into next season.
In reality, all of this means nothing, but it makes for fun conversation and controversy as we wait out the next seven months before the games count for real.
Having said that, we like Oklahoma's early positioning as one of college football's national championship contenders for 2017.
More from Stormin in Norman
This article originally appeared on