Oklahoma Football: Sooners Move to No. 9 in College Football Playoff Rankings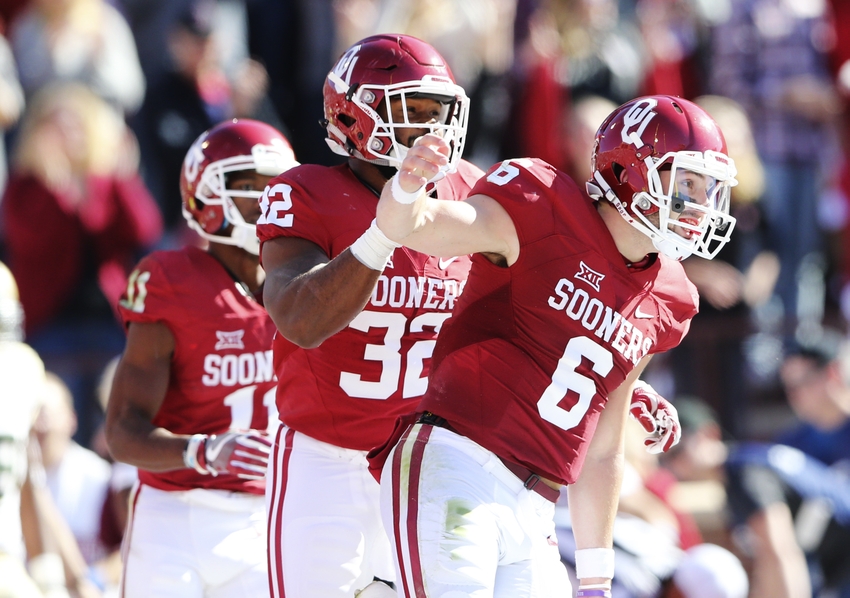 The chaos that occurred last weekend at the top of the mountain in college football resulted in a big shakeup throughout this week's College Football Playoff rankings, and Oklahoma football was one of the upward movers and shakers.
The Sooners are up to No. 9 this week, from No. 11 a week ago and No. 14 the first time the 2016 CFP Top 25 came out two weeks ago.
Oklahoma, which has won seven consecutive games since losing to Ohio State, the No. 2 team in the newly released CFP rankings, earlier this season, remains the highest ranked Big 12 team, but not by much.
Oklahoma State is up to No. 11, and West Virginia, the Sooners' opponent this weekend in Morgantown, is at No. 14. The Sooners also have a game remaining against Oklahoma State to close out the regular season.
The fact that Oklahoma's final two games are against CFP-ranked teams, should help the Sooners 1) if they win out, which would crown OU as Big 12 champions, and 2) if the teams ahead of Oklahoma lose one of their remaining regular-season games.
The teams immediately in front of the Sooners in this week's CFP Top 25 are Penn State, at No. 8, and No. 7 Wisconsin.
The top four teams in this week's Playoff rankings are: 1. Alabama, 2. Ohio State, 3. Michigan and 4. Clemson.
Falling just below the coveted top four Playoff positions are No. 5 Louisville and No. 6 Washington (the No. 4 team last week before losing to USC last weekend).
Ohio State was the biggest beneficiary of all the upsets at the top of last week's rankings. The Buckeyes moved up three spots from the No. 5 position a week ago. USC's upset over previously No. 4 Washington resulted in an upward jump of seven positions for the Trojans, to No. 13.
More from Stormin in Norman
This article originally appeared on