Oklahoma Football Moves to No. 11 in College Playoff Rankings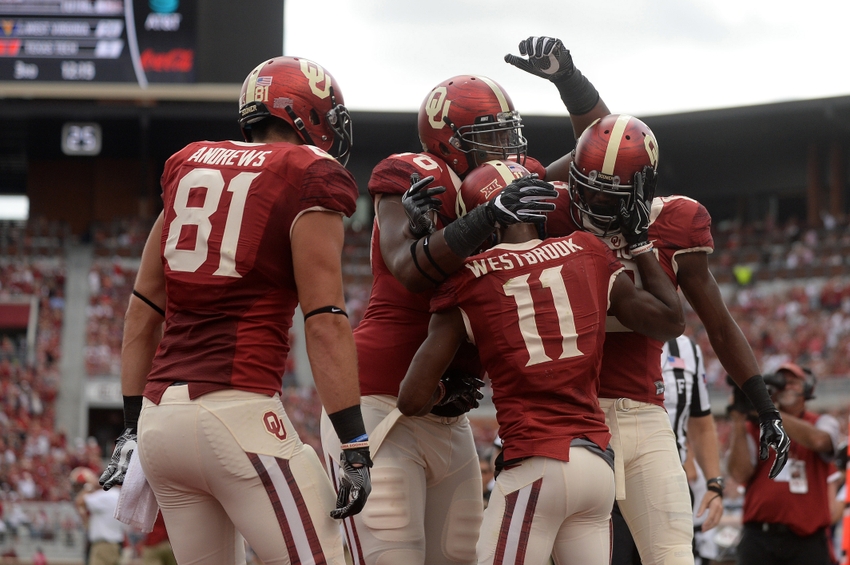 As it did in both the Associated Press and Coaches polls this week, Oklahoma football moved up a couple more spots, to No. 11, in the second College Football Playoff rankings for 2016.
The Sooners, who seven weeks ago appeared dead on arrival after losing big at home to Ohio State, continue to hang around with a flicker of hope still burning in their bid to return to the Playoff for a second consecutive season.
Oklahoma was at No. 14 in the initial 2016 Playoff rankings that came out last week, and the Sooners are up three spots this week. Somehow they "still have a pulse," commented Kirk Herbstreit on ESPN's weekly "College Football Playoff: Top 25" show on Tuesday night.
With games remaining against Baylor this weekend and, more importantly, against West Virginia, at No. 16 in this week's Playoff rankings, and Oklahoma State, sitting at No. 13, in the weeks ahead, the Sooners have the opportunity to  keep advancing upward, depending on what happens with the teams immediately ahead of them in the CFP rankings.
Interestingly, Texas A&M only dropped four spots, to No. 8, after losing last weekend at Mississippi State, but the Aggies still have games left with Ole Miss and LSU, and it was announced on Tuesday that quarterback Trevor Knight, who transferred from Oklahoma, is out for the season with an injured throwing shoulder.
And Auburn, currently sitting at No. 9 in the CFP rankings, has games remaining at Georgia and at No. 1 Alabama.
Of course, none of this really matters unless Oklahoma continues to win and goes on to win the Big 12, which ESPN's Football Power Index gives the Sooners a 65-percent chance of accomplishing.
More from Stormin in Norman
This article originally appeared on