Oklahoma Football: Eight-Team Playoff Would Have Included Sooners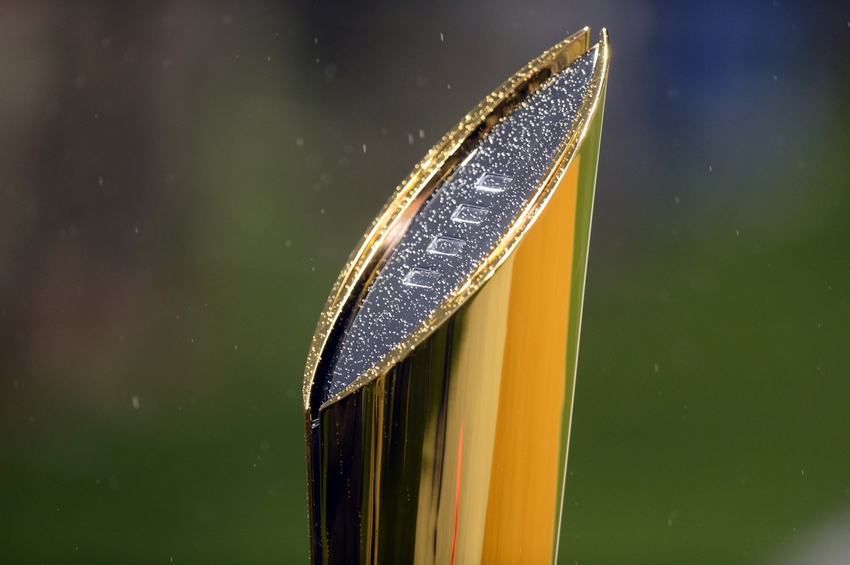 Just think, with an eight-team College Football Playoff format, Oklahoma football fans would be cheering for a Playoff-bound team this season.
In a little over 20 years, the top level of college football has gone from no formal championship game to the BCS two-team format to the current College Football Playoff that involves four teams. There has even been talk about expanding the current Playoff format to include eight teams. But not apparently where it really counts
Idle talk is all it is. An eight-team Playoff amounts to nothing more than a pipe dream at present. The top four teams in this year's Playoff are in place, and by most criteria – or at least the by the one that counts the most, the College Football Playoff selection committee – are the four best teams in the Football Bowl Subdivision this season.
Practically speaking, college football fans are always going to clamor for more Playoff teams. After all, that gives their team a better chance of getting "in." Almost immediately after the decision was made to go with a Final Four format for determining the national champion of college football, the discussion commenced about whether an eight-team playoff might be better. That debate is still going on, by the way, but not among the people charged with making that decision.
If it ain't broke, don't fix it. That sums up the sentiment of College Football Playoff executive director Bill Hancock (who, as a matter of full disclosure, is a University of Oklahoma alum).
"We are confident that four is the right number," Hancock told ESPN staff writer Adam Rittenberg after the four Playoff teams for this season were announced on Sunday.
"I don't anticipate any discussion about expansion," Hancock added.
O.K., so that's the way things are. But just for fun, let's examine what the Playoff picture would have looked like this season if it were an eight-team format.
It's easy for Oklahoma fans to play this "what if" game because the Sooners are ranked seventh in the final CFP rankings. But what if you were No. 9 USC, believed by many to be the hottest college team not named Alabama at this stage of the season, or, say, No. 10 Colorado? Therein lies the unending nature of this debate.
Previously, it was the question of two vs. three. Now it's four vs. five, and if ever there would be a time when it would be an eight-team Playoff, we would be talking about eight vs. nine…and on and on it goes.
I'm sure you get the point.
Circling back, however, to our fantasy eight-team College Football Playoff, here is what the quarterfinal games would look like using a standard bracket based on this season's final Playoff rankings:
Alabama, as the top seed, would face No. 8 Wisconsin in the first round. Oklahoma, as the seventh seed, would be matched up against – are you kidding me? – No. 2 Clemson, in what would be a third consecutive bowl matchup for these two schools.
OU vs. Clemson would definitely be an intriguing matchup. Would the third time be charm? The Tigers put together another outstanding season, rolling to a 12-1 record and another Atlantic Coast Conference championship. They did look vulnerable in several of their wins this season, but they also gave up plenty of points to their opponents, especially those teams that were ranked.
The other two quarterfinal games, under this scenario, would be No. 3 Ohio State vs. No. 6 Michigan (could we possibly have a better game than the Big Ten East rivalry game on Thanksgiving weekend?) and No. 4 Washington vs. No. 5 Penn State.
It would be hard to imagine this year's Clemson defense being able to hold down Oklahoma's explosive, balanced offense. The X-factor in this fantasy Playoff game would be the Sooners' shaky defense, which got better late in the season but isn't nearly as sound as the OU defense that yielded 37 points to essentially the same Clemson offense a year ago.
And we know how Oklahoma teams struggle against dual-threat quarterbacks, like Clemson's Deshaun Watson. We saw how that went a year ago
It is fun, but frankly a little scary, to contemplate what might happen in a third consecutive bowl matchup between the Sooners and Clemson. I would imagine that Clemson would be favored, perhaps by double digits.
They say anything can happen once you get into the Playoff, that getting there is the tougher test. That may be true, but we're also talking about a pretty big difference in talent and skill level between the top four teams and the second four.
I frankly wouldn't like Oklahoma's chances against any of this year's four Playoff teams. Alabama is having its way with every team it faces this year, and if great defense is what wins championships, you might as well cancel the Playoff and just hand the trophy to the Crimson Tide.
Oklahoma hasn't been able to handle Clemson for two years in a row, and we saw how Ohio State blew by the Sooners – in Norman, no less – earlier this season.
That would leave Washington, and that probably wouldn't matter, because the Huskies wouldn't likely get by both Penn State and Michigan or Ohio State, which they would have to do before they would conceivably meet up with OU in an eight-team format.
So there you have it. What it would look like in an eight-team College Football Playoff and Oklahoma as the No. 7 or 8 seed. I would file this away under the heading: Be careful what you wish for.
On second thought, I like Oklahoma's situation just as it is. A team that fell on hard times early but overcame adversity, refused to pack it in and proceeded to run the table in a Power Five conference, soundly beating two top-15 teams in its final two games to climb all the way back to a No. 7 ranking in the final CFP standings.
The Sooners are right where they should be and where their chances for success are greater: Playing in one of the six top postseason bowls and against an opponent from the SEC in a primetime game that they are favored to win.
Other than winning the national championship – which Oklahoma has done seven times in football – it doesn't get much better than capping off your season with a victory in a featured bowl.
More from Stormin in Norman
This article originally appeared on