Oklahoma Football: Countdown to a Championship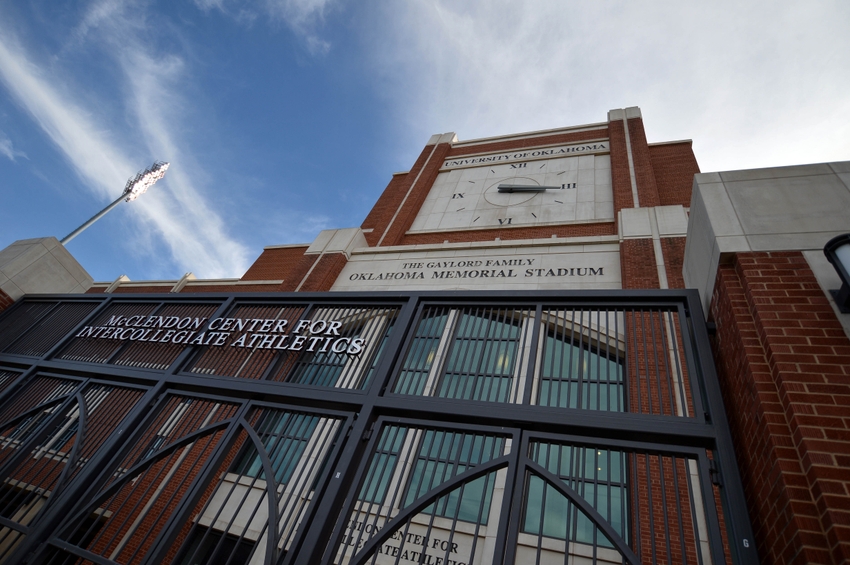 After an inauspicious  start to the season with losses to Houston and Ohio State in two of the Sooners' first three games in 2016, Oklahoma football has recovered nicely.
Heading into the final three games of the season, the Sooners sit atop the Big 12 standings, and if they continue their winning ways, a 10th Big 12 title will be theirs.
For many in Sooner Nation, this may be a disappointment, considering that most of us has our sights set on a much bigger prize when the season began over two months ago.
Still, a conference title is certainly nothing to sneeze at. Among other things, it earns the conference champion a spot in the Sugar Bowl. one of the major bowl assignments.
But first things first. Oklahoma must make it through a daunting, three-game gauntlet to capture that coveted Big 12 crown. The Sooners host Baylor in Norman this weekend, then travel to Morgantown, W. Va., for what could very well the game that determine the conference champion for this season.
After a bye week, it is back to Norman for Bedlam with in-state rival Oklahoma State on Dec. 3.
Here's a preview of the Sooner's final three contests of the regular season:
Previewing The Baylor Bears
Last week's 62-22 shellacking at the hands of the TCU Horned Frogs provided ample evidence that Baylor football is not quite on track this season.
After a 6-0 start, the Bears have dropped two consecutive games (Texas and TCU) and are eliminated from the College Football Playoff race. That said, the Bears are a dangerous team perfectly capable of beating Oklahoma in Norman.
On offense, the Sooners will face a Baylor squad missing the services of senior running back Shock Linwood, who was suspended by head coach Jim Grobe. The Bears should be in good shape anyway with sophomore Terence Williams and freshman JaMycal Hasty sharing the rushing duties on Saturday.
And of course, senior quarterback Seth Russell is always a threat to run; Russell has 436 rushing yards and eight rushing touchdowns so far this season.
Speaking of Russell…the senior gunslinger has thrown for 1,978 yards, 19 touchdowns and six interceptions this season, with a 55-percent completion percentage. Russell's 2016 numbers are down from 2015, when he threw for 2,104 yards, 29 touchdowns and six interceptions before going down with a season ending neck injury.
In spite of the downward stats trend, Russell is still a dangerous and accurate passer who can also create havoc with his feet. And KD Cannon and Ishmael Zamora are two excellent receivers who would love nothing more than punish the Sooner secondary early and often.
Defensively, Baylor is No. 59 in the country in total defense, good for the middle of the FBS (Football Bowl Subdivision) pack. As of now, the Bears are giving up 5.05 yards per play and 394.8 yards per game; but in their two losses, the wheels fell off the Bears' defensive wagon as the defense gave up a combined 1,236 yards and nearly eight yards per play. This downward trend, as long as it continues, bodes well for an Oklahoma offense that comes into November firing on all cylinders.
Oklahoma's keys to winning this game are clear: Bottle up Baylor's explosive offense and control the time of possession with sustained drives. Accomplishing those goals and the Sooners will emerge from Saturday's game with a victory.
Previewing The West Virginia Mountaineers
West Virginia has been a surprising team of sorts this season.
The Mountaineers currently sit at 7-1, their only blemish an Oct. 29 loss to Oklahoma State in Stillwater. West Virginia is in the thick of the Big 12 title hunt and can take a significant step towards a conference title with a victory over the Sooners in Milan Puskar stadium on Nov. 19.
Offensively, West Virginia is led by senior quarterback Skyler Howard, who has thrown for 2,293 yards, 16 scores and six interceptions. Howard, an accurate passer who completes 65 percent of his throws, may be able to exploit the Sooners' often vulnerable secondary.
When the Mountaineers run, they have a capable trio of running backs – junior Justin Crawford, senior Rushel Shell III and freshman Kennedy McCoy – who have combined for 1,789 rushing yards and nine TDs. It's a balanced attack that may cause the Sooner defense fits, especially in a hostile and raucous environment.
Surprisingly, West Virginia is playing well on defense, or at least as well as any Big 12 team can play on that side of the ball. Right now, the Mountaineers are 58th in the country in total defense, giving up 394 yards per game and 5.3 yards per play.
Definitely not a 2016 Alabama or Michigan level of defensive prowess, but good enough to sit atop the Big 12 in scoring defense and second only to Kansas State in total defense.
Right now, the West Virginia defense is giving up 246 yards through the air and 148 on the ground. If the Mountaineer defense is able to slow down the Sooner Air Raid attack and come close to its season averages, it could be a long day for the Sooners. But this is the same defense that gave up 37 points to Oklahoma State in a losing effort and 21 points to an absolutely woeful Kansas team. They are good, but they are also weaknesses that can be attacked.
Bottom line: In spite of the good press the Mountaineer defensive unit is getting, Lincoln Riley's offense, especially with Samaje Perine and Joe Mixon back in action, should be able to move the ball. A bigger concern may be the Sooner defense's ability to slow down the Mountaineer offense.
so-so
Previewing Oklahoma State
After stumbling out of the gate with a so-so 2-2 record – including a controversial home loss to Central Michigan – the Oklahoma State Cowboys have regained their footing and won five games in a row.
But the Cowboys have a pretty tough final trio of games, hosting Texas Tech on Nov. 12 before traveling to Ft. Worth for a tussle with TCU on Nov. 19. Then it's a bye and a Dec. 3 trip to Norman for Bedlam, a game that could carry Big 12 title implications.
Junior Mason Rudolph is the guy who makes the Cowboy offense hum, and the quarterback is playing very well this season. Rudolph has thrown for 2,989 yards, 22 touchdowns and only four interceptions during the 2016 campaign, for a healthy 9.1 yards per attempt and 332 yards per game. He doesn't turn the ball over very much, a bad sign for an Oklahoma defense that has not generated much in the way of turnovers this season.
When the Cowboys run the ball, their go-to rusher is freshman Justice Hill, who to date has rushed for 663 yards and four scores. No other Cowboy running back is anywhere near Hill in terms of yards, although senior Rennie Childs has rushed for seven touchdowns. The Oklahoma rush defense has been relatively strong this season (25th nationwide, allowing 124 yards per game), so the Cowboy running attack may have a tough time generating yards against the Oklahoma defensive front seven.
The Cowboys are allowing over 200 rushing yards per game on defense, a number that Sooner OC Lincoln Riley has surely noticed.
Unless the OSU run defense vastly improves between now and Dec. 3, Oklahoma coaches have to be feeling confident that both Samaje Perine and Joe Mixon – and don't forget what Dimitri Flowers did on the ground against Iowa State – will be able to move the ball on the ground. And Baker Mayfield should be able to pass against a Cowboy defense allowing 241 yards per game.
If the Oklahoma defense finds its fangs and is able to slow down Mason Rudolph, Bedlam should be a runaway, because the Cowboys' No. 98 FBS- ranked defense can't seem to stop anyone. But if the Sooner secondary gets carved up by Mason Rudolph – a distinct possibility for a unit allowing nearly 300 passing yards per contest – this episode of Bedlam will result in another shootout.
More from Stormin in Norman
This article originally appeared on