Ohio State, Virginia Tech meeting sparks memories of Buckeye tribute to the Hokies
There is arguably not a more iconic helmet in college football than that of Ohio State, and the traditional buckeye leaf stickers that have adorned most, if not all of the helmets to have come through the program over the last four decades are nearly as recognizable as the lids, themselves.
For one Ohio State game, however, it was a different emblem that took priority on OSU's glittering domes. The Buckeyes wore Virginia Tech decals on the left sides their helmets during their 2007 spring game — a symbol of support for the school five days after an on-campus shooting claimed 27 students and five professors and left another 17 people injured.
Over time, the memory of the moment has faded for some, and the wounded Virginia Tech campus has continued to heal, but as the Hokies prepare to travel to Columbus for the first meeting between the heavyweights Saturday at Ohio Stadium, it's difficult not to look back with reverence when recalling Ohio State's solemn salute in the wake of the tragedy.
"What a tremendous gesture," Virginia Tech coach Frank Beamer told FOX Sports Wednesday when asked about the significance of Ohio State's '07 nod to Virginia Tech. "I think the whole country was sharing in the sadness around here at Virginia Tech, and certainly for them to wear our Virginia Tech (logo) on their helmet in the spring game, that was going beyond what you would think about.
"So it was very much appreciated — we very much appreciated the Ohio State people and all the people who were thinking about us back during that terrible, terrible time."
What a tremendous gesture.
Frank Beamer
The idea for the tribute wasn't a PR ploy or a decree handed down by university leaders, according to former Buckeyes head coach Jim Tressel, but rather, one borne right in the Ohio State locker room. Now the president at Youngstown State University, Tressel told FOX Sports that his players came to him looking for a way to pay homage to a Virginia Tech team the Buckeyes had never played and a university and community that few, if any, had ties to.
"One of our student athletes said, 'You know what, how about if we figure out a way to let them know we're with them?'" Tressel recalled in a phone interview Wednesday.
"So we went to our equipment room and said, 'Do we know a) if we can get permission to do this and b) if we could get these here in time for our spring game?' One thing led to another and the kids were really proud to make a statement that they wanted to support all of the students, alumni and everyone else at Virginia Tech."
Tressel said he had a brief conversation with Beamer about using the Virginia Tech decals before deciding to wear them in front of the home crowd in Columbus that spring afternoon.
"They were, obviously, in almost a numb state, so I recall it wasn't a real lengthy discussion," Tressel said. "But he voiced his appreciation for all of the various things that people were doing to support them. That was a tough time on their campus, for sure."
And though the schools are separated by some 300 miles, the sentiment was felt from Columbus to Blacksburg.
"Personally, I was overwhelmed when I first saw that," said Bill Roth, longtime radio announcer for Virginia Tech football. "And I know the general reaction — I think it really helped during the grieving process, that Ohio State would reach out to our people after our tragedy with such an amazingly generous, and much more than symbolic, act. It was quite remarkable that they did that. We know what that helmet means to the people of Ohio and for them to do that back then, it meant an awful lot."
"It definitely was weird at first, because with the iconic Ohio State football helmet, there haven't been many changes to it in years and years, but I think there was definitely a bigger picture there," Boeckman told FOXSports on Thursday. "To be able to honor and remember and stand by the Virginia Tech community and the state of Virginia, I think that was bigger than Ohio State, and bigger than the Ohio State decal or the Ohio State helmet. It was an honor to be a part of it."
There were other tributes around college football and the sports world in the wake of the shooting, as well. Ohio State's Big Ten rival Penn State also paid tribute to Virginia Tech during its spring game, and at Florida State, the flame atop the school's "Unconquered" statue was lit as a sign of solidarity with their ACC brethren, the first time it had been lit for an event outside of Florida State, itself.
Even the New York Yankees stood by Virginia Tech, visiting Blacksburg during spring training in 2008 to pay tribute at an on-campus memorial and play an exhibition against the Hokies. Before the game, the Yankees took batting practice in custom orange and maroon caps, which were later auctioned off for charity.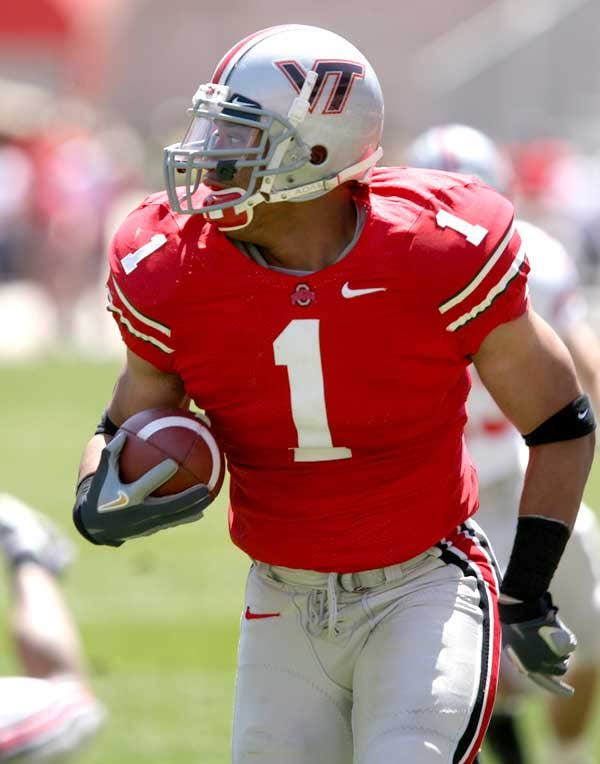 "There are certain things that happen that are so devastating that time stops," Yankees manager Joe Girardi told reporters at the time. "For me, this is one of them. This is probably the proudest day I've ever (had) to wear a Yankee uniform."
Perhaps no other tribute hit home more, however, than Ohio State standing beside the Hokies by becoming the first school other than Virginia Tech to don the classic VT logo, a bond that will only become stronger when the Ohio State band salutes Virginia Tech again before the band dots the 'I' ahead of the teams' 8 p.m. ET kickoff.
"I think at that point we and everyone realized what happened on this campus could have happened at any major state school," Roth said. "Unfortunately, that tragedy happened here, so for those schools to reach out and do the things they did, I thought that it was very much needed during the spring of '07.
"… We compete and try to beat the heck out of each other, but there's a tremendous sense of collegiality for all of these institutions. I think that's a perfect example of it. I don't know that anyone at Virginia Tech who was here then or who will read about it now won't be in awe that the Buckeyes did that."
The way Tressel sees it, though, it was the least he and his team could do.
"It was our way to remind a whole bunch of people that our students and our coaches and our community and our institution were heart-heavy for the group," Tressel said. "I knew Frank and some of the staff, but we probably didn't know many people on that campus, but that didn't really matter. At that moment, we wanted to make sure that they knew we cared. … And now that we're playing them this year, it does remind us of the fact that it was truly an honor."
You can follow Sam Gardner on Twitter or email him at samgardnerfox@gmail.com.