Ohio State's Noah Brown Catch of the Year Candidate on TD vs. Oklahoma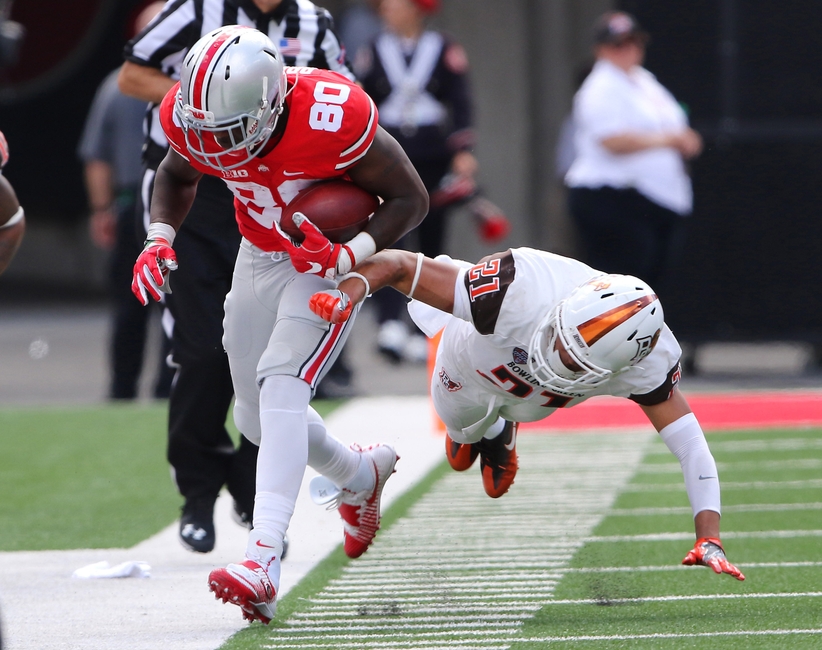 Ohio State Buckeyes receiver Noah Brown may have made the catch of the year during Saturday's game against the Oklahoma Sooners.
After hours of waiting due to a severe weather delay, Saturday night's game between the Ohio State Buckeyes and Oklahoma Sooners brought us all kinds of highlight plays, including the potential catch of the year.
The Buckeyes were having no problem moving the ball offensively thanks to quarterback J.T. Barrett. Near the end of the first half, Barrett was able to throw another touchdown to Noah Brown to go up 35-17 heading into halftime.
A touchdown might sound normal enough until you see the replay. Somehow Brown was able to catch the ball despite an Oklahoma defender being right on him. In fact, Brown caught the ball around the defender's back while the two fell down. You can check out the video of what may just be the catch of the year in the video below.
Noah Brown, are you kidding me? As if that wasn't impressive enough, Brown only had three catches at halftime. However, those three catches were for 62 yards and three scores. That's the kind of production that few receivers can have in one half of football.
The Buckeyes came into this game expecting a tough contest against a top 25 opponent. However, Ohio State is showing the nation that they may very well be one of the best teams in college football and should have no problem punching a ticket to the College Football Playoff once the season ends. Meanwhile, Barrett is doing what he can to stay in the Heisman Trophy conversation.
This article originally appeared on