Ohio State's Jerome Baker Returns Interception for TD vs. Oklahoma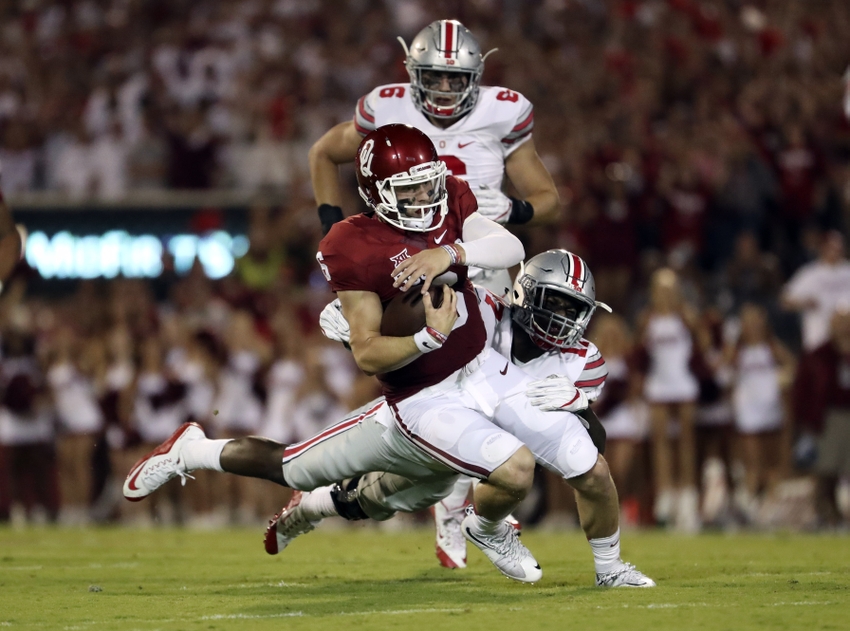 The Oklahoma Sooners tried to be aggressive on fourth down against the Ohio State Buckeyes, but it backfired in the worst way possible.
Fans had to wait a couple extra hours for Saturday night's game between Ohio State and Oklahoma due to a weather delay. For Ohio State Buckeyes fans, it was definitely worth the wait.
In the first quarter of Saturday's game, Oklahoma was struggling to get going offensively and faced a 4th and short. After a missed field goal earlier, the Sooners decided to be aggressive and go for it to try and get some momentum.
Unfortunately, a blitz forced Baker Mayfield to throw the ball quicker than he would have liked. The pass was tipped at the line of scrimmage before falling in Jerome Baker's hands. Baker then took the interception to the house for a huge 68-yard touchdown return to put the Buckeyes up 14-0. You can check out the play in the video below.
The Sooners were able to negate the pick six with a touchdown return on the ensuing kickoff from Joe Mixon. However, it did not look good early on for the Sooners, as they were getting dominated on both sides of the ball.
Baker Mayfield had been playing quite well to start the season. In fact, this was just his first interception through the first three games of the year. The Sooners will need more production from Mayfield as the season continues if they hope to keep winning games.
Meanwhile, Ohio State's defense continues to look like one of the most dominant units in the nation, consistently racking up defensive touchdowns.
This article originally appeared on