Why Bob Stoops isn't to blame for Oklahoma's disappointing 1-2 start
By now you've probably heard that things didn't go well for the Oklahoma Sooners in Week 3. That they didn't just lose Saturday, but were instead embarrassed by an Ohio State team that was better than them in just about every single way possible. That at 1-2 their playoff hopes are over before they ever really had a chance to begin.
With those realities come an obvious set of completely different conversations, most of which will focus on Bob Stoops and his role in this whole mess.
While Stoops is nowhere near the hot seat — don't even mention him in the same breath as Gus Malzahn or his brother Mark Stoops at Kentucky — the question of what his program is will once again pop up following this loss.
Even after making the playoff last year, many wonder whether Stoops is the kind of coach who can re-elevate Oklahoma from "really good" to "championship level" like his glory days of the early 2000's. They also wonder whether he's really an elite coach, or a guy who will forever be stuck in the class right behind the Sabans, Meyers and Harbaughs of the world.
Those questions shouldn't be asked OU's 45-24 loss to the Buckeyes. It's actually the exact opposite: Bob Stoops shouldn't be blamed at all for the Sooners' disappointing start. Defensive coordinator Mark Stoops shouldn't be blamed either, or even the struggling Baker Mayfield.
Instead, you know where we need to point the finger on this one? The last place you'd expect: the media. Not one single person, but the entity as a whole.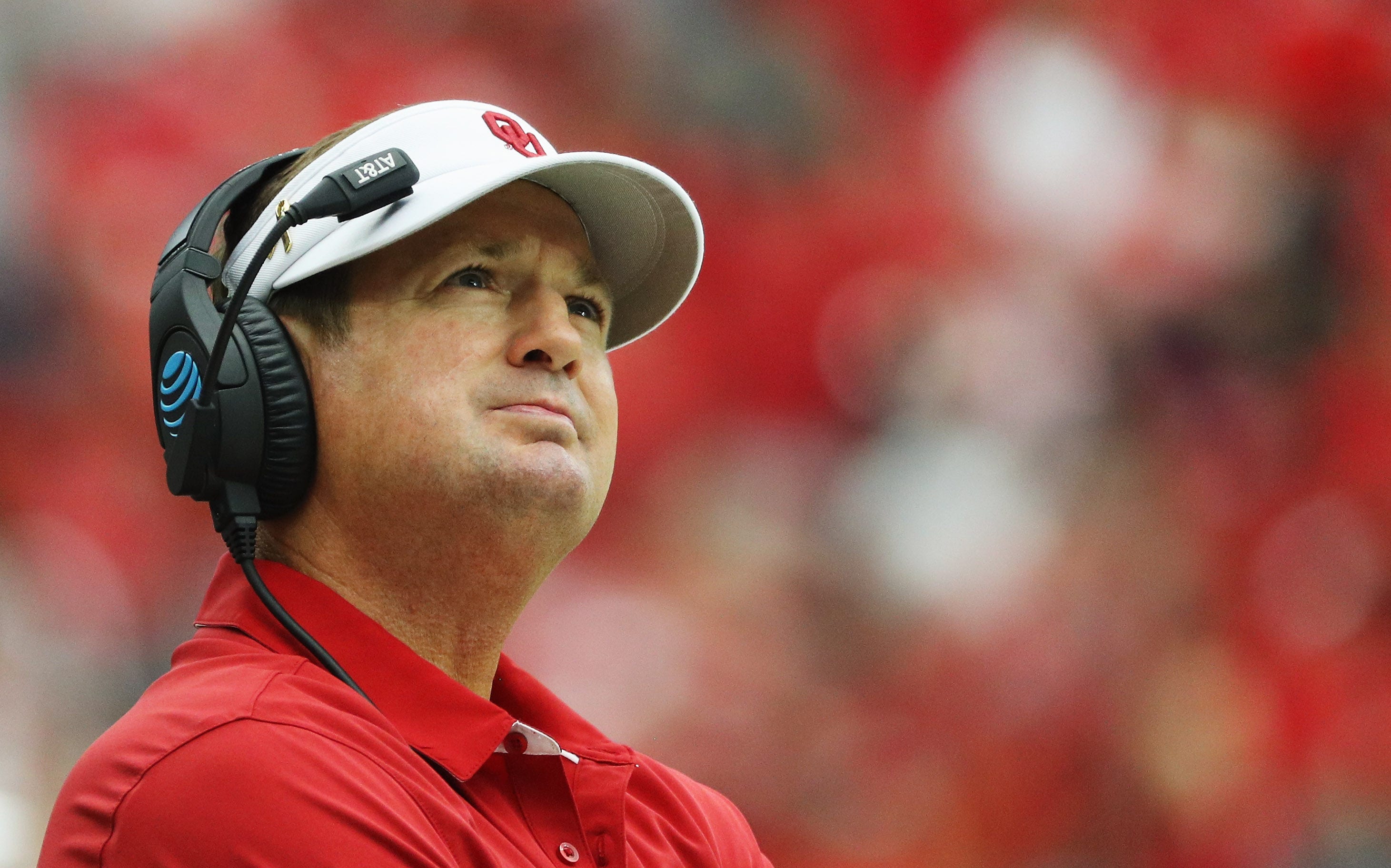 The simple truth is that Oklahoma was overrated from the beginning, a team that should have never been ranked No. 3 in the preseason AP poll at all. If Oklahoma hadn't been ranked so high (or if we smartly did away with preseason polls altogether) none of this would be an issue. If we actually based Oklahoma on what they are — a young team trying to fill holes — no one would be talking about the Sooners as a colossal disappointment. They would instead be talking about them as, well, a young team trying to fill holes.
Looking at everything in the big picture, the reason the Sooners were ranked so highly was basically two-fold: They made the playoff last year, and they returned a couple of notable players, primarily Mayfield and running back Samaje Perine. So the Sooners had to be good coming into this year, right?
Well, not exactly. Because while we knew about Mayfield and Perine, what few considered was their star power masked major Oklahoma's deficiencies in other areas.
Take, for example, the defense. While everyone spent all summer gushing about Oklahoma's offensive star power, few acknowledged they lost three players who were All-Big 12 first team last year, and one on every level of the defense –defensive lineman Charles Tapper, linebacker Eric Striker and defensive back Zack Sanchez. Those three were the backbone of one of college football's best defenses, a group that limited opponents to just 22 points per game in the offensive-minded Big 12. It was unrealistic to expect this defense to be just as good. Only that's what many said by ranking the Sooners No. 3 in the preseason.
It's the same on offense, where the gaping holes weren't as notable but pieces are still missing from last year. Most notably it came at the wide receiver position, where Sterling Shepard departed after being one of the most productive pass-catchers in school history, with 89 grabs last season. More importantly, he became a bit of a safety net for Mayfield, a guy who the quarterback could always count on to get open when he needed to find a target downfield.
Without Shepard, the offense is stagnating. They averaged just 23.5 points against Houston and Ohio State. For comparison's sake, they averaged 43 over the entire season last year.
Add it all up, and it's easy to see why this Oklahoma team is struggling. They're not the same team as last year. They're young and inexperienced at a lot of key spots, a team that still has a lot to figure out but unfortunately hasn't had a schedule that allows them to do that.
Oklahoma will be fine in the big picture, but for now their struggles are indeed very real.
But don't blame Bob Stoops. The coach can't fix what the media couldn't see a couple months ago.
Aaron Torres covers college football for Fox Sports. Follow him on Twitter @Aaron_Torres, Facebook or ATorres00@gmail.com.