Ohio State Has Quick Strike Offense With Multiple Threats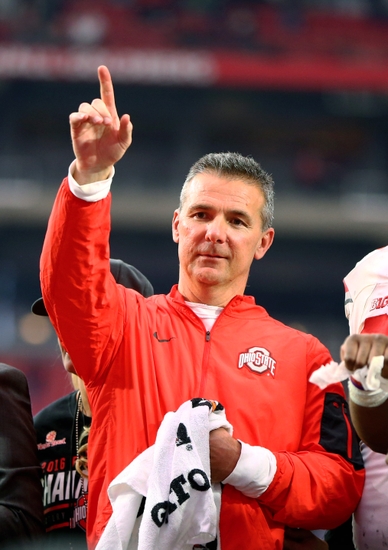 Big plays waiting to happen with Ohio State wide receivers.
Ohio State had a quick strike passing offense in the season opener against Bowling Green. The Buckeyes averaged nearly 35 yards on their seven touchdown passes. And only one came in the red zone on an 11 yard pass from J.T. Barrett to Dontre Wilson in the third quarter.
The longest, and the shortest, of the six TD passes outside of the red zone were caught by Curtis Samuel. He had a 79 catch and run touchdown in the first quarter and he caught a 21 yard TD pass in the third as well.
In all, Barrett threw six touchdowns passes to four different receivers. K.J. Hill opened the scoring for the Buckeyes with a 47 yard reception, Dontre Wilson caught a 25 yard touchdown pass in between Noah Brown's 25 yard TD and Samuel's 79 yard back breaking play in the second quarter.
Then, backup quarterback Joe Burrow hit Demario McCall for a 31 yard touchdown in the fourth quarter. The opposing team can't relax at all when the second string comes in.
It's quite a difference from last season where the Buckeye wide receivers didn't seem to scare the opposing team as far as beating them downfield on a regular basis. This season it may not be if a receiver can get behind a defender, or catch a pass and take it to the house, but which will be the first to do so.
More from Scarlet and Game
Parris Campbell and Terry McLaurin weren't featured in the first game but they could prove to be two of Ohio State's best deep threats. The speedsters had excellent spring games but were hardly targeted at all against Bowling Green. Also, James Clark got deep against a defender and appeared to make an outstanding catch but it was ruled he bobbled the ball.
J.T. Barrett's ability to recognize the weakness in a defense on a given play, may be the best of any quarterback in college football. With the the big play ability of his receivers, that could spell trouble for every opposing team this season.
It appears that Ohio State could very well have a quick strike offense the entire season. And how could you defend all of the playmakers the Buckeyes can put on the field at the same time?
This article originally appeared on