Ohio State Has a Better Version of Jabrill Peppers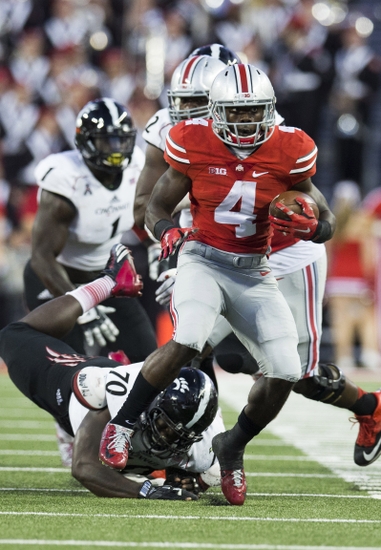 Ohio State head coach Urban Meyer is happy with his version.
Jabrill Peppers might be the most hyped up player in all of College Football. Either him or Lamar Jackson from Louisville who I am not that impressed with. Before I begin to break down Jabrill Peppers – I want to start by saying he is one of the best players in college football. His athleticism and versatility alone will carry him a long way. Now let me tell you why Ohio State has a better version of Peppers.
So the versatile fan-puncher, also known as Jabrill Peppers – plays offense and defense – this alone has gotten him much national recognition. Peppers main position is safety.
Ohio State has a better safety than Jabrill Peppers.
There is only one statistic that Jabrill Peppers is better than Malik Hooker on defense. He has more TFL. But Malik Hooker is better at EVERYTHING else. Let's compare.
Jabrill Peppers: 13 TFL, 66 Tackles, 1 INT, 1 PD
Malik Hooker: 5 TFL, 67 Tackles, 6 INT, 3TD, 4 PD
Pick your guy… Anybody with a brain would pick Malik Hooker as their safety. But the Michigan  argument is that Peppers plays offense too so he's better than Hooker. So just because a player plays two ways means he's better than another? If Wolverine fans want to make this claim – it's only fair to compare his offensive equal at Ohio State. A guy named Curtis Samuel.
If I'm a fan, coach, teammate, etc., I would rather have a two-headed monster than one versatile guy. That's not even an argument either.
With two players, you can give one of them rest no matter what so that they'll always have fresher legs. 4th quarter Jabrill Peppers is not the same as 1st quarter Jabrill Peppers.
That's because he is a human being, and human beings get tired. Anyway, let's compare fan-punchers offensive stats to Curtis Samuel's.
More from Scarlet and Game
Jabrill Peppers: 27 attempts for 167 yards (6.2 YPC), 2 receptions for 3 yards, 4 TOT TD
Curtis Samuel: 91 attempts for 704 yards (7.7 YPC), 65 receptions for 822 yards, 15 TOT TD
So knowing these numbers, could you honestly take Jabrill Peppers over Malik Hooker/Curtis Samuel? No. UM fans will say that this is an unfair comparison – but it is very fair.
Taking Malik Hooker (Jabrill's Defensive Position), and Curtis Samuel (Jabrill's Offensive Position) and comparing them is perfectly fair. Michigan just has to use Jabrill because they don't have as many playmakers as OSU.
If OSU had a lack of play makers, they would likely use Hooker in the "Jabrill role" but they simply don't have to. The fact that Peppers is in the Heisman race is actually hilarious to me.
This article originally appeared on