Ohio State Football: Tribute to the Forgotten Buckeye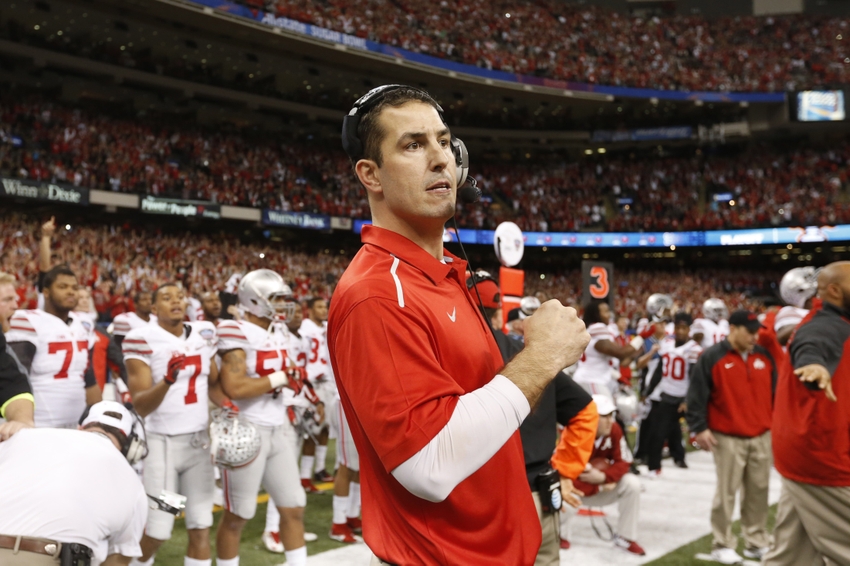 Ohio State coaches and players always seemed to be recognized ahead of him.
Luke Fickell was recently named head coach of the Cincinnati Bearcats and it's about time he is finally being appreciated for his contributions to Ohio State football. For far too long he has been the 'Forgotten Buckeye'.
For over two decades Ohio State has been known for tenacious defense. One man has either been playing for the Buckeyes or coaching them most of that time, but someone else usually got the credit for their success. The man generally left out was Luke Fickell.
Fickell was red-shirted his freshman season at Ohio State and then started 50 consecutive games for the Buckeyes. That was when the Ohio State defense was becoming known as the Silver Bullets, but Fickell didn't get much notoriety even though he was a key player on the defense.
He was a nose tackle and those guys don't exactly fill out stat sheets. But his ability to take on double teams allowed defensive ends Mike Vrabel and Matt Finkes to get their share of sacks and tackles for loss.
Silver Bullet linebackers like Andy Katzenmoyer, Ryan Miller, Lorenzo Styles and Greg Bellisari could run free to make plays and received accolades for making them. There wasn't much mention of Luke Fickell's contributions outside of the Ohio State locker room.
Luke had a cup of coffee in the NFL and then came back to Ohio State as a graduate assistant under his former coach John Cooper in 1999. He then moved on to become an assistant coach at Akron for two years.
Fickell returned to Ohio State in 2002 when Jim Tressel hired him as the special teams coach. That's when he began making his mark as a coach for the Buckeyes. Remember how "special" that unit was in the National Championship season?
Then he became the Ohio State linebacker coach in 2004 and was promoted to co-defensive coordinator in 2005. In Fickell's first season at that the position, the Buckeyes moved from No. 28 in the country in total defense to No. 5. Here are the total defense rankings for the Buckeyes under coach Fickell the next five years. Co-defensive coordinator Jim Heacock got a lot of credit for this.
Total Defense Rankings
2006         12
2007           1
2008         19
2009           5 
2010           3
Then the upheaval of 2011 happened. Luke Fickell became the interim head coach with coach Tressel leaving and he held the program together until Urban Meyer arrived. Coach Fickell couldn't spend as much time on the defensive side of the ball as usual, but the Buckeyes were still ranked No. 18 nationally in total defense.
More from Scarlet and Game
The next two years were an adventure to say the least. Everett Withers was brought in to be the co-defensive coordinator with coach Fickell. The result, the Buckeye defense was ranked No. 30 in 2012 and No. 57 in 2013, the worst rankings in coach Fickell's career. Withers moved on to another coaching job.
Enter coach Chris Ash as co-defensive coordinator and the defense picked up. In 2014 the Buckeyes steadily improved and finished No. 11 in total defense and finished at No. 9 in 2015. Coach Ash received most of the attention and was hired as the head coach at Rutgers.
This season Ash was replaced by Greg Schiano who is a terrific defensive coach. Ohio State was No. 3 on total defense this season but coach Fickell didn't seem to be getting much credit for it. See a pattern here?
Finally, someone finally did the math and realized Luke Fickell is a really good coach. It's good to see that the "Forgotten Buckeye" is finally getting noticed and has been hired as the head coach of the Cincinnati Bearcats. With everything Luke Fickell has brought to Ohio State over the years he certainly deserves it.
He always quietly stayed in the background and let others take credit for the team's accomplishments. But make no mistake about it, Luke Fickell has been a big part of the Buckeyes success over the last two decades. Great job Luke!
This article originally appeared on