Ohio State Football: Thunder And Lightning At 'The Shoe' Again?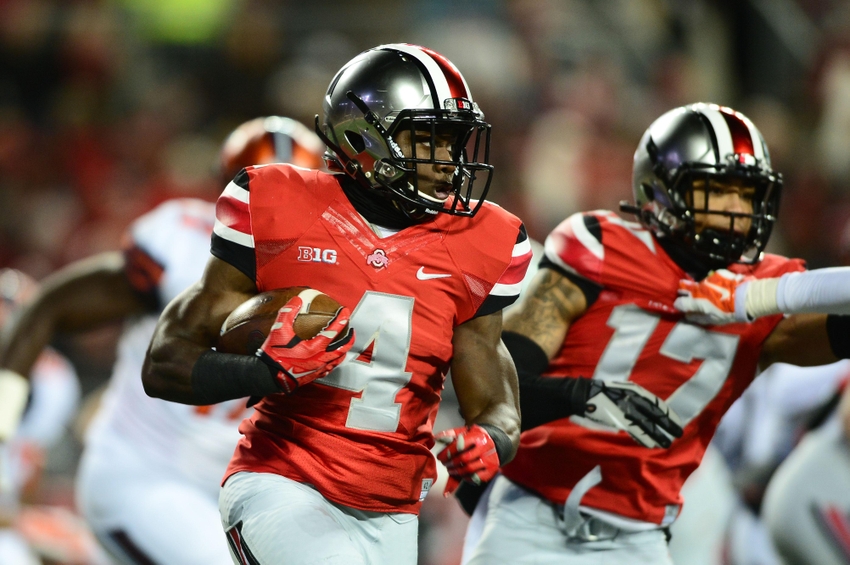 When teams play Ohio State, they had better be prepared for a storm.
Last Saturday there was plenty of thunder and lightning in Ohio Stadium. It seemed to bother Bowling Green much more than it did Ohio State. Will there be another storm today at 'The Shoe'?
The thunder a week ago came from redshirt freshman Mike Weber. Weber ran for 136 yards on 19 carries in his first game for the Buckeyes. Most of those yards were on power runs between the tackles.
The lightning seemed to come from everywhere. The wide receivers were quick strike artists with K.J. Hill beginning the Ohio State onslaught of Bowling green with a 47 yard touchdown pass in the first quarter. Noah Brown got behind the defenders and made a beautiful TD catch as well.
But I want to focus on the guys who are running with the football as well as catching it. These three players are lightning quick.
Curtis Samuel had quite a game both running and receiving. He ran for 84 yards on 13 carries and one touchdown. He also caught 9 passes for 177 yards and two touchdowns. And on his 79 yard catch and run for a touchdown, he left every defender in the dust.
Dontre Wilson rushed for 36 yards on 5 carries. He also caught 3 passes for 37 yards and 2 touchdowns.
Demario McCall ran 8 times for 54 yards and one touchdown. He only caught one pass but it was for 36 yards and a TD.
All told, the thunder and lightning crew totaled 310 yards rushing, 250 receiving and scored seven touchdowns for the game. Not bad when you consider that Urban Meyer's team goal each game is for Ohio State to get 250 yards in each rushing and receiving.
Can these four guys perform as well against Tulsa as well as they did against Bowling Green? If they do, there may be a powerful storm brewing in Columbus. Who knows, it may be heading west toward Oklahoma.
More from Scarlet and Game
This article originally appeared on